Whether you call them excavators or track hoes, these powerful earthmoving machines are standard equipment at any jobsite that requires extensive digging. Cat® produces world-class excavators in numerous sizes, configurations and digging capacities for various applications such as general construction, grade stabilization, debris clearing, environmental remediation work and many others.
As an authorized Cat equipment dealer in Indiana and Michigan, MacAllister Machinery can supply new, used or remanufactured Cat excavator parts to keep your equipment on the job and productive.
New Cat Excavator Parts Offer a Cost-Effective Long-Term Solution
If you want nothing short of the best in Cat track hoe parts, then brand-new genuine OEM Cat parts deserve strong consideration. Brand-new parts will deliver long-lasting performance and extend the time between replacements. The latest Cat parts also feature the most advanced technology available from the global heavy equipment leader, which can increase your excavator's productivity and reduce your long-term ownership costs. Genuine OEM parts can provide much better quality than those aftermarket products offered by many suppliers.
Experience the Value of Used Cat Track Hoe Parts
Are you trying to find ways to cut costs these days? Do you need high-quality parts that won't break your budget? Our Indianapolis facility carries an extensive inventory of dependable used Cat excavator parts for virtually any year and model. Used parts can provide exceptional value for your money — they'll deliver the dependability and performance you demand, but at a much lower price point than brand-new products. Our knowledgeable used parts team will help you explore your options so you can make an informed purchasing decision for your company.
Consider the Benefits of Choosing Remanufactured Cat Excavator Parts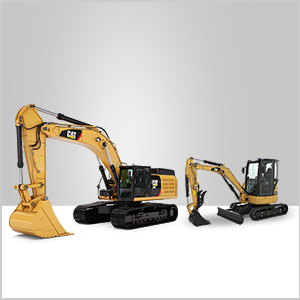 MacAllister Machinery is also your Indiana/Michigan headquarters for remanufactured Cat parts and components that can reduce your equipment ownership costs and bolster your company's bottom line. These products have been completely refurbished to meet the Caterpillar specifications and feature the same warranty coverage as new Cat parts. Our exchange system offers an easy, affordable method for acquiring remanufactured components. Just bring in or send us your end-of-life part, and we'll exchange it for a similar product that is ready to install in your excavator.
Yellowmark™ Parts – The Aftermarket Solution
If you have an aging excavator in your fleet, Yellowmark excavator parts can provide a budget-friendly solution. Caterpillar® designs and manufactures these non-reusable parts and components to serve as a value-priced alternative to Genuine OEM and Cat Reman products. You'll be able to cut costs without cutting corners on quality or reliability.
Unparalleled Service Before, During and After the Sale
Over the course of more than 70 years in business, MacAllister Machinery has established a stellar reputation for delivering top-notch service. We make getting your Cat track hoe parts easy — you can purchase them online at any time at Parts.Cat.Com or contact one of our many dealer locations for personalized service. You can also have your parts delivered to wherever you need them or arrange to pick them up at a drop box or dealership near you.
Contact Us to Learn More About Your Excavator Parts Options
Learn more about the many advantages of purchasing all your Cat excavator parts from MacAllister Machinery, a trusted name in heavy equipment in Indiana and beyond since 1945. Contact us for additional information or place your order online today.
VISIT PARTS.CAT.COM