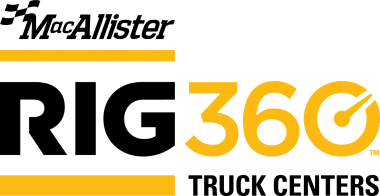 When you need diesel engine service or general truck service in Indiana, trust MacAllister RIG360 Truck Centers. No matter if you live and work locally or are just passing through the state, you'll find fast and effective truck repair and maintenance delivered by highly experienced technicians who want to get you back on the road fast.
Use the form below to schedule service, or call Jeff Monesmith at 317-313-7034.
Discover Our Comprehensive Services
We're more than just a truck stop. At MacAllister RIG360 Truck Centers in Indiana, you'll find comprehensive services that include diagnostics, inspections, repairs and service for engines, brake systems, transmissions, cooling systems, exhaust systems, alignments and more.
You can visit our shop for service, or we also provide roadside assistance in the area. Whether you drive or manage a semi-truck, dump truck, fire truck, school bus, RV or some other type of heavy-duty vehicle, the team at MacAllister RIG360 Truck Centers throughout Indiana are standing by and ready to provide the support and assistance you need.
MacAllister RIG360 Truck Center Service Offerings Include:
Alignments
Air Conditioning Service
Batteries & Electronics
Body & Paint
Brake Service
Clutch Service
Cooling & Heating Systems
Diagnostics
Driveline Service
Dyno & Tuning Service
Engine Service
Exhaust & Emissions
Fans, Belts & Hoses
Federal DOT & IN State inspections
Hydraulics & Hoses
Lighting
Oil & Lube Service
Preventative Maintenance
Radiator & Heater Cores
Starters & Alternators
Steering & Suspension
Trailer Repair & Service
Transmission Service
Turbo Repair
Welding & Fabrication
Wheels & Tires
Fast and Effective Service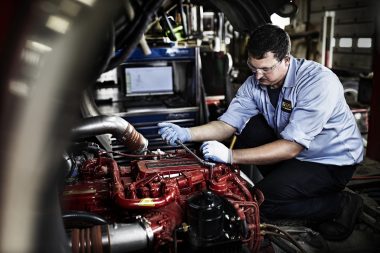 We understand just how valuable your time is. When you're off the road, you're losing both productivity and money. That is why we strive to provide the fast and effective services you need, no matter the nature of your business or organization.
We even make a 90-minute promise, which means we are committed to making an initial diagnosis, troubleshooting the issue at hand and delivering a final recommendation — all within 90 minutes of your arrival. Our services are designed to get you back on the road again as quickly as possible.
Meet Our Experienced Technicians
When you visit one of our Indiana-based RIG360 Truck Centers, you'll have the pleasure of meeting our experienced technicians. Each of our techs is trained to work on equipment from leading manufacturers, and each is committed to helping identify and alleviate whatever issue you're experiencing.
You'll find that we strive to be both transparent and communicative in everything we do, giving you the information needed and empowering you to make the best decisions for your vehicles and equipment. And, more than anything, we strive to be effective — delivering the solutions you need to keep your trucks running at their peak potential.
Service for All Makes and Models
We don't just service the most common or most popular makes and models. Our technicians work on diesel engines from Caterpillar®, Cummins and Detroit, and they can provide service on trucks made by Peterbilt, Freightliner, International, Kenworth and others. No matter the make and model of your truck, and no matter the type of repair or maintenance you need, our team can deliver.
Featured Rig360 Brands
Schedule Your Service Today!
As a fleet manager or driver, you need more than just a truck stop for repairs, maintenance and general truck service. You need a team of trusted partners who can help you identify and solve problems. At MacAllister RIG360 Truck Centers, we have more than 70 years of experience in serving customers in Indiana and Michigan. When you need diesel engine service or general truck repair and maintenance, we're ready to help.
We have 13 convenient truck centers located along interstates and highways throughout Indiana and the lower peninsula of Michigan. Click on the map to the right for individual location details.
To learn more or to schedule a service appointment, please fill out the form below or contact Jeff Monesmith at 317-313-7034.