Pershing Edwin (PE) MacALLISTER
August 30, 1918 – October 23, 2019
A Tractor Salesman is what he called himself.  Roads and the machinery that built them were part of his life growing up in rural Wisconsin.  His father, EW MacAllister, worked for the county highway department and became adept at building and maintaining roads.  This led to a job with Drott Tractor, the local Caterpillar dealer.  EW was a natural salesman and rose through the ranks to become Sales Manager and then General Manager.  The MacAllister family moved to Milwaukee in 1930 where the company's headquarters was located.  Ed Drott had 3 sons in the business.  EW could see the handwriting on the wall so took advantage of an opportunity to open his own dealership for Allis Chalmers in Indianapolis in 1941.  Fast forward to 1945, when PE mustered out of the military and came to his parents' home in Indianapolis.  His Father asked him what he was going to do.  PE shrugged and said, "Go back to Milwaukee and get a job teaching, I suppose."  His Dad indicated he could use some help starting a new business, as Caterpillar had asked him to become their dealer for most of Indiana.  Would PE like to give him a hand?  He did, and the rest is history.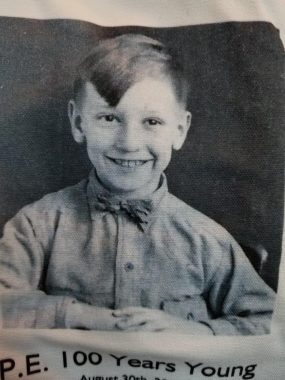 Born on August 30, 1918 in Oconto, Wisconsin, 26 miles north of Green Bay, Pershing was named after General John J. Pershing, the WW I hero.  Not infatuated with the name, young Pershing preferred Persh, Mac, or PE.  He grew up during the Great Depression with a younger brother (by 2 years) named David.  His father had a good job, so the family was better off than many.  Frugality and self-sufficiency were required by the times and reinforced through his Scottish Presbyterian upbringing.  PE was an average student and played the clarinet in high school.  His mother, Hilda, was a homemaker and many relatives lived close by.  Family was a big influence all his life.  After high school, PE enrolled in Carroll College, a liberal arts institution, studying English and History with the intent of becoming a teacher.  He graduated in 1940.  The war was raging in Europe and it looked like the United States would enter.  Like most young men of the day, he enlisted in the military.  On October 25, 1941 he was shipped off to basic training.  He remembered hearing about the attack on Pearl Harbor while listening to the radio in his car.  Fortunately, he "washed out" of flight school (a pilot's life expectancy was poor) and instead became an armament officer, responsible for arming a squadron of P-38 fighters.  Stationed initially in the US, then England, PE spent a couple years in North Africa before finishing in Italy with the rank of Captain.  In total he spent almost 5 years in the Army Air Force, earning 4 Overseas Service Bars and a Presidential Unit Citation.  How he picked up the nickname "Prune" was never quite clear.
Back from Italy but still in the service, PE met a Southern Belle named Violet Rebecca Cochran while he was stationed in Pensacola, Florida.  They were married on May 17, 1945.  Four children followed between 1946 and 1956:  three girls and a boy.
On June 2, 1945, while still in uniform, PE traveled with EW to Peoria where MacAllister Machinery Co. Inc. was officially named the Caterpillar Tractor dealer for 68 of the 92 counties in Indiana.  PE's college degree and military training hardly prepared him for his first job in the new company — Stock Chaser.  He learned the business from the bottom up, serving as a parts warehouseman, mechanic, and salesman.  Brother Dave joined the business later in 1945.  One day in 1951, PE's father came to him saying, "I don't feel right, so I am going to the doctor's office to get checked out."  He never returned, having suffered a series of strokes that eventually left him crippled for the rest of his life.  The 6-year-old business was suddenly dumped in PE and Dave's hands.  They ran it together for 30 years and did well.  Son Chris assumed control in 1991, and PE remained as Chairman.  The business grew to cover 2 states and employ 2500 people.  PE continued to report for work every day, keeping in touch with customers, employees, Caterpillar, and the financial results.  Not many can brag about 74 years of service to their employer.  He co-published and wrote the lead article for 170 issues of Mac Today, the company newsletter, published since 1986.  His mixing of history and the tractor business won acclaim and thousands of readers.  The strong values and principles he inherited from his father, plus his own massive sense of responsibility, spotless integrity, strong work ethic (always in on Saturday mornings) and compassion for those less fortunate, form the basis of the eponymous firm's culture and values today.
| | |
| --- | --- |
| | |
As a devout Presbyterian, PE and family were regulars at Northminister Presbyterian Church.  He found religion fascinating, and he began to read about it.  He became active in his church, serving as Elder, Deacon, and Trustee.  That wasn't enough so he joined the Indianapolis Presbytery, the church's governing body and twice served as its Moderator.  He was the Moderator of the Synod of Indiana (1972) and Moderator of the Synod of Lincoln Trails (1975).  He served on the Board of Trustees at Christian Theological Seminary including 9 years as Chairman.  He also served and was chair of the Inner-City Strategy Committee who worked with churches in the city, as opposed to the suburbs.  He became a scholar of the Old Testament and authored a book on the subject titled "Tongue of the Nursling."  Along with Dick Petticrew, PE created "The MacAllister-Petticrew Chair" of Old Testament Studies at Christian Theological Seminary.  PE also endowed "A Chair in Old Testament" at Carroll College.  His lay understanding of the Bible was evident when each July for 10 years he preached in Protestant churches.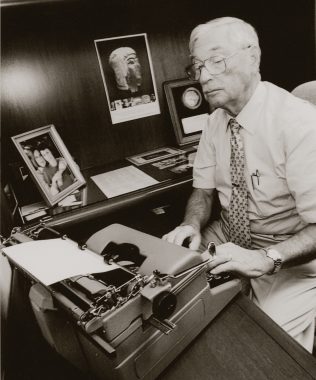 An interest in history came early and formed the basis of his college studies.  His study of the bible and religion lead to an interest in archaeology.  He joined the Board of the American Schools of Oriental Research, which monitors and authenticates archaeological excavations in the Middle East.   For 19 years, he chaired their Board.  He visited the Holy Land several times, and armed with a tray of 35mm slides, would speak to whoever was interested in that historic land.  He knew ancient history and could talk knowledgeably about the Hittites and Hammurabi.  He was well-versed on the miracle of ancient Athens and how the Greeks added so much to modern civilization.  He could tell you about each of the 12 Roman Caesars and why Augustus was the best.  The Medici were favorites, and he tried to replicate their Renaissance in Indianapolis.  He knew early American history, the Civil War, and wrote a series of essays on the Bicentennial. In 1987 he wrote a second series on the Constitutional Convention. He took his kids to Washington D.C, England, France, Italy, and Greece to educate them on world history.  He was a walking encyclopedia of the past and was able to extract the best of any era and apply it to current situations.
It was Harold Ransburg who initially got PE interested in politics.  PE also met and got to know John Burkhart, whom he credits with the renaissance of Indiana politics.  Keith Bullen was another friend and influential figure.  An early venture into politics was the Mayoral campaign of Richard Lugar in 1967.  It was Lugar who accelerated the Public-Private Partnership coupling local government with the business community to set priorities and get things done.  PE served as Campaign Chairman for Bill Hudnut (4 times) and for Bruce Melchert.  He was a Presidential Elector in 1976, 1980, and 2000.  Usually behind the scenes and with little interest in holding office himself, PE set about improving the process, structure, candidates, and quality of local government.  He founded the Greater Indianapolis Republican Finance Committee and The Chairman's Club, fund raising arms for city/county races.  He supported scores of candidates over the years financially, strategically, and with sage advice.
| | |
| --- | --- |
| | |
Reviving Indianapolis was a major goal for the city "Movers and Shakers" in the 1960s.  PE was in the middle of this renaissance.  One of his proudest accomplishments was the Conference on Cities, an international symposium on urban problems in collaboration with NATO, held in Indianapolis, May 1971.  PE served as Director and produced a program that was very well received by Mayor Lugar and his peers from around the world.  All in the corn fields of "India-no-place."  PE also served on the Capital Improvements Board for 17 years, including a stint as Chairman.  He helped construct the Convention Center & RCA Dome.  This led to the Colts relocating to Indianapolis, a major coup.  He has rarely missed a game since.  Downtown began to revive, the city was on the move.
Civic activities were important to PE.  He served on the board of the Community Hospital Foundation, and on the Board of Public Safety.  He founded the Indianapolis Parks Foundation, and served as its Chairman for many years.  He was a member of the Corporate Community Council Board, Guardian Home Foundation Advisory Board, served on the Indiana Inter-Religious Commission on Human Equality, was a member of the Indiana Historical Society, the Indianapolis Committee on Foreign Relations, the Marion County Land Valuation Commission and the American Council of Learned Societies.  He served on the Indiana Bicentennial Commission.  All this while running the tractor business.
Loyal to the core, PE never forgot his alma mater, Carroll College.  He served on its board for 52 years and was Chairman for 17 years.  He was President of his industry trade association, the Associated Equipment Distributors, and even found time to chair the homeowners' association at the condo he maintained in Naples, Florida.  What made him most recognizable to Indianapolis residents were the 1200 weekly one-hour television shows which ran for 40 years, featuring interviews of interesting people, tours of noteworthy sites and reports on events, organizations and activities.
Since playing the clarinet, PE was interested in music.  His ongoing love of opera was the impetus behind The MacAllister Awards, the nation's largest non-restricted vocal competition for opera singers. Past winners continue to appear on the world's greatest stages. PE was President of the Indianapolis Opera Company and a Board Member of the Indiana State Symphony Society.  He served as Vice Chair of the Edyvean Repertory Theatre Board and was a member of the President's Advisory Committee on the Arts. For 39 years he supported the Fine Arts Society (classical music radio station), including serving as its President.  While his musical abilities were marginal, his love of music was a lifelong passion.
| | |
| --- | --- |
| | |
He delivered sermons, did extensive public speaking, was a voracious reader, and a prodigious movie watcher.  Westerns and action films were his favorites.  He enjoyed the game of golf and played until a few years ago.  His last handicap was 26 and his home course was Meridian Hills Country Club, where he was a member for 73 years.  He never made a hole in one — a fact he regretted — but he won many a $2 bet on the back nine.  A Hendricks gin martini, very very very dry, up, with an olive, was his favorite cocktail.  A cold beer, glass of Riesling, Cuba Libra and Sweet Manhattan on the rocks were regulars.  His recipes for chili, spare ribs, and spaghetti were legendary.  He maintained a running battle with squirrels and chipmunks who invaded his birdfeeder, threatening them with a 22-caliber rifle.  His wonderful, tolerant, faithful first wife Becky died in 2001.  Lonesome for a couple of years, PE married Fran Downing in 2003.  They lived happily together until she predeceased him in 2017.
Far from flawless, PE was more serious than emotional.  He was sometimes slow to say thank you or to recognize the unseen work of those around him.  He missed a lot of dinners at home and didn't display great empathy.  He avoided confrontation and was often the last one still eating at the table.  He could be verbose and sometimes used big words when little ones worked as well. He liked the limelight, although didn't seek it out.
On the positive side, he was so generous!  Beneficent!  He made a lot of money in the tractor business and gave it all away.  Never one for fancy cars, expensive hobbies, or flashy jewelry, he lived modestly in the same house for 58 years.  For over 70 years, he donated to hundreds of charitable and civic institutions, to politicians, to little league teams, to friends in need.  He was generous to his family, his college, the Republican party, and his church. He gave his time and energy too, serving on countless boards, coaching wanna-be politicians, writing, speaking, and doing TV shows.  He adhered to the mantra, "To whom much has been given, much will be required".  He followed the ancient proverb, "Honor your gods, help your friends, and adorn your city".
PE did so much for so many.  He was continually recognized for his service.  Indiana State University, Christian Theological Seminary and Carroll College awarded him honorary degrees.  Other awards are listed below:
AWARDS
"Industry Leadership" Award – Associated Equipment Distributors, 1974
"Wings of Hope" Award – Wings of Hope, 1976
"Directors Award for Industry Leadership" – Indiana Contractors, Inc., 1982
"Service to Mankind" Award – Sertoma, 1984
"Board Member of the Year" – Republican Finance Committee, 1987
"Spirit of Life" Award – City of Hope, 1987
"Excellence in Education" Award – Tau Kappa Epsilon Fraternity, 1989
"Diploma of Honor" – Fine Arts Society for Service to the Arts, 1989
"Benjamin Harrison Award" – Columbia Club, 1989
"Certificate of Special Merit" – American Schools of Oriental Research, 1994
"Hoosier Heritage Night" – The Heritage Place of Indianapolis, 1996
Entrepreneur of the Year "Community Spirit Award" – Ernst & Young LLP, 1996
"Philanthropist of the Year" – Indianapolis Parks Foundation, 1997
"Distinguished Alumni Award" – Carroll College, 1998
"Indiana Academy Award" – Independent Colleges of Indiana, 1998
"Guardian Angel Award" – Children's Guardian Home, 2001
"Democracy Award" – Associated Equipment Distributors, 2002
"Indiana Business Hall of Fame" – Junior Achievement, 2002
"Arts Council of Indianapolis" – 2003
"Trustee of the Year Award" – Carroll College, 2004
"Spirit of Philanthropy Award" – Indiana University, 2005
"Sagamore of the Wabash Award" – Gov. Otis Bowen
"Sagamore of the Wabash Award" – Gov. Bob Orr
"Sagamore of the Wabash Award" – Gov. Mitch Daniels, 2012
"Philanthropy Award" – Church Federation of Greater Indianapolis, 2005
"Presidents' Circle" – Indiana University – 2008
"Michael A. Carroll Award" – 2008
"Whistler Award" – 2008
"John Morton-Finney Award" – 2009
"Living Legends Award" – 2009
"YPO-WPO Legacy Award" – 2011
"Service to Mankind Award" – Marian University
"CASE" Award, 2014
"Sachem Award" (one awarded per year) – Gov. Mike Pence, 2014
"Good Scout Award" – Crossroads Chapter BSA, 2014
"Founders Award" – Republican Leadership Forum, 2015
"Reactivation Award" – 71st Training Squadron, 2015
"Sagamore of the Wabash Award" – Gov. Mike Pence, 2017
"Sagamore of the Wabash Award" – Gov. Eric Holcomb, 2017 & 2018
| | |
| --- | --- |
| | |
PE is survived by daughters Laurie and Sandy and son Chris, grandchildren Tyler, Ian, Casey, Alex, and Laurel, great-grandchildren Emmitt, Elliot, and a new great-granddaughter.  In lieu of flowers, memorial contributions may be made to Friends of Garfield Park or The Wheeler Mission.
Shalom!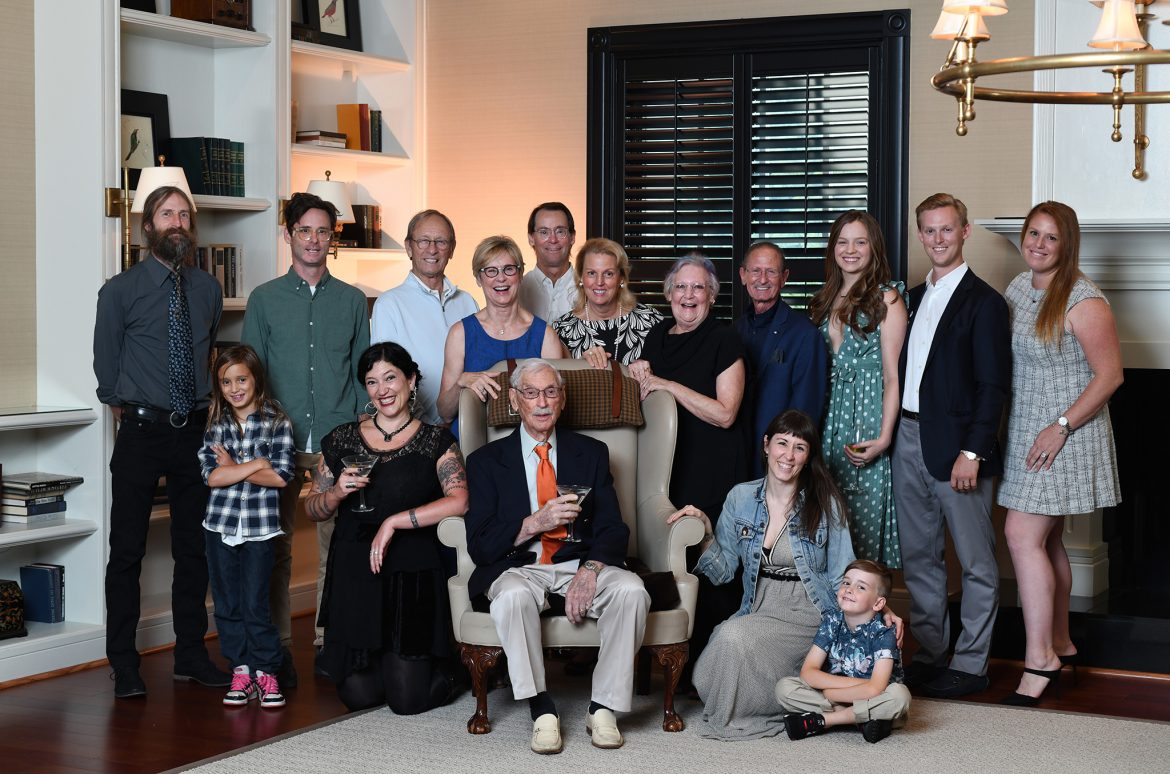 PHOTOS
Click a photo to view a larger version.