PRINOTH PANTHER Tracked Carriers for Sale in Indiana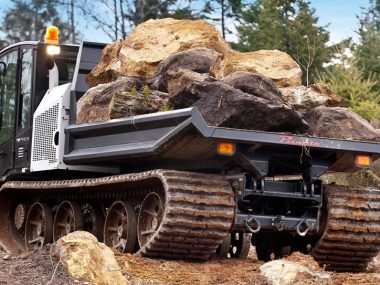 When the terrain gets tough, PRINOTH PANTHER tracked carriers rise to the challenge and get more done in less time. These rugged vehicles deliver a versatile vehicle platform that is purpose-built to conquer snow, sand, mud and gravel. MacAllister Machinery is a proud PRINOTH distributor. We are the area's only source for new PRINOTH PANTHER tracked vehicles for sale. We carry their full lineup of tracked dumpers to meet the demands of any project.
Our tracked vehicle line up includes:
Call us today at (317) 545-2151 for more info on PRINOTH PANTHERs for sale in Indiana.
Customize Your Tracked Carrier To Your Work
These tracked vehicles are highly customizable to add to your reach and increase your productivity. PRINOTH PANTHER tracked vehicles are incredibly versatile and can be outfitted with:
Articulated crane
Dump bed
Flatbed
Hook lift
Service module
Telescopic crane
Concrete mixer
Excavator / backhoe
Exploration drill
Tank / sprayer
No matter what industry you serve, the PRINOTH PANTHER can be setup to serve your needs. Common industry applications include: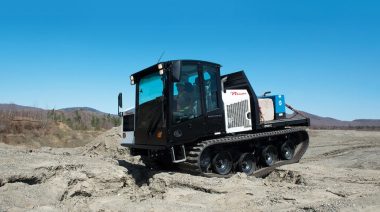 Construction
Drilling
Forestry
Governmental (Military, Rescue, Firefighting)
Mining
Oil & Gas
Personnel Transport
Snow Removal
Telecommunications
Utilities & Power Transmission
UNIQUE FEATURES AND BENEFITS OF PRINOTH PANTHER TRACKED VEHICLES
PRINOTH PANTHER tracked vehicles have the advantage of over 80 years of continued refinement. The carriers sit on a specialized undercarriage with large wheels and metal-reinforced treads. This combination delivers a smooth and comfortable ride, regardless of underfoot conditions.
These carriers have the added benefits of:
Powerful engines: PRINOTH PANTHER tracked carriers have powerful Cat® ACERT™ engines compliant with the latest emissions standards.
Comfortable cabs: The latest edition PRINOTH PANTHER tracked vehicles have many cab upgrades for added comfort. You can also install a second seat.
Simplified maintenance: These vehicles come with durable components designed to limit downtime and reduce lifetime costs. All maintenance areas are easy to access.
Best-in-class payload: These tracked dumpers for sale have an unmatched payload capacity. They can move more material in less time across virtually any landscape.
Exceptional mobility: PRINOTH PANTHER tracked vehicles have excellent travel speeds on- or off-road. With zero-degree turn capability, they are maneuverable in tight spaces.
Operator safety: Each model vehicle comes with ROPS (Roll-Over Protective Structure) certification. Optional FOPS (Falling Object Protective Structure) certification is available.
WHY PARTNER WITH MACALLISTER MACHINERY?
When you partner with MacAllister Machinery for your new PRINOTH PANTHER tracked vehicles, you benefit from over 75 years of continued industry experience. You also gain the advantage of excellent customer support from one of the nation's largest Caterpillar® dealers and your local PRINOTH headquarters.
We are the region's leading supplier of heavy equipment sales, service and support solutions — including 24/7 field support. We have a direct line to the manufacturer to order PRINOTH PANTHER tracked carriers designed to help you become more productive.
LEARN MORE ABOUT OUR TRACKED DUMPERS FOR SALE
Stop by your neighborhood MacAllister Machinery today to request a demo. Our representatives will show you the product line and work with you to determine which of our tracked dumpers for sale fits your criteria. If you would like to request a quote, contact us to start a conversation.