Rubber Tracked Dumper Rentals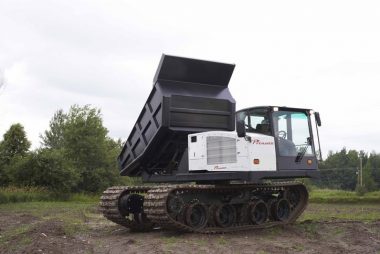 No two construction sites are the same, and some job sites require the versatility of a tracked dumper. No matter the terrain of your site or the materials that need moved, MacAllister has your dumper needs covered. MacAllister Machinery is the area's trusted source for crawler dump truck rentals from the PRINOTH PANTHER line of equipment, including the:
PRINOTH PANTHER T12:  13.75 ton weight, 12.5 ton payload
PRINOTH PANTHER T14R (Rotating Dump):  18.6 ton weight, 14.5 ton payload
Call us today at (317) 803-2526 for more info on tracked dumper rentals.
Looking for smaller dump truck rentals? Visit MacAllister Rentals for on-highway dump trucks.
PRINOTH TRACKED DUMPER RENTAL
These crawlers deliver impressive load capacity. They also have powerful, fuel-efficient and emissions-compliant Cat® ACERT™ engines as standard features. PRINOTH PANTHER vehicles have simple controls that are easy to learn and master. Our team will make sure you are comfortable with the equipment and understand all the included safety features. If you need help, we have locations across the area and are always ready to assist.
WHY RENT A TRACKED DUMPER?
A tracked dumper rental often makes more sense than purchasing new. If you have equipment down for maintenance or repairs, a rental tracked carrier can help you stay productive until yours is back online. Rentals are also a great way to expand your fleet to meet tight deadlines or bid larger, more profitable jobs. With our flexible rental plans, a tracked dumper rental provides you with a cost-effective way to benefit from the equipment you need without making a large investment.
Your Source For Tracked Dumper Rentals In Indiana
With a PRINOTH PANTHER tracked dumper rental from MacAllister Machinery, you can instantly expand your capabilities. You can also take advantage of many benefits in the process, including:
Up-to-date machinery: We rent low-hour, late-model PRINOTH PANTHER vehicles.
Maintained equipment: Our expert technicians keep our tracked dumpers maintained.
Rapid rentals: Our streamlined process helps you save time on ordering, delivery and pickup.
Flexible agreements: We know jobs change, and we offer flexible contracts to accommodate.
Fast delivery: You can request same-day and next-day PRINOTH tracked dumper rental delivery.
Optional pickup: If you want to pick up your tracked dumper rental, we have many pickup locations.
Rental support: You will have our full support during your rental, including field repairs and replacement.
Rent-to-own: If you want to keep your crawler tracked dumper rental, we can set you up with a rent-to-own option.
REQUEST A TRACKED CARRIER RENTAL QUOTE
At MacAllister Machinery, we have over 75 years of experience helping people get the job done fast and done right. We are the region's exclusive PRINOTH dealer. We maintain our rental fleet using expert care so you can get to work quickly and stay productive until the job is complete. Our team will help you find the cost-effective equipment solutions you need, and we always provide superior customer service with every tracked carrier rental.
Ready to get started? Request your no-obligation quote today to get local rates and to learn more about your options.