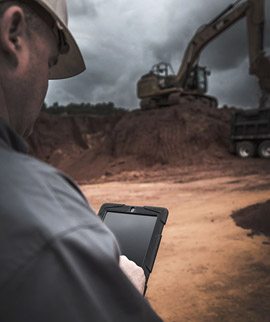 CAT® EQUIPMENT MANAGEMENT SERVICES
A TOTAL SYSTEM FOR MONITORING AND MANAGING YOUR MACHINES
Cat Equipment Management (EM) Services is your solution for increasing productivity while reducing the costs of owning and operating equipment. Developed by Caterpillar® and provided in conjunction with MacAllister Machinery, your local authorized dealer for Indiana and Michigan, EM Services is a comprehensive system for staying on top of monitoring, maintenance and repairs. No matter if you only own a few machines or you manage a large commercial fleet, we're able to deliver a customized plan to help reduce downtime and keep your most valuable assets in top operating condition.
With Cat EM Services, you turn the tedious process of collecting, maintaining and analyzing data over to us, so you can concentrate on growing your business. State-of-the-art Cat Connect Technologies and industry-best expertise combine to:
Deliver critical data from your job site that helps you more closely monitor equipment health and identify ways to work more efficiently
Analyze information in real time to remain informed about how your assets and resources are being used and receive strategies for improving performance
Provide the confidence to make the right business and operating decisions to minimize risks and maximize your bottom line
Put the latest suite of safety and productivity technologies developed by Caterpillar to work for your company
VISIONLINK® EQUIPMENT MANAGEMENT INTERFACE
At the center of Cat Connect Services is VisionLink technology, an internet-accessible user interface for monitoring and managing a fleet of equipment around-the-clock from any location. VisionLink establishes a direct connection to your compact and heavy machines in the field, instantly putting communications and oversight capabilities on the cutting edge. With the support of highly trained technicians, you'll gain expert-level information on how to make your company better by improving results, raising quality, making more profits and getting the best possible return on your investments.
INNOVATIVE EQUIPMENT MANAGEMENT WITH PRODUCT LINK™
When you start Equipment Management Services with MacAllister Machinery, we wirelessly connect your business with Product Link. Combined with the VisionLink interface, the distance between you and your machines becomes minor. Using electronic controls installed in your Cat construction equipment, you gain a software solution that provides a visual connection that can be accessed anywhere you go.
The highlights of Product Link™ include:
Location monitoring and maintenance status of heavy equipment
Insight into fleet availability and use for more effective deployment
Regularly scheduled maintenance oversight and management
Speedy responses to emergency maintenance indicators and repairs
PUTTING CAT EM SERVICES TO WORK FOR YOU
When you choose MacAllister Machinery for Equipment Management Services, we'll work with you to analyze your needs to identify the most efficient solutions. Cat EM Services includes three primary offerings:
Level 1: INFORM – providing access to data and reports on your equipment
Level 2: ADVISE – delivering trusted recommendations and consultations
Level 3: PARTNER – an ongoing consultative process and customized solutions
From asset tracking and fleet benchmark reporting to equipment inspections, S.O.S. fluid analysis, condition monitoring and maintenance execution and repairs, we're a single source for everything you require.
Learn more about how three levels of equipment management services come together as a powerful tool that can give your company a competitive edge. Cat Connect and EM Services put the concepts of equipment management, productivity, safety, sustainability and command to work so you can boost organization-wide equipment and user performance.
Follow the links below for additional details about the levels of Cat Equipment Management Services, and contact MacAllister Machinery to start taking advantage today.