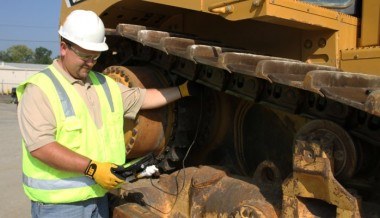 Heavy equipment must be able to operate in the most demanding conditions. In rough terrain, a piece of equipment's undercarriage is the component that bears the most wear and tear. It's for this reason that regular undercarriage service is a key part of preventive maintenance.
MacAllister Machinery provides repairs, maintenance and support for equipment by Cat® and other brands. We encourage everyone we work with to make undercarriage service an ongoing priority.
What's Involved In Our Undercarriage Services
Preventive maintenance is an essential part of undercarriage service. Regular inspections are an opportunity to spot potential problems before they become more serious. Some things a MacAllister Machinery technician will look for include:
Loose or missing parts
Physical damage to the undercarriage, wheels/tracks or driveline
Abnormal wear patterns that indicate a hidden problem
Loose bearings, gears or track linkages
In addition to identifying damage, preventive maintenance also helps your undercarriage perform its best on a day-to-day basis. To reduce stress on undercarriage components, we can:
Ensure tracks are properly tensioned
Recommend and source the best shoe type for your application
Prepare your undercarriage for rough conditions
Every machine is different — a knowledgeable technician will consider multiple factors to determine the optimal service solution for your fleet.
What Are the Benefits?
Undercarriage service can account for up to 50% of a fleet's repair costs. By investing in regular maintenance from MacAllister Machinery, you can:
Save money on emergency repairs
Anticipate when repairs will be needed and plan in advance
Minimize downtime by reducing the risk of a breakdown
Extend the life of your key assets
Improve safety and productivity
For construction crews, landscapers and other professionals, heavy equipment is an investment. Without it, you can't get the job done. Taking care of your undercarriage ensures that the right tools are always available when you need them.
Our Undercarriage Service Solutions
MacAllister Machinery offers a range of undercarriage service options to meet your budget. We can provide both on-site emergency repairs and in-shop maintenance. Our convenient customer value agreements deliver the lowest cost per hour and make budgeting more predictable.
We work on all compact and heavy construction machinery by Cat and allied brands. Contact us for service for your:
Excavators
Dozers
Track loaders
Compact track loaders
Multi-terrain loaders
And more. Whether it's preventive maintenance, a routine repair or a comprehensive rebuild, we are qualified and equipped to take on any job.
Working With MacAllister Machinery
MacAllister Machinery is the authorized Cat dealer for Indiana. Our clients enjoy industry-leading expertise, advanced technology and in-depth understanding of the company's full line of products.
We use dealer-exclusive tools to diagnose and repair common undercarriage problems. Our technicians receive specialized training on all of the company's newest and most advanced machines.
When your repair needs replacement parts, we can supply a genuine OEM product. If we don't have what you're looking for in stock, we'll source it from one of our dealer partners.
We can provide shop and field service throughout our sales territory. Contact us to schedule an appointment at your convenience.