Remanufactured Cat® Parts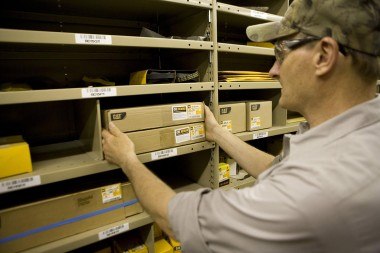 In order to maximize your business's bottom line, it pays to utilize every means of operating more efficiently. Taking advantage of the remanufacturing process to restore your parts and critical components to "like new" condition is an eco-friendly choice that reduces waste and the amount of fuel and materials required to produce new products. It also dramatically reduces the costs of owning, operating and maintaining a fleet of heavy equipment.
Contact Us To Order reman Parts
When you're searching for ways to save money and help the environment without sacrificing quality and reliability, remanufactured parts make sense. As the authorized Cat dealership for Indiana and the surrounding areas, MacAllister Machinery is a full-service provider of top-quality remanufacturing services. Simply bring your end-of-life parts in for a one-for-one exchange with a reman product that rivals the performance of new Cat parts and component.
Benefits of purchasing remanufactured parts from MacAllister Machinery include:
First-rate products at a fraction of the cost of buying new.
Identical warranty of new Cat products.
Reduced operating costs and increased uptime.
Extensive off-the-shelf inventory in stock.
Availability across Indiana, the United States and around the world.
The Easy Way to Order Remanufactured Parts
We make the process of finding the economically priced parts you're looking for simple and straightforward. Our complete range of reman parts are available for order 24/7 via Parts.Cat.Com and can be purchased in person at any of our sales locations throughout Indiana. Our experienced team will help assess your needs in order to identify the most effective and efficient solutions to meet your specific requirements.
We offer the quality and selection you desire backed by superior product knowledge and customer support. We've been helping businesses access superior heavy equipment solutions since 1945. You get the partnership of one of the most trusted names in the region, along with the broad capabilities of a worldwide industry leader.
Find the Cat remanufactured parts you require to keep your fleet running longer and stronger. Give us a call, drop by the MacAllister Machinery location in your area or register an account with Parts.Cat.Com to place your order today!