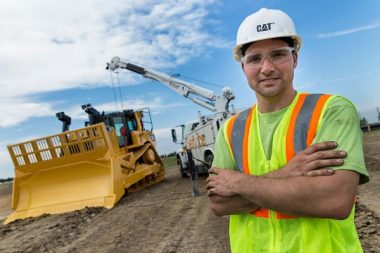 When something goes wrong with one of your pieces of equipment, field service is the fastest way to get up and running again. MacAllister Machinery provides onsite repairs and maintenance for clients throughout Indiana. Our mobile repair trucks feature everything our technicians need to diagnose, repair or replace most issues on the spot.
We provide equipment field service for Cat® and allied machines. This includes not only emergency repairs but also preventive maintenance. For more information or to request service, contact us today.
Field Service Phone Numbers
Our Field Service Capabilities
Field service is best for quick emergency repairs or for regular maintenance on large machines that would be too expensive to transport. If a full repair isn't possible in the field, we will attempt to provide a temporary solution until we can complete the work in our shop.
Other services include oil sampling — which helps monitor the overall health of your engine — plus transmission and hydraulics. We also offer onsite welding and fabrication.
We perform field repairs and maintenance service to engines, undercarriage components, work tools and more. We service all makes and models of construction equipment as well as generators, lifts and other equipment.
Field vs. Shop Service
Field service is a complement to our shop services. It is generally not an option for major repairs, component rebuilds or painting. These jobs require clean, predictable conditions that aren't available in the field.
Visit our Shop Service page for details about our capabilities.
Benefits of Field Service
Field service offers several advantages for busy fleets:
Speed: When your productivity is on the line, emergency field service is the fastest way to get up and running. MacAllister Machinery has teams available around the clock and can quickly dispatch a technician to your location.
Savings: If it's possible to repair a machine in the field, you can avoid the expense and hassle of transportation. This is especially true of large generators, cranes and other heavy equipment.
Less wear and tear: If a machine is immobile, moving it can risk additional damage to critical components. Field service gives our technicians the opportunity to complete temporary repairs that prepare a unit for transport to the shop.
Field service ultimately helps keep downtime to a minimum, saving you money and increasing machine availability. It's also a convenient way to meet your ongoing maintenance and diagnostic needs without interrupting work.
Why Choose MacAllister Machinery?
MacAllister Machinery is the authorized Cat dealer for Indiana, which makes us the best option for Cat field service. Our technicians receive specialized training, use genuine OEM parts and take advantage of exclusive diagnostic programs.
If you're already a MacAllister Machinery customer, our field techs can remotely access your service history. This helps them make more informed diagnoses and more effective repairs.
We are a longstanding partner to construction and landscaping crews and other businesses. We provide field service as part of our complete equipment management and preventive maintenance solutions. If you'd like to learn more about your options, contact us today.