Mobile Track Solutions Equipment For Sale In Indiana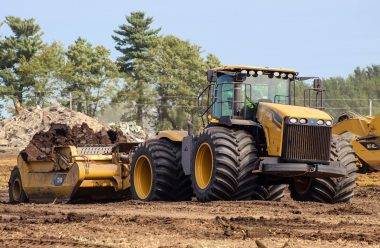 Mobile Track Solutions equipment are capable pieces of heavy equipment designed for rough and rugged earthmoving work. At MacAllister Machinery, we have a line of MTS equipment on hand, plus the MTS attachments necessary for tackling a wide range of job site tasks. You can trust our team to guide you through the product line and help you make the right choice.
Call us today at (317) 545-2151 for more info on MTS equipment for sale in Indiana.
MTS Construction Tractors for Sale
Mobile Track Solutions tractors feature powerful Cat® engines, delivering the power and performance you expect from a legendary brand. They are reliable tractors you can count on to get the job done fast and correctly, even in the most demanding agricultural and construction tasks.
Our equipment inventory includes tracked and wheeled MTS tractors, with each offering unique advantages:
MTS 3630W: The MTS 3630W has a wheeled chassis featuring six oversized, heavy-duty tires.
MTS 3630T: The MTS 3630T has a chassis that features four independent tracked attachments.
The MTS 3630T and the MTS 3630W construction tractors are powered by Cat C18 industrial engines, ensuring you can handle the toughest jobs out there. These tractors have many similar or identical features, with the chassis making up the primary distinction. The MTS 3630W wheeled tractor is more lightweight, faster and more agile. MTS 3630T tracked-chassis tractors have more grip on slopes and rough terrain, plus offer reduced ground impact per square inch.
MTS Implements
As the region's trusted Cat equipment dealer and a distributor of MTS equipment, MacAllister Machinery is your source for new construction tractors and a wide assortment of construction implements for performing unique tasks. These include:
Mobile Track Solutions Rollerblades
Rollerblades are towable attachments designed for leveling and packing terrain before rainfall and creating drainage to speed drying.
Mobile Track Solutions Sheepsfoot Rollers
The MTS sheepsfoot rollers we offer are low-maintenance work tools perfect for quickly compacting soil, silty clay and wet clay.
Mobile Track Solutions Towed Scrapers
MTS towed scrapers are designed for moving earth in high volumes. We have several models on hand that can be towed by tractor or by truck.
Mobile Track Solutions Construction Disks
MTS construction disks are durable, with superior cutting ability you can use to mix material and improve airflow for faster drying.
Construction-Grade Heavy Equipment You Can Depend On
If you have an earthmoving project, an MTS tractor makes the perfect solution. These tractors are tested and designed in part by Caterpillar. Whether you work in the building sector, road construction, agriculture or another demanding industry, they deliver a wide range of benefits that you can use on the job:
Excellent visibility
All-terrain capability
Cat parts and components
Support from your Cat dealer
Comfortable operator environments
Why Partner With MacAllister Machinery?
Our company has over 75 years of experience matching our clients with the right equipment solutions. We're one of the largest Cat dealers in the nation, with multiple locations throughout Indiana. Our team will pair you with the right MTS tractor and accessories to match your needs and help you equip it with your preferred optional features.
Working with us provides you with a local partner committed to your success. You'll also gain access to:
Professional maintenance and repair.
24/7 emergency field service support.
Convenient equipment pickup or delivery.
A team of knowledgeable industry experts.
Schedule a Demo Today
Visit our location nearest you to request an equipment demonstration. Our representatives will show you what MTS products have to offer and help you pick your best path to ownership.
You can also get in touch with our team using our contact form or by dialing (317) 545-2151.