PRINOTH Equipment For Sale In Indiana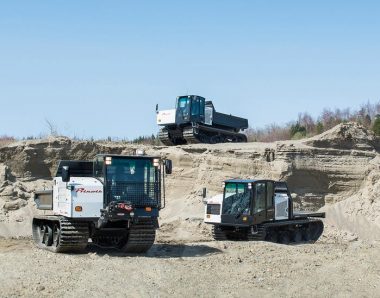 PRINOTH pushes forward where wheeled equipment gets stuck or is unable to reach. PRINOTH PANTHER crawler carriers have an unmatched payload capacity and all feature a durable, rubber-tracked chassis designed to produce minimal ground pressure and help protect your surfaces. These vehicles handle gravel, swamps, deep mud and snow with ease. You can customize these carriers with a wide range of specialized equipment to gain the upper hand in a variety of applications.
If you need to move materials across the toughest terrain, MacAllister Machinery has the solutions you need. We are the region's exclusive PRINOTH dealer and your home for new PRINOTH PANTHER tracked vehicles. Our representatives will help you choose the right model and create a custom setup that delivers the greatest benefit and return on your investment.
Call us today at (317) 545-2151 for more info on PRINOTH equipment for sale in Indiana.
NEW PRINOTH SALES IN INDIANA
We carry the complete lineup of new PRINOTH PANTHER tracked utility vehicles for sale. When you buy new, you gain total control over the options you choose to include in your build. Our representatives will help you sort through the technical specifications to find the right size model. We will then help you outfit it with your choice of options from an extensive list that includes cranes, dump beds, flatbeds, backhoes and concrete mixers.
PRINOTH EQUIPMENT RENTALS
Our PRINOTH equipment rentals are ideal for completing one-off projects or expanding your fleet. We offer flexible rental contracts on tracked dumper rentals. You can choose from day, week or month-long rental periods and keep your equipment as long as you need. You will have our complete support from start to finish, beginning from the moment we drop your vehicle off and continuing through equipment pickup.
PRINOTH EQUIPMENT SERVICE
We have service centers located throughout the region. Our expert technicians have the training to perform precision maintenance and repairs on PRINOTH equipment. If you have trouble getting to us, we can also come to you. We offer 24/7 emergency field service to your location for on-the-spot repairs done fast and with expert skill.
PRINOTH EQUIPMENT PARTS FOR SALE
We have all the parts you need to keep your equipment up and running. Our parts team will help you quickly identify the correct parts and any other products necessary to carry out a safe and complete service. We have a wide selection of PRINOTH parts in stock. If we need to special order something, we can get it to you fast to ensure your machines operate at their maximum capacity.
USED PRINOTH SALES IN INDIANA
If you want to add the versatility of a PRINOTH PANTHER tracked utility vehicle to your fleet but want to keep costs low, check out our used carriers for sale. We carry PRINOTH equipment in different setups, and we are always updating our inventory with more options.
Indiana's TRUSTED PRINOTH DEALER
Locate your nearest MacAllister Machinery for PRINOTH sales in Indiana. For more information about our PRINOTH equipment sales, rentals, parts or service please contact us directly.