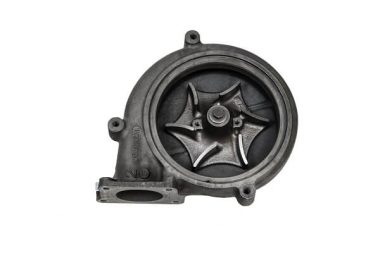 If your Cat® equipment is experiencing coolant leaks or frequent overheating, it could be time for a water pump upgrade. Area companies turn to the seasoned professionals at MacAllister Machinery for Cat water pumps and other parts and components. We keep equipment on the job and performing well.
Water Pumps for Various Cat® Equipment Models
MacAllister Machinery is an Indianapolis-based dealer. We have been authorized to sell and service Cat products since 1945. If you're looking for a Cat water pump, you'll find the right original equipment manufacturer (OEM) part for your excavator, skid steer loader, dozer, compact track loader or motor grader. Besides earthmoving/construction equipment, we can also supply pumps for Cat trucks, generators, forestry equipment, ag equipment and anything else from the worldwide leader.
About Our Cat Water Pump Inventory
Caterpillar manufactures a broad assortment of water pumps. They enable you to find the right part or component for your specific equipment model and year. You'll also find Cat water pump assembly components and complementary products like shafts, impellers, liners, retainers and housings.
These parts come in multiple diameters, thicknesses, voltages and other key measurements and parameters to meet your specific equipment requirements. Our parts professionals are available to help you make the right match for your Cat model.
The Importance of Choosing Genuine Cat Water Pumps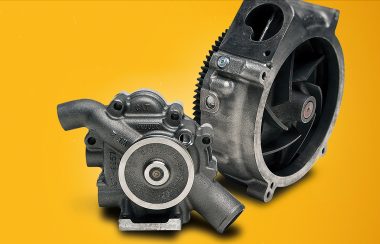 While you could save money by purchasing an aftermarket water pump and installing it in your Cat equipment, a genuine Cat OEM product from MacAllister Machinery will deliver more reliable long-term results.
Caterpillar manufactures these parts from high-quality materials. This construction ensures they'll hold up well in heavy-use applications. They match the original specifications, meaning you won't notice any difference in your equipment's performance. These OEM parts also undergo rigorous testing to ensure their quality. Plus, they come with a 12-month month manufacturer's warranty for extra protection and peace of mind.
Why Partner With MacAllister Machinery?
Besides being the exclusive Cat supplier in Indiana and Michigan's lower peninsula, MacAllister Machinery is one of the largest Cat equipment dealers in the U.S. You can't beat our vast parts selection. Our access to the extensive Cat distribution network also enables us to fill orders quickly.
We make ordering parts fast, easy and convenient. Many of our customers enjoy searching for and buying items online by visiting Parts.Cat.Com. Get instant access to more than 1.4 million parts 24 hours a day. Our strategically placed drop boxes enable you to pick up orders at your convenience.
If you ever experience a heavy equipment emergency, we're available around the clock to resolve the issue. We help keep your projects on track. With multiple locations throughout our operating territory, we're nearby and ready to assist you.
Browse Our Cat Water Pump Selection Today
Take the next step toward getting a top-quality replacement water pump for your Cat equipment. Check out our inventory online and place your order today. You can also call us at 317-545-2151 or fill out and submit our contact form to request additional information.