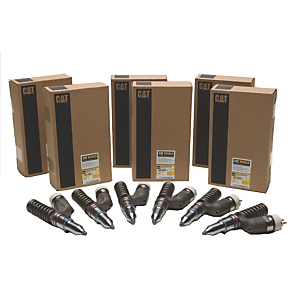 To replace worn-out fuel injectors in your Cat® products, turn to MacAllister Machinery. We're a one-stop source for Cat diesel fuel injectors that can make your diesel engines run more efficiently. They also help to reduce emissions and fuel consumption. Choose from new, used and remanufactured options.
New Cat Fuel Injectors for Maximum Quality
Our inventory includes new fuel injectors for Cat diesel engines such as the C7, C10, C12, C13 and C15. You'll find the perfect fit for any generator, truck, excavator, wheel loader or other Cat product. These are genuine OEM parts that meet the original Caterpillar® specifications and deliver exceptional quality and longevity. All genuine Cat fuel injectors come with a 12-month warranty.
Cost-Effective Used Fuel Injectors
Our selection of used Cat fuel injectors helps lower costs while delivering reliable quality and performance. Our dedicated used parts facility in Indianapolis stocks a huge inventory of parts and components. If we don't carry the exact fuel injector you're looking for, we can source it from the vast Caterpillar network.
Cat Reman Parts for Reduced Costs

Remanufactured fuel injectors help save money without sacrificing quality. Cat Reman can refurbish old parts and components to like-new condition using genuine Cat materials. You'll get the same warranty coverage as when purchasing brand new Cat products.
Using Cat Reman parts is environmentally friendly. This solution recycles high-value raw materials and conserves non-renewable manufacturing resources.
Why Purchase Cat Diesel Fuel Injectors From MacAllister Machinery?
We've helped companies meet their heavy equipment requirements for more than 70 years. As one of the largest Cat dealers in the United States, you can count on MacAllister Machinery for exceptional service and support.
You can purchase parts online at your convenience. Choose from a variety of flexible delivery options or arrange to pick your parts up at one of our multiple drop box locations.
Check Out Our Inventory of Cat Fuel Injectors
Review our current selection of Cat diesel fuel injectors and place your order today. If you have questions or need help finding the right part, don't hesitate to contact us online or call (317) 545-2151. Our experienced, knowledgeable heavy equipment experts will be happy to assist you!
VISIT PARTS.CAT.COM