Caterpillar® designs and manufactures powerful, efficient engines that provide many years of reliable service. An overhaul can extend the lifespan of your Cat® engine and improve its performance to keep your heavy equipment on the job.
Genuine Cat Engine Overhaul Kits
MacAllister Machinery offers new Cat overhaul kits for popular engine models such as the C7, C10, C12, C13 and C15. These kits, designed by Caterpillar, contain everything required for an easy-to-execute engine rebuild project.
Choose from four Precious Metals Cat rebuild kit options:
Bronze: Standard parts such as fuel and oil filters, as well as exhaust manifold studs and sleeves.
Silver: Includes everything in the Bronze package, along with items such as rings, wrist pins and piston body skirts.
Gold: All the Silver kit parts and components, plus a Cat Reman cylinder pack with preassembled pistons, rods and liners. This can help reduce the time of an overhaul project by several hours.
Platinum: Builds upon the Gold package by adding a Cat Reman cylinder head assembly, as well as fuel injectors, oil pump and water pump. This package will optimize your engine's performance and fuel efficiency.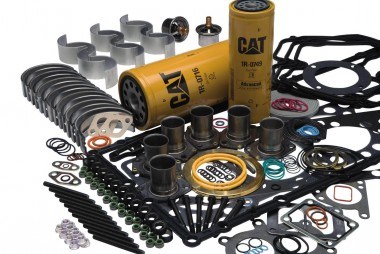 The Benefits of Using Genuine Cat Parts
Cat overhaul kits contain genuine OEM Cat parts and components that are the perfect match for your engine. These parts are made of high-quality materials and built to the original Caterpillar specifications to maintain your engine's integrity and longevity. Genuine Cat parts come with a 12-month warranty for protection and peace of mind.
Why Buy Cat Engine Rebuild Kits From MacAllister Machinery?
MacAllister Machinery has provided reliable heavy equipment solutions since 1945. When you partner with us, you'll receive support from one of the largest Cat dealers in the U.S. Our extensive inventory includes Cat rebuild kits and a variety of parts and components. With our access to the Caterpillar distribution center network, we can source the parts you're looking for quickly.
We offer fast, secure online ordering, convenient drop box locations, flexible delivery options and around-the-clock service. Our friendly, knowledgeable staff who will do whatever it takes to maximize your experience.
Check Out Our Selection of Cat Engine Rebuild Kits
Browse our Cat overhaul kit inventory and place your order today. Don't hesitate to give us a call at (317) 545-2151 or contact us online if you have questions or would like additional information.
VISIT PARTS.CAT.COM