Building Construction Equipment In Indiana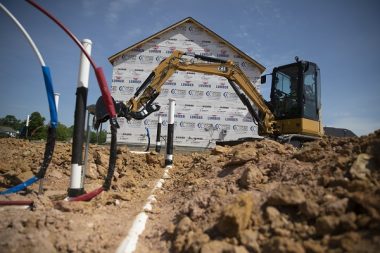 At MacAllister Machinery, we offer a vast inventory of Cat® building construction products (BCP) designed for durability, efficiency and reliability. We have the heavy equipment needed to optimize any construction site.
For more information, call us at (317) 545-2151 or request a quote today!
New Construction Equipment
As an authorized Cat dealer, we have exclusive access to all of the latest and most advanced home construction equipment on the market. MacAllister Machinery offers new construction equipment for every application, including:
Each product features a lineup of models and size specifications to help you find the right tools for the job.
We also have a selection of new work tool attachments to customize or upgrade your equipment, including:
Our Cat equipment attachments can help you fulfill any commercial or residential construction job as accurately and efficiently as possible. Whether you need a bucket for your skid steer loader, couplers for an excavator or forks for a backhoe loader, we carry the attachments that will enhance all of your most vital equipment.
Used Home Construction Equipment
If you're in need of an efficient fleet, but your budget doesn't allow for new equipment prices, we offer a wide array of used construction equipment at reduced rates. We can help you find a cost-effective solution that will bring productivity to your job site.
Building Construction Equipment Rental Options
You can meet your performance needs without breaking your budget when you rent equipment. Rental equipment is perfect for short-term use on a limited budget because it helps you reduce equipment costs and minimize maintenance requirements. MacAllister Machinery carries everything from aerial lifts to heavy equipment rentals so you can have the tools needed to get the job done right while reducing expenses.
Product Support
We have every resource necessary to keep your building equipment functioning at high capacity. We carry a wide variety of new and used Cat parts that you can browse based on equipment or part type. If your equipment requires maintenance or repairs, we offer comprehensive service solutions, such as field and shop services, rebuild options and fluid analysis.
Benefits of Buying Cat® Equipment
When you purchase Cat construction equipment, you can enjoy a variety of advantages at your construction or demolition site:
Meet environmental standards with low emissions and quiet operation
Durable builds and replaceable parts for extended productivity
High-tech features for improved safety and efficiency
Accessible service points and maintenance times
Compatible with innovative work tool attachments
Browse Cat BCP Equipment at MacAllister Machinery Today
As the region's heavy equipment supplier, MacAllister Machinery has been a trusted source for construction equipment sales and services for over 75 years. Our team of knowledgeable and experienced staff is here to offer expert assistance so you can get the most value from your equipment. At MacAllister Machinery, you'll receive support from one of the largest Cat dealers in the U.S. Contact us for more information today!