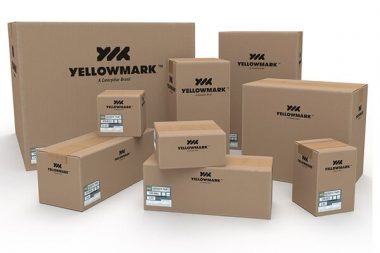 A Cat® motor grader is ideal for grading applications in road construction and maintenance. While you can expect many years of dependable service from your grader, you'll probably need to upgrade its parts more frequently as it ages. Yellowmark motor grader parts from Caterpillar® and MacAllister Machinery can provide a cost-effective parts replacement solution for your older equipment in Indiana or Michigan.
Shop Yellowmark Motor Grader Parts
What Are Yellowmark Motor Grader Parts?
Caterpillar began producing Yellowmark parts in 2018 to provide a low-cost alternative to Genuine Cat OEM and Cat Reman products. These high-quality aftermarket parts and components are replacing and expanding on the Cat Classic line. Caterpillar designed them for one-time use, which is ideal for companies that want to extend the lifespan of older small and medium-sized Cat construction equipment. They also comply with industry-standard specifications, which means they'll meet your quality and performance needs.
What Are the Advantages of Using These Aftermarket Cat Motor Grader Parts?
The lower price point is only one way Yellowmark motor grader parts can benefit your company. Because they're designed to fit Cat equipment, these parts and components will also deliver maximum reliability. What's more, they're readily available from local Cat dealers like MacAllister Machinery. You can order your parts at your convenience and have them at your facility or jobsite in no time.
How Do Yellowmark Motor Grader Parts Differ From Those of Other Brands?
Other aftermarket products can't match Yellowmark motor grader parts and components when it comes to reliability, quality and performance. Those "will-fit" parts aren't made specifically for Cat equipment. You'll also get the excellent support that only Caterpillar can deliver. Every product comes with a one-year manufacturer's warranty for your protection and peace of mind.
What Types of Yellowmark Motor Grader Parts Are Available?
You can choose from a wide assortment of aftermarket Cat motor grader parts in the following categories:
Download our Yellowmark Parts PDF to learn more about motor grader cutting edges.
Why Should You Make MacAllister Machinery Your Motor Grader Parts Headquarters?
MacAllister Machinery offers more than 70 years of heavy equipment experience and expertise. When you choose us as your Yellowmark motor grader parts supplier, you'll also get:
Around-the-clock service
An expansive parts inventory supported by one of the largest Cat dealers in the U.S.
Few concerns about out-of-stocks thanks to our access to the Caterpillar network of distribution centers
Easy, convenient online parts ordering
Your choice of flexible pickup and delivery options
Drop box access where you can pick up your order at your convenience
Reliable help from our friendly, knowledgeable staff
Order Your Aftermarket Cat Motor Grader Parts Online Today
If Yellowmark parts make sense for your business, you can place your order online right now. Don't hesitate to contact us if you require assistance or need more information.