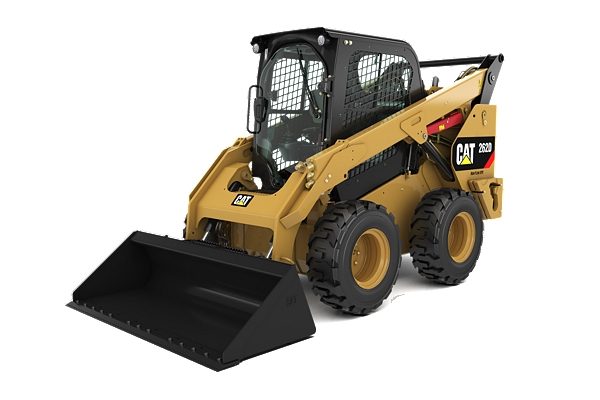 Cat® skid steer loaders are known for their remarkable versatility — their compact size enables them to maneuver easily in confined areas. You can also equip a skid steer with numerous attachments to enhance its performance and increase its value to your company.
MacAllister Machinery, one of the leasing Cat equipment dealers in the U.S. and proudly serving Indiana and Michigan, carries genuine Cat skid loader parts to keep your machines on the job for years to come.
We Feature a Broad Selection of New Cat Skid Steer Parts
New Cat skid steer parts are built to exact specifications to deliver the long-lasting performance you expect from the worldwide heavy equipment leader. We have access to more than 1.4 million new Cat parts, including engine components, tracks, hydraulic system parts and many others. A key benefit when purchasing brand-new genuine OEM parts is getting exposure to the latest technological advancements from Caterpillar® that enable you to get more work done in less time.
Keep Your Equipment Costs Under Control by Purchasing Used Cat Skid Loader Parts
If you're working with a tight equipment budget, consider purchasing used Cat skid steer parts from MacAllister Machinery. Our used parts facility in Indianapolis houses an extensive parts inventory for new and more seasoned machines that allow you to minimize your costs without sacrificing quality.
Our staff includes knowledgeable used parts experts who can help you find the right part or component for your skid steer loader, regardless of year or model. We can also tap into the extensive Caterpillar network to locate that hard-to-find part that no one else seems to carry.
Remanufactured Cat Skid Steer Parts Offer Another Cost-Effective Alternative
Is it time to upgrade a worn-out skid steer part? Our exchange program is a great way to get what you need without having to invest in a brand-new part or component. Our exchange system enables you to return an old part and receive a remanufactured product to replace it. Cat remanufactured parts are expertly rebuilt to meet the high Caterpillar quality standards, giving you the confidence that it will serve you well for a long time to come. They're also covered by the identical warranty of brand-new Cat parts.
Choose Yellowmark™ Parts for Cat Skid Steers
Using OEM or remanufactured replacement parts isn't always the most cost-effective business strategy for older equipment. The line of brand-new Yellowmark aftermarket skid steer parts from Caterpillar and MacAllister Machinery can significantly reduce your costs without impacting quality or performance.
MacAllister Machinery: Delivering Exceptional Service for More Than 70 Years
Since 1945, MacAllister Machinery has been helping companies just like yours get the heavy equipment they need to operate efficiently and profitably. We make getting new, used or remanufactured Cat skid loader parts a fast and easy process. You can order parts online at Parts.Cat.Com on a 24/7 basis, or call or stop by a nearby MacAllister Machinery store for friendly, personalized service. You can also have your parts delivered to just about anywhere or pick them up at the dealership or one of our many convenient drop-boxes throughout Michigan and Indiana.
Order Your Cat Skid Steer Parts Today!
Order your Cat skid loader parts online today, or feel free to contact us for more information. Make MacAllister Machinery your one-stop source for all your heavy equipment needs!
VISIT PARTS.CAT.COM