Replacing certain heavy equipment parts should be a regular part of your maintenance routine, and not just when things fail. Replacing parts before they go bad will keep your machine in optimal condition and increase its longevity.
Jump to Sections:
Unmaintained construction equipment can lose value over time. The goal of repairing parts and performing regular maintenance is to maximize your end profit. Replacing worn-out parts on the spot will:
Improve the uptime of your heavy equipment
Reduce overall operating costs
Allow for a superior level of performance
When one part of your heavy equipment machine fails, other parts have the potential to become damaged as well. Reducing the risk of component failure will diminish safety hazards to equipment operators, products and the machine itself.
Broken parts cause downtime, which costs you money in the long run. If you have parts readily available, downtime won't be an issue. Ordering parts can take several days or weeks depending on availability. Being prepared ahead of time will allow you to continue working without delay.
Replacement Part Options: New, Used, Rebuilt or Exchange
You have the option to choose between new, used or rebuilt parts. You also must decide between genuine Cat® parts or aftermarket products. While each has individual pros and cons, the right replacement part for your heavy equipment is dependent on your needs. Here is a guide to different replacement part options.
1. New Cat Parts
New Cat parts are manufactured by Caterpillar® and are guaranteed to fit and work precisely with your Cat equipment. You won't have to worry about a new genuine Cat part not fitting properly. There is no guesswork with purchasing new OEM Cat parts.
Pros:
New replacement parts are easy to choose, because there is only one option. You simply match up the part numbers. Whether you are looking to replace air filters, spark plugs or hoses, each is made for your piece of equipment.
New Cat parts always work exactly like the one you are replacing.
They are typically backed by a warranty.
New parts are typically in stock for quicker delivery, limiting downtime.
Cons:
The cost of a brand-new part is usually higher than used or rebuilt parts.
Shop New Cat Parts
2. Used Cat Parts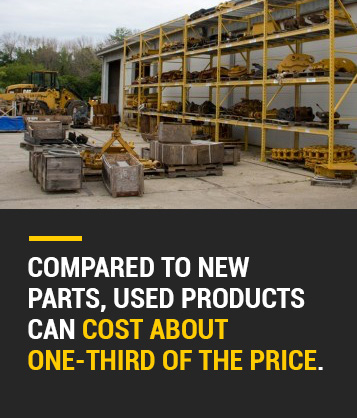 Used part options for your Cat equipment means the parts came off another piece of equipment that was deemed uneconomical to fix or was reclaimed and sold by an insurance company. It's important to remember that "used" does not mean "worn out" or "non-functioning." Used parts can deliver high-quality and high value like other replacement options.
Pros:
Compared to new parts, used products can cost about one-third of the price.
MacAllister's used parts department rigorously tests all used parts to ensure optimum performance levels and inspects them to certify they are fully functioning. As cost-effective replacements, used parts can be high-quality if purchased from a reputable source.
Installing used parts in heavy equipment is ideal for components that don't wear as hard and as rapidly, such as some engine components and some attachments.
The performance of used parts is guaranteed to perform at similar levels as new parts but at a lower cost.
Cons:
Although used parts are fully functioning, they have some level of wear.
The warranty and return policy of used products are typically shorter or non-existent compared to new part warranties.
An Important Note on Used vs. Salvaged Parts
Used parts are not the same as salvage yard parts. Avoid salvaged parts because they are typically not tested for appropriate functioning standards. Salvaged parts are less costly, but you run the risk of purchasing faulty components. Salvage parts are typically pulled from equipment salvage yards and thus have been exposed to the elements and could cause damage to your heavy equipment.
3. Rebuilt or Remanufactured Cat Parts
Rebuilt or remanufactured parts come about when faulty components of your machine are taken apart and rebuilt with new components to match factory specs. Remanufacturing your parts to "like new" condition will not sacrifice quality.
Pros:
Remanufactured parts are built to the same level of performance as new parts and meet the standards of OEM tolerance, durability and quality.
It is less costly to replace worn parts with rebuilt parts.
Rebuilt parts are a sustainable choice that reduces waste. The amount of energy and material required to rebuild parts is less than that of new parts.
In most cases, you will receive the same warranty as new Cat parts.
Cons:
After rebuilding, some areas of the part are new, and some are old. Each component may not need replacing, but the rebuilt component is more worn than a brand-new product.
Depending on the part, the rebuild process could also take several days or weeks, increasing downtime.
4. Exchange Cat Parts
Exchange parts offer the same performance as new parts but at a significantly lower price. If purchasing new parts does not fit your budget or isn't necessary, exchange parts are the perfect alternative. With exchange parts, you bring in your old and worn out part and receive a rebuilt one off the shelf.
Pros:
Exchange products are the most cost-effective alternative to new or used equipment parts. They provide your machine with high performance and durability for a price less than a new component.
They are tested to meet quality acceptance criteria.
Exchange parts are more convenient than rebuilding worn parts, as they are rebuilt ahead of time and are immediately available for pickup and installation.
Cons:
An exchange part is not entirely brand-new and might need to be reserviced at some point.
Types of Replacement Parts: OEM vs. Aftermarket
You have two main options to choose when determining what type of replacement parts to buy for your heavy equipment — original equipment manufacturer or aftermarket parts. Although each has benefits, OEM products are the most reliable and provide the best ROI over the life of your equipment
Advantages of OEM Cat Parts
You can purchase Original Equipment Manufacturer parts as new, used or rebuilt. The benefits of OEM parts include:
A guarantee of quality performance for your heavy equipment.
OEM parts are designed to fit properly and work up to par with the same properties of a genuine product.
Installing OEM parts in your Cat equipment also includes a warranty.
New OEM Cat parts are made by Caterpillar, not by a third party, and are the same as the original found in your machine. You won't have to worry about a product not fitting properly as you do with some aftermarket parts.
Disadvantages of Aftermarket Parts
You should avoid aftermarket products when replacing parts on your Cat machinery. If it says Cat on the outside, put Cat on the inside. Compared to OEM components, aftermarket parts are not tested for compatibility by the manufacturer. Other drawbacks include:
If products are not tested, they may not function properly, furthering the risk of worn-out parts and machine complications.
A warranty for your Cat machine becomes void when you use aftermarket parts.
Aftermarket products don't necessarily conform to laws and regulations.
Aftermarket parts may not use quality components resulting in a shorter life span and a bigger cost investment in long run.
Selecting among hundreds of options may make it difficult to determine which parts work with your equipment. Aftermarket companies typically reverse-engineer parts. However, the process may not be accurate.
OEM vs. Aftermarket Equipment Parts: Which is Better?
OEM products are 100% assured to fit your machinery and work as expected. Aftermarket components, even if bought from a reputable source, are not tested for proper functioning, which can damage your heavy equipment. If you are judging aftermarket vs. manufacturer replacement parts, the answer is clear. The risk of purchasing improper parts with lower-quality materials is a downfall of aftermarket products.
Common Parts to Replace on Heavy Equipment
Common parts to replace on heavy equipment machinery are those that experience the most wear and tear. General "rules of thumb" exist to maintain your equipment's optimal performance and ensure downtime is at minimum level. Common parts that may need more frequent replacing include:
Tips on When to Replace Parts on Heavy Equipment
Depending on the type of part that needs replacing, a new or rebuilt component may be ideal compared to a used part. The appropriate type of parts to use for your machine depends on your standards and expectations.
Air Filters
You should replace air filters based on how they look, not based on a set schedule. Get new ones when they're dirty. Air filters prevent dirt and other particles from reaching your engine, and they allow clean air to pass. Changing the air filter in heavy equipment will prolong the engine's life, reduce emissions and increase fuel efficiency. You should use new air filters as replacements. Used filters will cause more damage and decrease an engine's performance.                                                                                                                   
Batteries 
Diesel engines typically have two batteries to power the starting system and supply energy to the electrical components within your heavy equipment machinery. The average OEM battery lasts between 4 to 5 years, but you should replace as a new part when necessary. The most common reasons for battery failure are:
Improper charging
Loose cables
Corrosion
Low alternator output
Belts
Off-road heavy equipment typically uses a serpentine belt that powers the air conditioning, power steering pump, compressor, air injection pump and cooling fan. In the case where a serpentine belt brakes, the engine will stop working and may begin to overheat. Overheating causes severe damage to an engine that can add up to major repair costs.
If your machine's belt has cracks, wearing and stripping, replace it with a new belt immediately. Never buy used parts for items such as brake lines, hoses and belts. Rubber dry rots over time and is prone to quick failure.
Engine Oil
Use new fluid when changing oil in heavy equipment. Oil lubricates an engine while absorbing its heat, allowing all internal parts to function efficiently. As time passes, oil breaks down and becomes less effective in lubricating and absorbing high temperatures. Recycle used oil and dispose of it in this way:
Drain the oil from your machine into a dirt-free pan.
Pour it into a container with a leak-proof lid.
Recycle the old oil at a collection site.
Engine Starters
An engine starter sets the machine's pistons, crankshaft and other components in motion. If a starter fails to ignite the engine, your heavy equipment will not start.
Although a faulty engine starter has similarities to a dead battery, the lights and horn of your machine will still work properly. To replace an engine starter, you can purchase either a new or remanufactured part. Remanufactured engine starters are tested, and faulty parts are replaced with new ones.
Fuel Filters
The purpose of fuel filters is to prevent dirt and other components from entering a machine's fuel pump. When fuel transfers from the fuel tank to the fuel pump, it passes through the fuel filter to ensure it is clean. A buildup of unwanted particles in the fuel system will clog the system and could cause engine failure.
If the fuel filter deteriorates and becomes contaminated with debris, dirt can prevent gas from reaching the engine. Clumps of debris will affect the fuel efficiency of your heavy equipment and the overall performance of the machine will suffer. To replace fuel filters, purchase new rather than used.
Fuel Injectors
Fuel injectors deliver fuel to a machine's engine and determine the exact amount needed. In the case of a clogged fuel injector, it will not be able to supply fuel to the engine. For diesel engines, you can replace fuel injectors with new, used or rebuilt parts. This rids the shell of the fuel injector of faulty parts and replaces them with new ones.
Hoses
You should replace hoses about every 4 years — but if you use your heavy equipment rigorously, hoses may wear more quickly. Hoses transfer fluids to the engine, power steering rack, hydraulics and calipers. Coolant hoses hold the fluid under pressure and are subject to extreme hot and cold temperatures. Check hoses for cracks, bubbles, or stiff textures. Rubber dry rots and is prone to wearing away quicker than other materials. Always purchase new hoses for your heavy equipment. 

Hydraulic Filters
Hydraulic filters protect the hydraulic system from contaminated oil and debris. Maintaining a clean hydraulic filtration ensures machine efficiency. Metals, such as copper and iron, accelerate the degradation of the system, but with proper filtration the metals don't compromise the system. Install new hydraulic filters and not used ones.
Hydraulic Fluid
The main function of hydraulic fluid is to transmit power to the hydraulic system. It's also useful in:
Heat transfer
Lubrication
Contamination removal
Hydraulic fluids can be petroleum-based, water-based or synthetic. Replacing hydraulic fluid in heavy equipment requires new fluid. Check with OEM specifications to determine the correct viscosity grade and type for your machine.
Oil Filters
Oil filters help remove unwanted contaminants and debris from entering your heavy equipment's engine. Unfiltered oil will cause particles to wear the surface of an engine, and dirty oil pumps will become damaged. The process begins with unclean oil passing through the filter and back through the central hole to re-enter the engine. Replacing new OEM oil filters expands the life of an engine.
 Spark Plugs
 Spark plugs create an ignition to begin the combustion needed to start your heavy equipment. Replacing spark plugs:
Maximizes fuel economy
Helps with smooth engine starts
Reduces harmful emissions
Produces optimal engine combustions
As spark plugs age, deposits form from air-fuel mixtures and can lead to jerky startups. To replace spark plugs in your heavy equipment, always purchase new parts.
Transmission Fluid
The primary function of transmission fluid is to lubricate the transmission system. It also protects metal surfaces from wear, reduces high operating temperatures and increases rotational speed within the transmission. Automatic and manual machines use different types of transmission fluids. You should always replace transmission fluid with new fluid. When removing old transmission fluid from your machine, recycle it.
Suspension Components
Purchase new or rebuilt equipment parts for suspension components. Never buy used.
Shop All Cat Parts
Repair Your Heavy Equipment With the Best Parts Available
MacAllister Machinery is a full-service heavy equipment dealer. We offer a complete selection of replacement parts for your machine. Our inventory encompasses all parts needed for the Caterpillar brand. Our staff's exceptional expertise can help you each step of the way.
What suits you best depends on your budget and the needs of your heavy equipment. MacAllister Machinery offers new, used, remanufactured and exchange OEM components. Equipment is only as strong as its weakest link. Having replacement parts on hand will decrease downtime and ensure your machine runs at a superior level.
What's the Best Replacement Option for Your Heavy Equipment?
Let us support you before, during and after the process of finding proper heavy equipment replacement parts. It's important to determine the exact plan for your equipment when purchasing certain components. Are you looking to choose quality parts that you can use long-term or get by with cheaper parts for the short-term?
We recommend new or exchange OEM replacement parts for long-term use. In return, the OEM products will reduce overall repair costs and keep your heavy equipment running. Used and remanufactured parts are tested for accurate performance regulations before they are sold.

Choosing between different replacement parts may be difficult. MacAllister Machinery is here to help you. Contact us today for more information about our replacement parts.