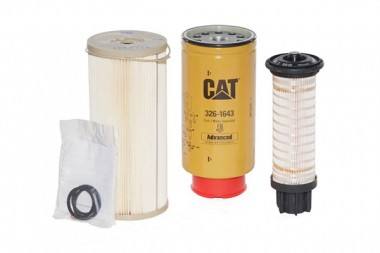 Changing the fuel filter on a regular basis helps prolong engine life and prevent mechanical failures. If you own Cat® equipment like generators, trucks, bulldozers, excavators or wheel loaders, turn to MacAllister Machinery for high-quality fuel filters.
Our Inventory of Cat Fuel Filters
Whether you have a diesel, gasoline or natural gas engine, you can find the right fuel filter at MacAllister Machinery. We carry new filters for popular engines such as the C7, C12, C13, 3116, 3208 and many others. Caterpillar® produces these filters in-house under controlled manufacturing conditions for the highest quality and performance.
Fuel Filters in a Wide Range of Efficiency Ratings
Our inventory includes Cat diesel fuel filters with varying efficiency ratings. You can choose the filter that provides the best match for your equipment, operating conditions and usage patterns.
Available options include:
Standard efficiency: Cost-effective solution without sacrificing reliability. Use them for regular-use engine protection applications where exposure to dirt and contaminants is low.
Advanced efficiency: Enhanced contamination control. Use them with newer Cat equipment with stricter emission and component requirements.
Ultra-high efficiency: Maximum contamination control applications without impacting dirt-holding capabilities. Use them after performing service work as clean-out filters.
The Importance of Using Genuine Cat Parts
Our fuel filters are genuine OEM Cat parts that deliver the best results and an ideal fit for your Cat engine. They undergo rigorous testing to meet the highest standards and come with a Caterpillar 12-month warranty.
Why Choose Cat Fuel Filters From MacAllister Machinery?
MacAllister Machinery has been an authorized Cat equipment dealer for more than 70 years. Our commitment to service has helped us become one of the largest Cat dealers in the United States. We carry a huge parts inventory and can source parts quickly from the extensive distributor network. Our experienced, knowledgeable staff will help you find the right part for your equipment and applications.
Order Cat fuel filters or any other parts online at your convenience. Arrange to pick them up at one of our multiple drop box locations or choose from a variety of flexible delivery options.
Order Your Cat Diesel Fuel Filters Today
Browse our selection of fuel filters online and place your order today. Feel free to contact us or call (317) 545-2151 if you have questions or need assistance.
VISIT PARTS.CAT.COM