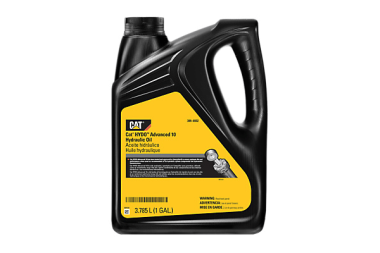 Because hydraulic systems are the heart of your Cat® heavy equipment, you should provide them with the right care. One of the main steps in maintaining a hydraulics system is using the correct oil or fluid. Besides transferring power, hydraulic oil helps cool, lubricate and seal your device's system.
Cat hydraulic oils provide top performance and endure strict testing to meet the high industry standards set by Caterpillar. If your Cat equipment has a hydraulic system, MacAllister Machinery has the right fluids to keep it running smoothly. We offer multiple grades of Cat oil to fit what your equipment's manual suggests.
Cat HYDO Oil
Cat hydraulic oil, also called HYDO, ensures long life when used as recommended in Cat hydraulic and hydrostatic systems. Most Cat equipment comes filled with HYDO when leaving the factory floor. We advise using this oil because its formula is made for Cat systems and offers longer life for hydraulic parts.
Caterpillar makes HYDO with a balanced additive system containing dispersants, detergents, anti-wear agents, rust inhibitors and defoamers. It provides maximum protection against mechanical wear, rusting and corrosion, plus some other key benefits:
Field-tested for consistent performance
Made with high levels of zinc additives to minimize motor, pump and valve wear
Engineered to disperse water effectively
Tested and approved by Caterpillar engineers
Standard factory-fill oil
Benefits of Cat HYDO Fluid
While non-Cat commercial oils allow for a 2000-hour drain time, Cat HYDO Advanced fluids provide 6000-hour or higher intervals for most uses. Plus, there are a few other advantages of using Cat HYDO hydraulic oils:
Anti-wear formula protects surfaces and reduces part wear
Helps reduce rust and corrosion
Water dispersion prevents pump damage
A 250% increase in oxygen stability
Better filtration properties to help keep the system clean

Caterpillar also offers Bio HYDO Advanced, a nontoxic, biodegradable hydraulic fluid for use when following environmental safety rules is a priority. This formula has a synthetic biodegradable base oil and premium additives that provide the best possible protection for Cat hydrostatic transmissions and hydraulic systems. This fluid has a renewable content exceeding 90% and complies with the European Eco-Label.
Why Buy Cat Hydraulic Fluid From MacAllister Machinery?
MacAllister Machinery has been one of the top Cat dealers in the United States for over seven decades. We commit to service and quality in everything we do. If you need help picking the right oil for your Cat equipment, our staff can assist you.
Many of our shops in Indiana and beyond offer S-O-S fluid analysis to give you a look at the health of your hydraulic system. We use the latest tools and newest technology to analyze your equipment's fluids and see if the system's parts are in good repair. The testing tells us which maintenance decisions will give you the best performance and provide longer equipment life.
Order Your Cat Hydraulic Oil Today
Feel free to browse the Parts.Cat.Com store to see the many Cat HYDO oil options in stock. We also stock a wide variety of hydraulic oil filters. If you need further help or want more technical data, contact our staff online or call us at (317) 545-2151 today.
VISIT PARTS.CAT.COM