MacAllister Machinery operates as Indiana and Michigan's leading supplier of heavy equipment, as we sell, rent and service a variety of top-tier products from leading manufacturers like Caterpillar, Honda, Kubota and many others.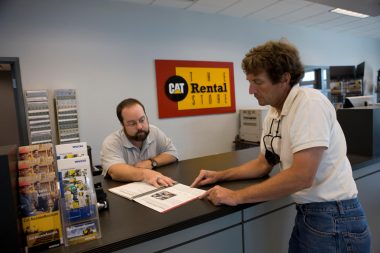 While some of our vehicles weigh tons and can move tons, some of the most vital heavy lifters within our organization come from the retail sales department. Engaging customers and convincing them to partner with us is no small task. We need to consistently demonstrate the knowledge, resourcefulness and accountability that makes us so trusted throughout Indiana and Michigan.
Without a leading sales division, our business would never have experienced the tremendous growth it has enjoyed over the last 70 years.
We Offer a Variety of Retail Sales Positions
We require an array of knowledgeable, capable sales professionals, including sales representatives, associates and coordinators to act as ambassadors to our customers who may be interested in partnering with us. Each of our branches needs a team of these individuals to boost regional sales, which help to determine our company's overall financial health.
Responsibilities may vary depending on the position and the branch. In general, we expect sales professionals to be proficient at the following:
Develop high output rates for both equipment rentals and sales.
Handle all interested customers with respect and attention to detail, as you will be expected to address their needs and recommend appropriate solutions when necessary.
Coordinate with other employees to ensure the completion of contracts and other paperwork.
Help to meet established quotas, either by assisting other employees or directly handling accounts.
We offer the possibility of working inside, outside or at the counter. You might handle the rentals of equipment, like construction vehicles, or you might specialize in selling the parts necessary to fix and rebuild units. The possibilities are extensive, so we're confident we can find an area for you that aligns closely with your working knowledge base.
Being physically capable of performing your duties is a requirement for every position. You should be able to lift 70+ pounds to help customers with transporting merchandise.
Benefits of Working at MacAllister Machinery
MacAllister Machinery holds itself to a high standard. We focus on delivering in-depth knowledge, first-class service and trustworthiness to customers and clients at every level.
We maintain a strong company culture that sets up everyone for success. We employ people who are loyal and dedicated to our vision, which is to be one of the leading equipment dealers in the country. If we find you to be an ideal fit for our mission, we will make sure you feel welcome and appreciated throughout your time with us.
With that in mind, we offer competitive salaries and many other compensation packages, including:
Medical, dental and vision insurance
Wellness program
Profit-sharing program
Company-sponsored training program
Tuition reimbursement
401(k) immediate enrollment with a 50% company match
Technician tool purchase program
Safety shoes reimbursement program
Company-provided uniforms
Short-term and long-term disability insurance
Term life insurance
We offer opportunities for advancement throughout the company, so your hard will be rewarded as you build experience and demonstrate your ability.
It's also important to note that we are an equal opportunity and affirmative action employer, so our work environment is open to everybody who possesses the talent to succeed.
Join the Sales Team at MacAllister Machinery Today
If you're looking to apply your sales knowledge and expertise in a professional, goal-oriented environment, McAllister Machinery might be the right fit for you. Search our job listings today to find an ideal match near you.