Road Construction Equipment In Indiana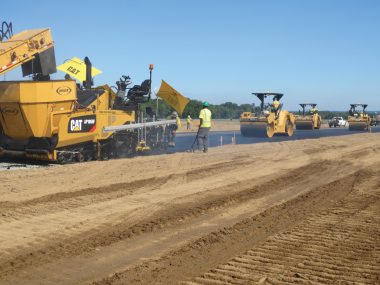 Cat® road construction equipment will bring value and efficiency to any job site. At MacAllister Machinery, we are your go-to source for Cat products that are reliable, durable and adhere to the highest industry standards for safety.
For more information, call us at (317) 545-2151 or request a quote today!
New Road Building Equipment
You can build the most well-constructed and high-quality roads with our fleet of new road construction equipment. Whether you're working with asphalt, dirt, stone or concrete, Cat equipment offers the most dependable solution for any pavement construction job. With new road building equipment, you can maximize performance and efficiency and produce safe, smooth roads.
With every construction job comes the need for different types of heavy equipment. Our inventory of new Cat equipment serves practically every need, from soil compacting to laying or loosening asphalt. Our new equipment options include:
We also carry a variety of Weiler paving equipment.
Weiler equipment includes:
Shuttles
Asphalt pavers
Windrow elevators
Remixing transfer vehicles
Road reclaimers
Road wideners
You can further optimize your job site by investing in work tool attachments for your road building equipment. We carry everything from buckets and backhoes to forks and hammers so you can enhance productivity and get the job done right.
Used Road Maintenance Equipment
If you're looking for road building solutions but have a limited budget, check out our wide selection of used equipment. With used equipment, you can control costs and achieve high performance levels at a significantly reduced rate. All of our used models are carefully inspected to ensure maximum safety and efficiency. Plus, used equipment maintains its value over the long term.
Road Construction Equipment for Rent
If you need a temporary equipment solution, consider the benefits of Cat rental equipment. Rental equipment is ideal to fill a short-term need, such as when a piece of machinery is out for repairs or you want to test a new model before buying. We offer flexible rental terms and will take care of any maintenance and repairs so you can focus on getting the job done efficiently.
Parts, Service and Product Support
We offer expert service solutions to repair or maintain all of your construction equipment. With replacement parts, field and shop services and other services, we'll restore your equipment to its full potential so you can return to the job site with minimal downtime.
Benefits of Cat® Road Construction Equipment
When you invest in Cat road equipment, you'll experience high-quality results and the perks of choosing an industry-leading manufacturer like Caterpillar®. Cat products offer a number of features and benefits, including:
High-efficiency solutions
Unmatched safety and durability
Continuous reliability
Attachment compatibility
Get in Touch With MacAllister Machinery Today
For over 75 years, MacAllister Machinery has served Indiana and Michigan's lower peninsula as the go-to heavy equipment supplier. As one of the largest Cat dealers in the country, our knowledgeable and experienced team is dedicated to providing superior customer service. Contact us to learn more today!