Utility Equipment In Indiana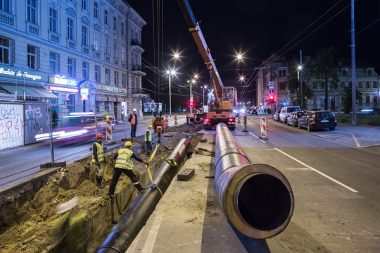 Utility installation, repair and maintenance jobs often require working above and below the ground. If you're in Indiana, MacAllister Machinery can supply your business with high-quality, high-output utility equipment to help you complete your work quickly and safely.
We've been helping water, gas, electric and telecommunication companies like yours meet their project objectives since 1945. Contact us today to see how we can help your business.
For more information, call us at (317) 545-2151 or request a quote today!
Your Headquarters for Cat® Utilities Equipment and More
Caterpillar is one of the most well-known and trusted equipment manufacturers in the U.S. and around the world. New Cat® products provide the best in work rate and a long service life while helping you keep your work site safe.
Our brand-new Cat utility equipment includes excavators for digging, leveling and loading, plus telehandlers that provide maximum lift and reach when working at heights. Mobile Cat generators give you easy access to electrical power at your sites, no matter where you are. We also offer specialized utility equipment for sale from other well-known manufacturers to make sure you have what you need to get the job done.
Work Tool Attachments Help You Do More With Less
Are you looking to make the most of limited resources? Work tool attachments let you transform your equipment by adding tools like buckets, hammers, trenchers, augers and other designs that let a single machine take on more work. Quick couplers make work tools even better by allowing operators to make fast attachment changes without even getting out of the cab.
Our equipment experts can help you choose the best equipment-attachment pairing for the nature of your work.
Used Equipment Can Reduce Your Costs
If staying under budget is the main focus for your business, consider buying used utility equipment from MacAllister Machinery. As one of the largest Cat dealers in the U.S., we carry a huge inventory of late-model and older Cat products at budget-friendly prices. You'll also find models from other trusted manufacturers — you'll always get a high-quality product when buying from us.
Rent Utility Equipment From Us
Renting equipment can often provide the most practical and affordable solution for many businesses. Our vast rental fleet includes an assortment of digger derricks, air compressors, generators, earthmoving equipment, boom lifts and other utility site must-haves.
We're also one of the nation's leading distributors of shoring equipment to support trenches and enhance safety. Rent high-quality trench shields, slide rails, manhole boxes, steel road plates and stone savers.
We offer the chance to rent for a day, week, month or longer, along with fair rates and full service for every rental.
Get Excellent Support So You Can Work With Confidence
Whether you buy or rent utility equipment, we'll support you every step of the way — that's what we've been doing for over 75 years. We keep high-quality replacement parts on hand and deliver fast, reliable maintenance and repair service to keep your fleet on the job and running well. We can also help you install the latest tech tools from Caterpillar to increase work rate and reduce operating costs.
Learn More About Our Utility Equipment for Sale and Rent
Visit the MacAllister Machinery location near you today to view our equipment and meet our team. You can also ask questions and get more product and pricing data by calling us at 317-545-2151 or filling out and returning our online contact form.