Material Handling Equipment In Indiana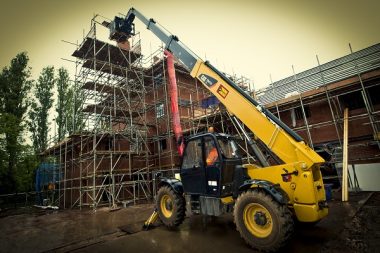 Material handling equipment is vital for many businesses that must load, unload and transport high volumes of goods quickly. Companies throughout Indiana turn to the equipment professionals at MacAllister Machinery for productive, reliable material handling equipment that performs without fail in even the toughest roles on the job site.
From material handlers to telehandlers, we have your material handling needs covered.
For more information, call us at (317) 545-2151 or request a quote today!
New Material Handling Equipment for Sale
Are you looking for material handling equipment that gives you the best long-term value? As the region's exclusive Cat® dealer, we can provide the latest, most advanced models from Caterpillar that will take your material handling results to a higher level.
New Cat material handlers and telehandlers include many features that boost output, save time and create a safer work site. Their build and design quality results in fewer maintenance and repair issues and lower costs for your business. Our fleet also includes products from other big names in the industry, so we can provide the best selection anywhere in the region.
New material handlers and telehandlers are available in different rated load capacities and reach and lift height options, giving you plenty of choices so you can pick a model that can handle your usual workload. Our equipment specialists can guide you through finding the right product for your work.
Attachments Expand the Function of Your Fleet
Get more out of your material handling equipment and reduce costs by using work tool attachments from MacAllister Machinery. Add pallet forks so your telehandler can move large, sealed loads or a side shift carriage to let it work more freely when picking or placing goods. Examples of other material handling equipment options include buckers, truss booms, winches and fork-mounted lifting hooks.
Buy Used Equipment and Save Money
Tight budget constraints are causing companies everywhere to cut spending to stay competitive. If you prefer not to spend your cash on brand-new equipment, a similar used model from MacAllister Machinery can be an excellent choice. Select from late-model and older material handling equipment from Caterpillar and other leading brands with the features you need to tackle anything on your work site.
Explore Our Rental Options
If you're only looking to use equipment temporarily, we can help you out with a high-quality rental unit. Get a well-maintained, carefully inspected Cat forklift or other material handling product you can trust. Our rates are fair and you can choose a daily, weekly, monthly or long-term program that makes sense for your business.
Reliable Support From Start to Finish
Whether you buy or rent material handling equipment, we'll be there to help you every step of the way. As one of the largest Cat dealers in the U.S., we offer a full range of replacement parts and expert maintenance and repair services. We're also here to help you add the latest tech from Caterpillar to your equipment so you can improve its output and lengthen its service life.
View Our Material Handling Equipment Inventory Today
Visit the MacAllister Machinery location near you to see our lineup of Cat material handling equipment and other products in person. For more information, call us at 317-545-2151 or fill out and return our online contact form.