Heavy Construction Equipment In Indiana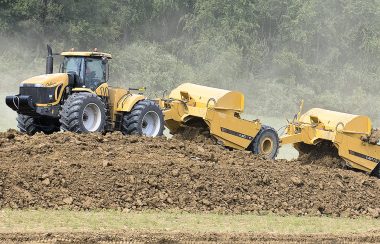 At MacAllister Machinery, we offer an extensive selection of the most durable Cat® heavy construction equipment. Cat products set the standard for performance and efficiency to bring the highest productivity levels to any job site.
For more information, call us at (317) 545-2151 or request a quote today!
New Large Construction Equipment
We can help meet the needs of any residential or commercial construction project with our large selection of Cat heavy equipment. Our fleet of new equipment reflects our standards of dependability, strength and efficiency. We can help you find the right piece of equipment to meet your specific requirements.
Each equipment listing includes detailed specs, including operation weight, net power levels and dimensions, so you can determine which model is best for you. Our selection of new equipment includes options such as:
We also carry a wide selection of Mobile Track Solutions equipment and PRINOTH crawler carriers.
Mobile Track Solutions Equipment
To bring extra functionality and efficiency to your construction site, you can also browse heavy equipment attachments to upgrade your most vital machinery. Whether you need a new bucket for your telehandler or couplers for your excavator, MacAllister Machinery carries all of the most innovative attachments to optimize any piece of heavy equipment.
Used Heavy Construction Equipment
Buying used Cat construction equipment often makes sense for businesses that need to expand their fleet while staying within budget. With used equipment, you get the most cost-effective solutions without sacrificing quality or efficiency. And with so many available models, you're sure to find the solution that meets your needs.
Cat® Heavy Equipment for Rent
Construction companies often have short-term equipment needs, such as temporary replacements for machinery that is in the shop for repairs. If you require heavy equipment for a specified time period, Cat heavy equipment rentals offer a convenient solution. With our extensive range of rental construction equipment, you can find the right products to perform efficiently while reducing overall costs.
Product Support and Service
Maintaining and repairing your large construction equipment is easy with our parts and service solutions. We offer a wide array of convenient field and shop services like preventative maintenance and engine repairs to get your equipment up and running with minimal downtime. We also have a wide selection of replacement parts for any Cat equipment.
The Advantages of Cat Equipment
Cat construction equipment is known for its high-quality build and long-lasting reliability. When you purchase Cat products at MacAllister Machinery, you'll enjoy numerous features and benefits, including:
Exceptional durability
Advanced technologies
Attachment compatibility
Environmental standards
Safety and efficiency features
Browse Heavy Construction Equipment at MacAllister Machinery
We have been serving Indiana and Michigan's lower peninsula as a heavy equipment supplier for over 75 years. Our team of skilled and knowledgeable staff members is here to provide expert support. As one of the largest Cat dealers in the U.S., we are your go-to source for high-quality construction equipment at cost-effective prices. Contact us to learn more today!