Demolition Equipment In Indiana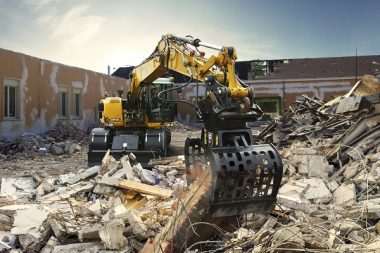 Demolition projects require rugged heavy equipment that can take down buildings and other structures quickly and safely. If you're looking for high-quality demolition equipment in Indiana, look no further than the nearest MacAllister Machinery location. We'll help you tackle your most challenging jobs and keep your operating costs under control.
For more information, call us at (317) 545-2151 or request a quote today!
New Demolition Equipment for Sale
Quality is huge when choosing demolition equipment for your business. MacAllister Machinery is the region's only authorized Cat® dealer, so we can offer the latest products from the worldwide leader. New Cat models make your job easier and help create a safer workplace. Caterpillar is always raising the technology bar by adding cutting-edge features to its equipment designs, allowing you to complete demolition projects faster.
We also offer models from other leading manufacturers to make sure we cover all the bases. You won't have to look anywhere else for the right demolition equipment to handle any work site task you run into.
Our extensive demolition equipment lineup includes excavators in many sizes and tool packages. We also carry skid steer loaders, compact track loaders, wheel excavators, wheel loaders and track loaders.
Demolition Attachments Let Your Fleet Do More
Using one piece of equipment to do different jobs saves time and helps you work more efficiently. Work tool attachments from MacAllister Machinery let you transform your fleet quickly and complete projects with the best possible results.
Available demolition-related options include:
To do even more, add quick couplers to your list so your operators can make fast attachment changes and keep the work on schedule.
Used Demolition Equipment
Budgets are tight for many businesses these days. If you're looking to cut costs, consider buying used equipment from MacAllister Machinery. We carry a large inventory of Cat and non-Cat models ranging from almost new to several years old. You'll save money without cutting into performance or productivity.
Rent Demolition Equipment From MacAllister Machinery
For many businesses, renting offers a more practical and cost-effective way to pick up new equipment for the short term. Renting lets you grow and shrink your fleet as demands and project schedules change — without making a long-term financial commitment. Our vast rental fleet includes demolition site must-haves like excavators, loaders, tracks, jackhammers, material handlers and attachments. Rent by the day, week or month and get a well-maintained model at a fair rate.
Reliable Product Support
With more than 75 years of experience, MacAllister Machinery delivers the prompt, skilled support you expect from one of the largest Cat dealers in the U.S. We carry a vast parts inventory and provide complete maintenance and repair service. Our expert staff can assist you with picking a product and arming your fleet with new tech like system tracking and laser machine control to work as effectively as you can.
See Our Demolition Equipment Selection Today
Visit the MacAllister Machinery location near you to see our equipment in person and meet our team. You can also request product and pricing information by calling us at 317-545-2151 or filling out and returning our online contact form.