Scrap & Recycling Equipment In Indiana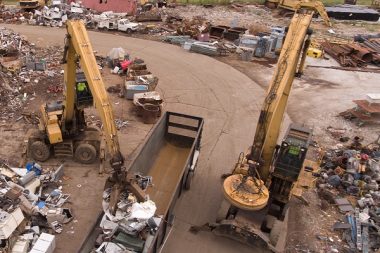 Scrap and recycling businesses rely on heavy equipment during every process step. Success in this field demands high-quality products that perform well in tough conditions and are able to handle heavy use.
Recycling operations throughout Indiana turn to MacAllister Machinery for hardworking, dependable equipment at fair prices. We also give every customer we see the exceptional service we've been known for since 1945.
For more information, call us at (317) 545-2151 or request a quote today!
We Sell New Cat® Scrap and Recycling Equipment
Caterpillar has been setting the industry standard since 1925, and the latest Cat® products include advanced engineering and solid construction to meet any facility or job site challenge. They add value to your fleet by increasing work rate while reducing operating costs. We also round out our Cat lineup with equipment from other top names in the field to make sure we can provide anything our customers need for their work.
Our broad recycling equipment inventory includes material handlers to lift and carry large amounts of scrap metal and other debris quickly and safely, plus various loaders to pick up and move the materials. Articulated trucks provide extra hauling capacity for larger recycling plants and scrap yards, while our bulldozers provide a powerful pile-pushing option.
Work Tool Attachments Give Fleets More Function
Using one piece of scrap equipment for multiple tasks saves time and helps you lower costs. New work tool attachments can transform your fleet by letting each unit handle more work. Our attachment selection includes popular picks like buckets, grapples, backhoes and other tools that make your job easier. Quick couplers allow your crews to make fast switches without leaving the cab.
Our product experts are always on hand to help you choose the best attachments for your recycling projects and make sure they're ready to work with your fleet.
Explore Your Used Recycling Equipment Options
Are you looking to lower your equipment costs? Used products from MacAllister Machinery are ideal for fitting tight budgets. Our fleet consists of various models from Caterpillar and other respected manufacturers so we can offer customers the top equipment on the market.
Renting May Be the Best Answer for Your Business
Purchasing equipment may not fit every business model. Renting from MacAllister Machinery works well if you're looking to meet seasonal demands, cover for your out-of-service models or avoid a long-term financial commitment. Our rental fleet consists of well-maintained material handlers, loaders, dozers and other recycling basics at affordable daily, weekly and monthly rates.
Partner With a Full-Service Equipment Dealer
Our pledge to give great service has helped MacAllister Machinery become one of the largest and most respected Cat dealers in the U.S. We support every product we sell or rent with timely maintenance and repairs to keep it on the job. We also offer access to more than 1.4 million replacement parts and handy 24/7/365 ordering at Parts.Cat.Com. We can even help you take advantage of the latest Cat programs and tech to improve your fleet's performance.
Come See Our Scrap and Recycling Equipment Offerings
Visit one of our convenient locations today to see our product lineup in person and meet our skilled staff. Call us at 317-545-2151 or contact us online to learn more.