Excavation Equipment In Indiana
At MacAllister Machinery, we have one of the largest selections of Cat® excavation equipment. Cat equipment is built for high performance and durability, bringing functionality and efficiency to any job site.
For more information, call us at (317) 545-2151 or request a quote today!
New Precision Excavation Equipment
If you're looking to tackle an excavation project with the highest precision and productivity, Cat excavation equipment will get the job done right. Cat excavators are versatile and designed to deliver unmatched performance, excellent fuel efficiency and long-lasting durability. With superior depth, lift capacity and reach capabilities, Cat excavators set the standard for excellence.
Our selection of excavation equipment includes:
We carry dozens of brand new excavators, and each listing includes detailed product specs such as net power, operating weight and model specifications to help you find the right product for the job.
You can also maximize your power and performance with our inventory of excavator attachments. We carry every component that precision excavators need to function at the highest level of efficiency, including:
Used Cat® Excavation Equipment
If you're looking for an excavator but don't have the budget to invest in new equipment, MacAllister Machinery has a comprehensive selection of used Cat equipment. When you purchase a used excavator, you can reap all the benefits of Cat equipment at a significantly reduced rate. Plus, used Cat equipment is reliable and holds its value for a long time.
Excavation Equipment for Rent
When you have a short-term need for high-quality excavation equipment, rental equipment is an economical alternative to purchasing new or used options. We carry an wide range of Cat equipment that you can rent to reduce spending and lower maintenance costs while maintaining high performance levels at the job site.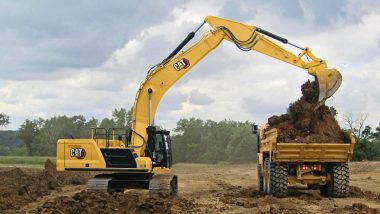 Parts and Service
We have replacement parts and service options to repair and maintain any mass excavator. From excavation parts to field and shop services and other excavator solutions, MacAllister Machinery has everything needed to reduce downtime and keep your equipment performing as expected.
Advantages of Cat Excavation Equipment
Cat excavators come with a wide array of features that allow you to maximize performance with faster cycle times and high productivity. The exceptional design features include:
Hydraulic horsepower
Superior lift
High breakout force
Increased stability
Built-in Cat technologies for job optimization
Learn More About Our Excavation Equipment Selection Today
For over 75 years, MacAllister Machinery has served clients in Indiana and Michigan's lower peninsula with the most reliable heavy equipment. As one of the largest Cat dealers in the U.S., you can trust us with all of your precision excavation equipment needs.
With a team of highly skilled and knowledgeable staff members, you can expect expert assistance and outstanding customer service at MacAllister Machinery. Contact us for more information today!