Quarry & Aggregate Equipment In Indiana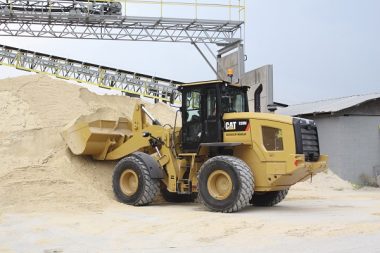 Keeping your output and efficiency at their highest is a big part of finding success in the quarry and aggregates industry. MacAllister Machinery is the best source in Indiana for durable, hardworking quarry and aggregate equipment that delivers top work in even the toughest tasks on the job site.
From wheel loaders to dump trucks, we have you quarry and aggregate equipment needs covered.
For more information, call us at (317) 545-2151 or request a quote today!
Your Headquarters for Cat® Quarry and Aggregate Equipment
Caterpillar has been a heavy equipment leader since 1925. As the region's trusted Cat® dealer, MacAllister Machinery carries a full range of Cat offerings for your biggest quarry and aggregate projects.
These products can help you load and transport gravel, sand, stone, crushed rock and other materials quickly, letting you finish more work in less time. Our inventory also includes crushing and screening equipment from other top manufacturers known for quality, long-lived equipment.
Examples from our aggregate and quarry equipment inventory include:
Do More With Your Equipment When You Buy New Attachments
Many of our aggregate equipment products are compatible with work tool attachments that let them tackle more roles than ever before. You'll save time and boost work rate by using one piece of equipment to perform several tasks. Examples of the attachments we have include mining shovels, augers, backhoes, hammers and grapples. Use quick couplers to make fast, safe tool switches at the job site.
MacAllister Machinery can provide expert advice to help you choose an attachment that fits your equipment and gives you the results you need.
Save Money by Purchasing Used Quarry and Aggregate Equipment
If new equipment doesn't fit your work or your budget, a high-quality used model from MacAllister Machinery can be a practical, cost-effective solution. You'll find a wide range of fairly priced products, most with many years of service left to give. Our inventory includes equipment from Caterpillar and other respected manufacturers.
Rent Aggregate Equipment From Us
If equipment ownership doesn't fit your business plan, consider a rental from MacAllister Machinery. Renting provides a great way to handle short-term projects, sudden spikes in work volume or key models being in the shop for service.
Our fleet consists of late-model, low-hour Cat and non-Cat products in ready-to-rent condition. We'll work with your budget and help you set up a flexible daily, weekly, monthly or long-term program that works for your business.
A Full-Service Dealer You Can Trust
MacAllister Machinery has been serving businesses like yours since 1945. Our commitment to lasting service sets us apart from our competitors — we carry replacement parts and perform maintenance and repairs to keep the tools you rely on running strong. We also support the latest Cat technologies and can help you add them to your fleet so you can get the most out of your equipment.
Explore Our Quarry and Aggregate Equipment Selection Today
We have locations across the region to give you the prompt, dependable service you deserve. Stop by the store near you to view our equipment in person and meet our friendly team. You can also call us at 317-545-2151 or contact us online to request more information and a no-obligation price quote.