Paving Equipment In Indiana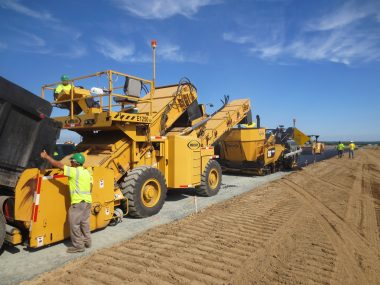 You can find high-quality Cat® paving equipment for your construction needs at MacAllister Machinery. With our expansive inventory of reliable asphalt paving equipment, you can achieve the best results on your paving job.
For more information, call us at (317) 545-2151 or request a quote today!
New Asphalt Equipment
For industry-leading paving equipment that rises above the competition in performance and dependability, consider new asphalt paving equipment. Cat equipment will allow you to get the job done even in the most demanding paving projects. With user-friendly technologies and safety features, Cat paving tools are a versatile and precise solution for any asphalt application.
Our extensive fleet of new pavement equipment includes:
We also carry a variety of Weiler paving equipment.
Weiler equipment includes:
Shuttles
Asphalt pavers
Windrow elevators
Remixing transfer vehicles
Road reclaimers
Road wideners
Enjoy additional performance capabilities on the job by investing in work tool attachments for your equipment. You can make significant upgrades to your asphalt equipment with buckets, compactors, couplers or other attachments for maximum efficiency and productivity.
Used Paving Equipment
If you want to expand your construction equipment fleet on a budget, consider used equipment options. At MacAllister Machinery, we offer an extensive inventory of used equipment models that are carefully inspected by our qualified technicians to ensure maximum safety and performance. With used equipment, you can enjoy a better lifecycle and higher resale value at a lower cost.
Paving Equipment Rentals
For the most affordable short-term equipment solution, we offer paving equipment rentals to suit any residential or commercial application. Whether you're looking to book rentals for a day, week, month or longer, you can find the right rental equipment to maximize efficiency on the job site.
Our selection of paving rental equipment includes:
Cold planers
Soil compactors
Motor graders
Asphalt pavers
Wheel tractor scrapers
Road reclaimers
Parts and Service
If your Cat equipment could use some maintenance or repairs, our skilled technicians will assist you with parts and service solutions. We can restore your equipment to a high standard of quality with minimal downtime. We carry a wide inventory of replacement parts and offer expert field and shop services so you can receive repairs when you need them.
The Benefits of Cat® Paving Equipment
Cat products set the standard for reliability and productivity. With Cat equipment, you can level and lay asphalt with ease and enjoy many benefits, such as:
High efficiency
Strict safety standards
Durability and reliability
Attachment compatibility
Equipment speed
Browse Cat Asphalt Equipment at MacAllister Machinery
We are one of the largest Cat dealers in the U.S. and have served Indiana and Michigan's lower peninsula for over 75 years. Our staff is knowledgeable and friendly, providing expert assistance and outstanding customer service. With exceptional products and a team of skilled technicians, you can expect nothing less than the best at MacAllister Machinery.
Contact us for more information today!