Mining Equipment In Indiana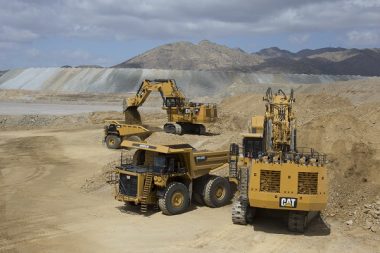 Surface and underground mining activities can wear on your equipment. If you run a mining operation in Indiana, trust the pros at MacAllister Machinery to supply your business with rugged equipment at great prices. You'll also receive the top-quality service we've been delivering since 1945.
For more information, call us at (317) 545-2151 or request a quote today!
New Mining Equipment for Sale
Many companies want the latest mining equipment so they can get the best performance and a long life span out of it. As the region's trusted Cat® dealer, MacAllister Machinery offers a large selection of brand-new Cat mining equipment that can handle the challenges of this demanding work. Cat products feature top engineering and tough parts to help them last. You can also come to us for products from other leading names — we do our best to make sure we have everything you need.
Our lineup includes:
Surface mining equipment: Our above-ground mining equipment will help you get more done at a lower cost per ton. Choose from options like trucks, hydraulic mining shovels, electric rope shovels, rotary drill rigs and draglines.
Underground mining equipment: If you work below the ground, our longwall products, hard rock loaders and trucks will make the tasks easier.
Use Work Tool Attachments to Work Smarter
Do you want to get even more out of your new mining equipment? Adding attachments enables you to transform your fleet and take on more tasks. Choose from various rock buckets, augers, mining shovels, blades and other useful work tools. Quick couplers allow operators to add and switch attachments in just a few seconds without getting out of the cab.
Our helpful team can help you pick attachments that fit your equipment and can tackle any task you face on the job site.
Cut Costs by Buying Used Mining Equipment
Reducing expenses is a top priority for businesses across Indiana and Michigan's lower peninsula. MacAllister Machinery can help with our many pieces of dependable used mining equipment for sale. We feature late-model and older Cat and non-Cat products that still have a lot to offer a new owner. Save money and get the power you need without cutting corners.
Rent Equipment From MacAllister Machinery
If buying equipment doesn't fit your budget or project needs, renting can let you get what you need at a lower price. Our fleet includes many mining equipment options at budget-friendly daily, weekly, monthly and long-term rates. Rentals are perfect for one-time projects, taking on an increased workload or getting a short-term replacement for an out-of-service model.
Complete Support for Your Mining Equipment
MacAllister Machinery is a full-service dealer with over 75 years of experience. We're also one of the largest Cat dealers in the U.S. Trust us to supply all your new parts and perform timely maintenance and repairs. We can also provide access to the latest tech from Caterpillar, including Cat MineStar™ Solutions that allow you to track, monitor, automate and manage your assets from anywhere.
Explore Your Mining Equipment Options Today
Check out our new, used and rental mining equipment in person by visiting the MacAllister Machinery location near you today. You can also call us at 317-545-2151 or contact us online to ask any questions you may have.