Your Cat® equipment was made to withstand the toughest conditions, helping you get the job done safely and efficiently. However, even the most rugged tools experience inevitable wear and tear. You can stay ahead of equipment issues and increase your team's productivity by extending your equipment life.
Equipment failures can be expensive, as you have to pay for replacement parts and sacrifice time you could have spent working. Getting to know your equipment and taking regular care of it helps you stay on schedule and tackle all project opportunities that come your way. You'll also save money in the long run by making minor repairs before issues become large, complicated and costly.
Jump to Sections:
The time and money you put into maintenance over the years will help your equipment stay in good condition for a long time. An investment in your equipment's future is an investment in your business's success.
How to Increase Your Equipment Life Span
When you prioritize taking care of your equipment through regular inspections and preventative maintenance, you'll see long-term results that will keep your fleet in action for years. Follow these suggestions for equipment longevity:
1. Daily Equipment Inspections
One of the best ways to extend equipment life span is to inspect it every day at the beginning and end of each shift. If you spot any issues, you'll notice them right away and be able to make any necessary repairs before resuming operation. Your daily inspection may reveal small, easily fixable issues you can quickly tackle before starting each day's job.

Daily inspections will also help you familiarize yourself with each piece of equipment. If an abnormality arises in the future, you'll notice it sooner and can fix it yourself or seek professional help.
When you inspect your equipment, look for issues like:
Low fluid and fuel levels
Damaged fuel and fluid tanks
Fuel and oil leaks
Discolored exhaust fumes
Thick exhaust discharge
Dirty or clogged air filters
Large debris in the tracks
Dashboard warning lights
Engines that stall or are difficult to start
Strange noises such as grinding, hissing, screeching, clunking or clanging
Strange exhaust smells
Quiet or malfunctioning horns, backup alarms and other auditory warning systems
Malfunctioning brakes
Corroded batteries
Dirty or damaged belts and hoses
Malfunctioning turbos
Broken mirrors or glass
Damaged seatbelts
Steering malfunctions
If you find any issues during your inspection, address them before operating the equipment again. During each daily inspection, take notes on your findings so you have a record of when exactly certain issues arise. Your notes will help you track equipment operation throughout your fleet's life.
Incorporating your daily inspections into a pre-start checklist is a great way to remember everything to look for and ensure your equipment is ready to go before each use. Wind down each workday with a post-operation checklist as well to help prevent unexpected equipment breakdowns at your next shift.
2. Operator Training
On the job, your team and equipment work together as one. Even the most experienced operators can benefit from training to refresh their knowledge. Everyone should be able to contribute to a safe and productive work environment. All equipment needs to be operated in a specific way to ensure optimal productivity.

Provide regular, on-the-job training for all your crew members, so everyone can learn more about your equipment with hands-on experience. You may even want to introduce a formal training program with standardized introductory materials and refresher tests, so all your employees are on the same page. When your team knows how to operate the equipment, they're less likely to mishandle it. They'll also be able to differentiate between healthy and unhealthy equipment, so they can recognize and report any issues they encounter while working.
Training is especially important when introducing new equipment or technology. Any additions to your fleet should last a long time with proper care. Teaching all your team members how to properly use new equipment helps everyone contribute to projects productively.
After training, continue to monitor your workers to reinforce good practices and ensure they're putting their knowledge to good use. You can always re-address aspects of equipment operation they need to be reminded about. Seeing how well your crew implements what they've learned gives you a better idea of how to adjust future training sessions.
Training also promotes safety, which ties in with overall equipment longevity. Making sure your team knows the tenets of safe equipment operation can help everyone avoid accidents that cause personal injuries or equipment damages. Prioritizing safety can also increase crew morale. Everyone will feel comfortable reporting to work and capitalizing on productive time.
3. Maintenance Schedules
Once you've familiarized yourself with the necessary tasks to keep your equipment in great shape, organize everything into an actionable schedule. Separate the responsibilities into to-do items and check them off after different periods of time.
For example, you might create a schedule that includes daily, monthly and yearly tasks. You can research your equipment's average life cycle and factory-recommended service intervals to determine when certain maintenance or repairs may need to happen. An experienced technician can also help you come up with a maintenance schedule for your specific equipment.

When you have a schedule that works best for your team and fleet, stick to it. Keeping up with regular maintenance will help you catch minor issues as they arise and prevent costly delays and downtime.
Creating a schedule also helps you identify the best times to receive professional inspections. Regular technician appointments let you stay on track with equipment maintenance. They'll also help you find knowledgeable people to trust if issues arise outside of your scheduled inspection times.
4. Routine Equipment Cleaning
Clean equipment operates best. Heavy equipment regularly comes into contact with dirt, mud and other elements. Dirt and debris from your operating environment can quickly build up on critical parts, inhibiting operations or causing subtle issues that increase over time. Following a cleaning routine helps you stay on top of harmful grit and grime before it prevents your equipment from working properly.

Use degreasing agents to cut through caked-on oils, and enlist the help of a pressure washer to rinse away mud and dirt. For particularly muddy components, such as the undercarriage, you can use shovels to remove large clumps of dirt and debris.
5. Genuine Cat® Parts and Fluids
Your Cat equipment is designed to last a long time, with quality parts you can rely on to help you get the job done. This high level of performance comes from Cat-specific parts and systems meant to boost productivity and preserve all aspects of your equipment. Caterpillar manufactures and sells replacement parts for all its equipment. You'll have a supply of trustworthy parts for as long as your equipment stays running.
When you source your equipment and replacement parts from an authorized Cat dealer, you benefit from top-quality products and technician expertise.
Using parts from the original equipment manufacturer also ensures equipment compatibility. All Cat parts are designed to work with each other to deliver the best results. Only using Cat replacement parts can increase your fleet's life span and deliver quality production for any industry.
Additionally, Caterpillar also makes a range of fluids specifically designed for Cat equipment. Cat fluids can help protect your engine and make your equipment run better. They're guaranteed to be safe for your equipment, and a technician can even help you choose the right fluids for your fleet.
Each Cat fluid type comes with a recommended changing schedule. This schedule helps you track fluid maintenance, so you're always operating at optimum productivity levels. By choosing fluids that are compatible with your equipment, you'll avoid damaging your equipment or decreasing its efficiency.
6. Fluid Issue Prevention
Fluids help keep your equipment running smoothly by lubricating the many moving parts. Keeping fluids at optimal levels helps you avoid downtime and excessive repairs.
Coolant and oil leaks can contribute to larger equipment issues. Ideally, equipment can run for many hours without needing fluid changes or refills. You should quickly address consistent low fluid levels.
Fluid leaks can happen because of issues such as malfunctioning hoses, hydraulic arms and valves. To prevent leaks, perform a routine analysis of your equipment's fluid parts. Check the fluid levels regularly and make sure the hoses and transportation belts work well.
Additionally, keep up with oil changes by performing them yourself on a set schedule or using a service. You can also invest in fluid additives. These will supplement your fluids' functions and protect your equipment's interior from excess moisture.
Fluid Analysis Services 
The best way to ensure optimal fluid performance is to receive professional fluid analysis services by certified technicians at a Cat laboratory. Fluid analysis involves sampling and testing your equipment's crucial fluids, which are coolant, oil and diesel. This process can help you predict issues before they happen.
Analyzing the fluid in a lab lets you know whether there is any degradation or contamination in your current equipment fluid that could negatively affect its performance. From there, your lab technician will develop a report that gives you actionable recommendations for future fluid use and maintenance.
7. Proper Storage
Even when your equipment isn't in use, it still requires proper care and protection. Most equipment needs temporary downtime, where it can rest between uses and stay away from detrimental weather. Forcing equipment to work for longer than it should during a shift or season can cause damages or premature failure. When giving your equipment time to rest, store it properly.

If you're storing equipment for a long period, proper storage areas are even more crucial. As the seasons change, colder conditions and harsher elements can damage sedentary equipment.
Protect your equipment by storing it in enclosed facilities when you're not using it. Additionally, store fluids in a space that will stay at room temperature throughout the winter. If you won't be using your equipment at all in the colder months, consider separating any detachable parts and storing them individually. This can prevent rust along the hinges and joints.
8. Work Site Environment Factors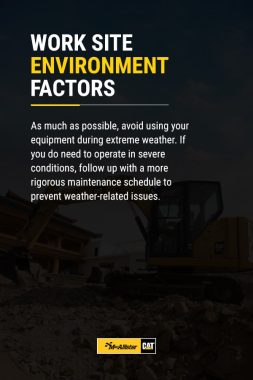 While Cat products are designed for rugged conditions, harsh environments still take a toll on heavy equipment. By being mindful of your equipment's operating environment, you can help extend its life while maintaining peak productivity.
As much as possible, avoid using your equipment during extreme weather. If you do need to operate in severe conditions, follow up with a more rigorous maintenance schedule to prevent weather-related issues. You can also use fluids and additives designed to help your equipment withstand the elements.
Consider optimizing your work site's environment if you can. Work site materials like asphalt and concrete are abrasive to tracks. Only use tracked equipment on softer ground, and always remove rough materials from operating areas. You may also use a water truck to spray the area and reduce airborne dust, which can clog air filters.
Stay out of extremely muddy conditions whenever possible. Mud can collect on the equipment undercarriage and cause premature wear. If you work in areas with a lot of dirt or mud, clean your equipment often.
Winterizing
Winter months can bring added equipment challenges. Ice, snow, freezing temperatures and road salt can increase wear on your fleet. Equipment components often need to work harder in colder temperatures, meaning they may need to be monitored and replaced more frequently.
To maximize your equipment's winter performance, you can winterize your fleet by:
Performing routine inspections
Changing to winter fuel grade
Changing the engine oil
Changing the coolant
Warming engines before each use
Changing filters
Preserving batteries by storing them in warm environments and recharging them often
Using block heaters
Storing equipment properly
9. The Right Equipment for the Job
A variety of heavy equipment exists to meet numerous work site needs. Some equipment is more versatile than others. Choosing the right equipment for the job is important for both project productivity and equipment longevity.
Using equipment as it's intended is an important aspect of preserving its life span. If you use equipment that's too small for the task at hand, it will work harder than it should and wear out quickly.
Some equipment types are also more compatible than others for certain environments and applications. For instance, telehandlers, compactors and articulated trucks operate best in low-impact environments, while bulldozers, wheel loaders and excavators are the better choices for high-impact environments.
To avoid overworking your equipment, be aware of the job requirements before starting any operations. Make sure you have the tools you need to handle the project safely and efficiently without excessively straining your equipment.
Renting Equipment 
Instead of forcing your equipment beyond its capacity, you can also rent equipment that's the right size and performs the right functions for your needs. Renting Cat equipment provides you with the same high quality you trust and is a cost-effective option for accessing the exact equipment you need.
Whether you aren't ready to commit to a new piece of equipment or only have a temporary need for a specific make or model, you can rent a wide range of heavy equipment. Renting benefits your bottom line.
When you rent equipment, advantages include:
Rental contracts that fit your project timelines
A wide selection of equipment to choose from
Customer support to help you find exactly what you're looking for
10. Routine Preventive Maintenance
While monitoring your equipment yourself is important, you should also receive regular inspections from a professional Cat equipment inspector. A trained technician can help you save money and time by finding and repairing issues you may overlook in your own inspections. They can also teach you how to best take care of your equipment and operate it more efficiently, so you can continue using it for years to come.
If you think your equipment needs a professional tune-up, schedule one as soon as possible. Even if your equipment seems in good shape, making time for pre-scheduled maintenance and inspections could help you avoid issues in the near future. Your technician could help your fleet run as smoothly as possible by:
Making sure all brakes are operational, including the emergency and parking brakes
Checking all headlights, brake lights and taillights
Ensuring the horn works
Making sure the windshield and windshield wipers are in good condition
Testing the battery
Evaluating engine performance
Making sure all safety features work properly
Inspecting the undercarriage
Checking the conditions of the tires and wheels
Suggesting additional repairs and maintenance for optimal performance and safety
The benefits of professional equipment inspections include:
Expertise: You know your equipment better than most people. So do trained technicians. Professionals can offer services using their expert eye and diagnostic technology. They'll work with you to determine the best preservative actions for your fleet.
Safety: A professional technician ensures your equipment is safe to operate. Many preventable injuries can happen on the job without the right measures in place. Inspections decrease the chances of harmful equipment failure.
Productivity: Enlisting an expert's help assists you in avoiding downtime from faulty equipment. When all parts of your fleet function at optimal levels, you can stick to your schedule and easily meet your deadlines.
Lower repair costs: A professional can help you spot minor issues before they turn into major problems. When your equipment is always in peak condition, you can stay on top of minor fixes and steer clear of hefty repair and replacement costs.
11. Equipment-Monitoring Technology
When you have an entire fleet to track, staying updated on each piece of equipment requires organization. Thankfully, today's technology can help you know the exact status of all your equipment at all times.
VisionLink® is an easy-to-use, web-based app that gives you all the information you need about your equipment. This app provides insight into your fleet details, such as each piece's health and productivity levels based on recent inspections.
With VisionLink, you'll gain important knowledge about how your crew uses each piece of equipment, including idle hours, fuel consumption and operation times. This information will give you a clear idea of when parts of your fleet need servicing. You'll feel confident operating at ideal levels without overworking any equipment.
VisionLink lets you see key operating information anytime, as long as you have internet access. You can also seamlessly integrate VisionLink with your other business applications. Order parts online, plan fleet dispatches and read fluid analysis results all from the same convenient platform.
Increase the Life of Your Cat Equipment With MacAllister Machinery
Whatever you use your equipment for, extend its life span with regular maintenance practices. Familiarizing yourself with your fleet's abilities, limitations and ideal conditions can help you make the most of your equipment and get the job done right every time.
Seeking professional assistance also ensures a profitable, productive life for all your equipment. Cat technicians know exactly what your equipment needs to keep operating long into the future.
MacAllister Machinery is your single solution for all your Cat equipment management needs. We're an authorized Cat dealer providing an array of services to Indiana and Michigan's lower peninsula. Whether you're looking for experienced maintenance technicians or a trusted place to buy and rent equipment, let us help you optimize your fleet for the best performance possible.

Contact us today to learn more about requesting maintenance, renting equipment or benefitting from any of our other professional service solutions.