Productivity is a huge concern for construction companies and managers. Losing productivity means losing money, pushing back critical milestones and potentially losing future business. Fortunately, there are many steps you can take to shore up productivity at the job site. These productivity strategies will help you get the most from your workers and equipment.
1. Operator Training
Your equipment is only as efficient as your operators, and it's not always easy to gauge whether your training strategy is working well. On-the-job training with experienced and efficient crew members is a solid way for a new worker to learn the basics. As a company grows, that level of training isn't enough to maintain consistently high productivity.

Implementing a formal operator training program puts every employee on the same page when it comes to best practices for equipment. New employees should receive standardized training and more experienced workers should be able to pass a refresher test on the same material. It's essential to train all operators on any new technology or equipment regardless of their experience level. These benefits of operator training speak for themselves:
Reduced accidents and damage: Nothing stops productivity in its tracks like an accident or injury on the job site. When operators are fully trained, they can assess tasks more thoroughly in relation to the equipment. This means they can better avoid unnecessary risks and work at a higher level of safety. Trained operators are less likely to have accidents, get injured or damage equipment.
Fewer mistakes and rework: Operator error is a significant contributor to the frustrating problem of rework. Rework costs significant time and money, adding an average of 9 percent to the original cost of a contract and extending the original project schedule by almost 10 percent. Skilled operators are less likely to make the type of mistake that could lead to rework.
Reduced wear and tear: Trained operators understand the limitations and specific characteristics of equipment, allowing them to operate it within its limits. Harsh operation, such as frequently pushing the equipment to full RPMs, wears out components more quickly than skilled operation. When your operators understand the performance of the equipment and are knowledgeable enough to inspect it thoroughly, your cost of ownership goes down, and productivity goes up.
Depending on the size of your company, you may want to consult a professional rather than attempt to develop a training curriculum yourself. Comprehensive training does take a great deal of time and effort to implement, and your resources may be better spent on proven expertise. For example, MacAllister Rentals can fast-track your aerial work platform operator training with a high-impact two-hour session. The course includes a written test as well as a hands-on component so operators can prove they know their stuff.
2. New Equipment
Sometimes productivity is limited by your equipment. Even if your 10-year-old backhoe has consistently performed like a champ, it has very real limitations that are likely capping your operator's potential for productivity. With traditional equipment, it's all on the operator to calculate each minute move in their cycle while also trying to work safely by paying attention to their surroundings. It's a useful and admirable skill set, but what if operators had less on their plate and could work more efficiently?
Today's construction equipment is packed with features that assist your operators in doing their jobs faster and more accurately. Caterpillar® continues to lead the industry with innovative technologies built right into each piece of equipment. Cat® next-generation excavators are a shining example of how new equipment can transform your next job. These are some of the features that boost job site productivity:
Cat grade with 2D: This onboard system includes an in-cab display that lets your operators know the bucket position and the remaining depth to grade for better accuracy. Operators can adjust depth and grade while using the joysticks, so cuts are faster and more precise.
Cat grade with assist: This integrated tech adjusts the movement of the boom and bucket automatically, so operators maintain grade without even having to think about it.
Cat payload: Payload technology weighs on the go, so you can eliminate over or under-loading. Precise load measurement reduces time wasted and maximizes cycle efficiency.
If you're used to traditional low-tech machinery, it can be hard to believe that these or similar features come standard on many new pieces of equipment. It might also be intimidating to think about the time you'll need to spend training crew members on how to use new equipment. Keep in mind that systems like these are designed to be easy to learn and intuitive to use, and they'll increase your productivity more than you might think. The Cat excavators mentioned above can increase grading efficiency by 45 percent in the hands of a capable operator.
Another productivity plus for newer equipment is fuel efficiency. Those new Cat excavators use up to 25 percent less fuel than older models thanks to controlled engine speed and multiple power modes to adapt to each application. The financial benefits are obvious, but better fuel efficiency also means the equipment can operate longer in between fuel-ups. Your workers will spend less time refueling and more time grading, hauling or excavating.
3. Reliable Equipment
The productivity of a piece of equipment relies on a strong maintenance program. Your crew can't maximize their productivity when their equipment keeps breaking down, and unplanned repairs can significantly extend a project. Preventive maintenance will reduce unexpected downtime and keep workers occupied with the project at hand. To implement an effective maintenance program, address three things:
Environment: Following manufacturer guidelines for preventive maintenance is a good place to start. On some sites and in some conditions, maintenance should be performed more frequently to keep the equipment in good working condition. If your job site has highly acidic soil, for example, you might want to tighten your maintenance intervals to ensure you don't experience issues with corrosion.
Scheduling: Fitting it into the schedule is the toughest part of sticking to a maintenance plan. It becomes even more complicated if your fleet is on the smaller side and you don't always have another piece of equipment to do the job while one is out of commission. One way to reduce the time spent is to have the technician come to the job site and perform maintenance in the field.
Safety: Maintenance happens on a small scale every day when operators perform daily inspections of equipment before use. Ensure your crew has a detailed checklist to follow and that they document their inspections each day. This will leave less room for oversights that could lead to accidents that could jam productivity and injure workers.

Equipment reliability can be improved by sticking to one manufacturer. Not all maintenance companies are willing or able to service a mismatched fleet, which means you pay more and have to spend more time scheduling and contacting multiple companies.
A Cat dozer may function similarly to other brands, but there are enough differences that workers experienced with one may not work as well with the other. It's important to be consistent with the equipment you rent or buy so operators aren't forced to learn the ins and outs of new systems each time they move on to a new job.
4. The Right Equipment
Your crew needs the right equipment for the job, and determining job requirements isn't always easy. Without a clear understanding of the equipment you need, you may end up with a job site fleet that hinders your crew's productivity. Consider these three things when choosing equipment for a new job:
Type of job: Construction equipment can be versatile and you can often use one type of machine to mimic the job of another. For instance, an excavator is the industry standard for multiple different uses. You can use one to dig trenches, demolish buildings and handle various materials. Excavators are also a good choice for rough grading. But when you're on a project that requires smooth final grading, you'll likely need a skid steer to finish it off.
Size of site: It stands to reason that bigger job sites need larger equipment to harness the best efficiency. The equipment needs to be powerful enough to move the necessary amount of material, and it also has to fit within the confines of the job site. The biggest skid steer will obviously carry the biggest payloads, but that won't do your crew much good if the equipment can't turn and move freely within the space.
Rent or buy: Decide whether it's more budget-friendly to rent your equipment or purchase it. If you don't have the right equipment for a job but don't see your crew needing it again in the future, it's usually best for the bottom line to visit a rental provider. In the case of the biggest heavy equipment, the cost of ownership is high enough that smaller and medium-sized companies are usually better off renting them on an as-needed basis.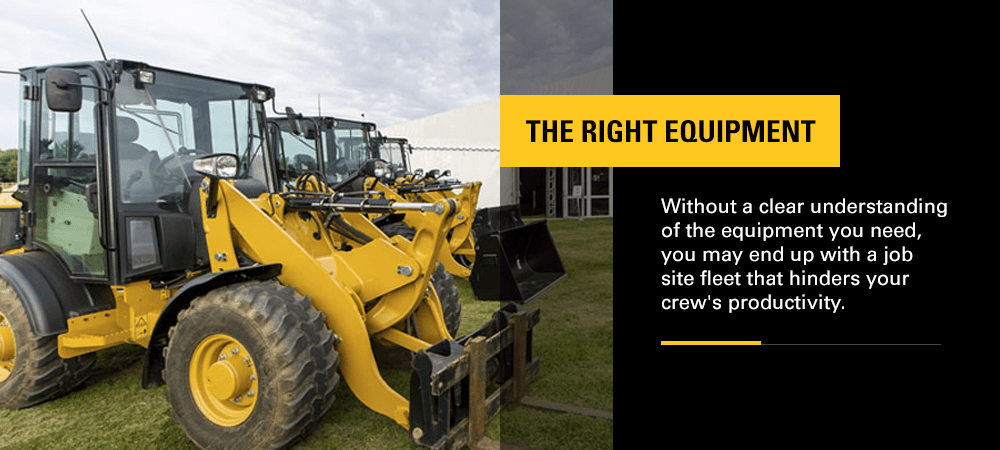 Safety is a critical component in choosing the right equipment. If a large piece of equipment is operating in too small of a space, you increase the risk of damaging part of your project and introducing rework to your timeline. Likewise, if you try to use under-powered equipment to get the job done, you risk damaging components and promoting premature wear and tear.
5. Rental Equipment
A key consideration with renting is whether you want to go wet or dry. With a dry hire, you get the equipment alone. You'll assign one of your operators to it and save money by doing so. But what if your operators aren't familiar with or trained on the specific equipment you need?
A wet hire, where the rental provider supplies a trained operator along with the equipment, is definitely more expensive. However, the expertise and efficiency that comes with a skilled operator are often worth the extra cost. Having the right type of equipment operated capably boosts productivity and increases safety on your project.

Either way, partnering with a recognized and trustworthy provider to pick the right equipment rental will increase your chances of boosting productivity. When you're comparing rental providers, ask these questions to make sure you're choosing a company that will do the most for your job site productivity:
Does their selection meet my current and future needs?
Do they offer a range of power and size for every type of equipment?
Do they verify and maintain equipment between each rental?
Do they have strong customer service?
You're likely to need rental equipment more than once, so it's important to choose a rental provider that you know is in your corner. If you're located anywhere in Indiana or Michigan, MacAllister Rentals can cover your construction equipment needs with courtesy and skill.
6. Clear Communication
Communication is a necessary foundation for productivity. Unstructured communication passed along a chain of individuals often gets distorted and may lead to issues and mistakes. In some cases, information that needs to be passed on simply gets lost and never makes it to the person who needs to hear it. The following tips will help you build a framework for effective communication:
Establish a communication chain: If your crew doesn't know where to turn when there's a problem, they might be tempted to sweep it under the rug. For example, a new worker who sees a warning light while firing up the skid steer should know exactly who to inform right away. If they don't, they might pass on the information to a more seasoned coworker, expecting the coworker to get the info to the right place. This kind of unorganized communication can grind your project to a halt.
Choose the right format: With so many ways to communicate, choosing the right format to share information is crucial. Sometimes all you need is a quick phone call or face-to-face conversation, and other situations call for a paper trail. Keep in mind that handwritten communications with only one physical copy are usually an ineffective way to communicate as they can easily get lost on the way to their intended target. It's a good idea to make a record of your communications whenever possible, in case of future disputes.
Stick to facts: Being clear and concise in your communication makes sure that everyone receives the information they need and that they don't get distracted by irrelevant information.
Instilling a culture of direct and efficient communication can be complicated. As usual, the best way to lead is by example. When your crew sees the benefits of communicating proactively, your productivity will see an increase thanks to fewer mistakes and less need for rework. Some of the most common failures in communicating are attached to time-sensitive updates such as:
Sudden, severe changes in weather
Changes in scheduling due to crew availability
Delays in delivery of materials
Everyone on the crew should know about these types of events, and it makes sense to send out notifications via text or email when they occur. Watch out for notification fatigue, where workers are constantly bombarded with notifications and start to ignore them. Organizing your crew into contact lists can help ensure everyone is receiving only the information pertinent to their job.
Daily meetings are a must to keep everyone on the same page, but workers can often disengage. These are some of the issues that contribute to disengagement:
Feeling pressured to complete a task quickly
Being confused but not wanting to ask questions
Feeling discouraged from bringing up job site issues
Leading by example and pointing out cases where good communication prevented mistakes or boosted productivity will encourage your crew to be more proactive and receptive to open communication. The effective transfer of information on the job site can increase efficiency more than you'd expect.
7. Cutting-Edge Technology
You have a wide pool of productivity-boosting tech to choose from in construction equipment. Cat equipment now comes with a variety of partial automation that makes specific jobs easier. The benefits of connected technology in construction equipment shine through whether your fleet is just getting started or you're a large, established company. The goal behind each integrated technology is to help your crew work smarter, not harder. Cat Connect technologies cover three main applications:
Grading: Keeping grade consistent between stakes is one of the most challenging tasks in any construction application, and even experienced operators need to put all their skill into the job. The AccuGrade Grade Control System brings critical information into the cab and assists operators with accuracy-enhancing guidance. AccuGrade is available in a suite of systems including laser, cross slope, sonic, GPS and ATS for a variety of equipment types. AccuGrade GPS is available for motor graders, soil compactors, track-type tractors and excavators.
Compacting: Advanced in-cab guidance helps operators meet specifications with consistent ease. Compaction control enables your operators to determine when the level of compaction matches specifications and removes the elements of guesswork and intuition. The system reduces the number of passes necessary to complete the project and keeps track of them so operators can focus on the job rather than counting passes.
Payload: Consistency is key with loading and hauling if you want to maximize cycle counts. The ability to weigh loads on the go ensures the operator isn't wasting time by under-loading or causing undue strain on the equipment. Payload technology also allows managers to keep an eye on daily production, and helps identify where any material moving productivity issues arise.
Between all three of these technologies, here are some of the productivity benefits you can expect:
Reduced guesswork and improved accuracy
Improved material use
Reduced staking and grade-checking
Reduced labor costs and requirements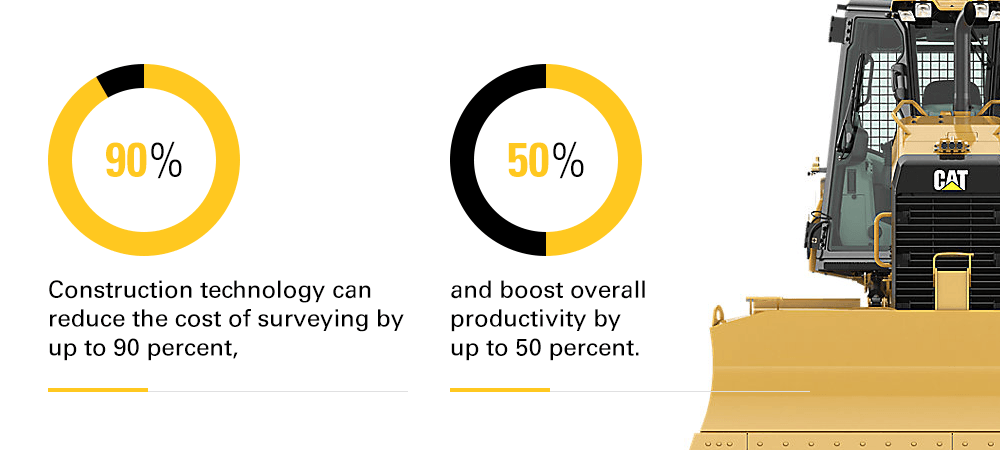 All things considered, this construction technology can reduce the cost of surveying by up to 90 percent, and boost overall productivity by up to 50 percent.
Equipment Management (EM) Services
The single most high-impact move you can make to boost construction equipment productivity is to invest in equipment management services like the Cat EM Services at MacAllister Machinery. This solution has the dual function of cutting your costs when it comes to owning and operating, while simultaneously providing you with the information you need to ramp up efficiency on every project.
EM services take the tasks of data collection and analysis off your plate. Cat Connect technology gathers data from your project site that allows you to monitor the efficiency and maintenance needs of your equipment. VisionLink® is a cloud-based app that works with your Cat equipment and any other allied brands you may have. This tech puts actionable data in your hands, allowing you to monitor diagnostic codes, fuel consumption and idle hours, among other things. You can choose from three levels of EM services according to your needs:
Inform: The basics of our EM service give you access to all the reports and data you need to make smart decisions about your equipment.
Advise: For those who are seeking expert knowledge to supplement their operations, Level 2 services deliver consultations and recommendations to get you on track.
Partner: For the best support and optimization of your construction equipment, Partner level opens up an ongoing relationship with one dedicated consultant. We design customized solutions to keep your fleet and business running strong.
The MacAllister Difference
If you're searching for the best construction equipment dealer in Indiana or Michigan, you'll find that MacAllister blows the competition out of the water. Our inventory spans every construction need, and our specialists have the experience to get you what you need every time. We do everything in our power to earn your trust through top-notch service, reliability and understanding. Ready to find out more about how the right equipment can fast-track your job site productivity? Contact MacAllister today and see how we can serve you best.