Landscaping Equipment In Indiana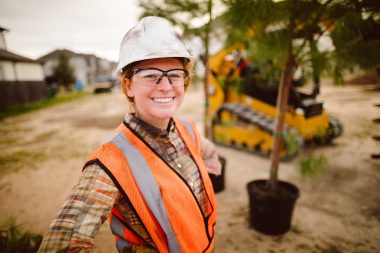 MacAllister Machinery has a wide selection of high-quality commercial landscaping equipment that sets the standard for safety and reliability. We offer nothing less than the highest efficiency Cat® equipment so you can maximize your performance on the job site.
For more information, call us at (317) 545-2151 or request a quote today!
New Commercial Landscaping Equipment
Cat landscaping equipment is equipped to take on any commercial application, even in the harshest environmental conditions. Whether you're in the design and build, sod installation or irrigation industry, we can help you find the new equipment that meets your needs. New Cat equipment is built to achieve high efficiency levels while minimizing downtime so you can meet deadlines and maintain profit margins.
We carry a wide array of equipment options, complete with all product specs so you can make an informed decision. Our fleet of high-performance commercial landscaping equipment includes:
You can enhance your new equipment by choosing from our extensive selection of work tool attachments. From augers to mulchers to rakes and more, we have high-quality attachments to upgrade any commercial equipment. You can choose an attachment that best serves your specific needs and will help get the job done.
Used Commercial Equipment
Expand your landscaping fleet while staying within budget with our selection of used Cat equipment. MacAllister Machinery offers many used landscaping equipment options that are carefully inspected to ensure they meet high standards for quality. When you purchase used products, you'll benefit from their high resale value and long lifespan, all at a cost-effective price.
Rental Landscaping Equipment
We offer numerous equipment rentals to help you accomplish all of your short-term needs, such as taking on special projects or replacing a piece of equipment that's undergoing repairs. Whether you need to rent equipment for a day, week or month, we've got you covered with a variety of options so you can reduce your equipment costs and maintenance requirements.
Product Support
If you ever need equipment repairs, maintenance or replacement parts, we have the lineup of parts and service solutions to get any equipment back up and running. We offer field and shop services for your convenience as well as rebuilds and fluid analysis. No matter the service, our skilled technicians will have your equipment running again with minimal downtime.
The Benefits of Cat® Landscaping Equipment
Caterpillar is an industry leader in high-quality landscaping equipment. When you purchase Cat equipment at MacAllister Machinery, you'll experience many advantages, including:
Equipment speed
High efficiency
Reduced downtime
Safety features
Attachment compatibility
Environmental standards
Contact MacAllister Machinery to Learn More
For over 75 years, MacAllister Machinery has been one of the largest Cat dealers in the U.S., serving Indiana and Michigan's lower peninsula. Our skilled technicians and knowledgeable staff are here to help. Contact us for more information about our selection of landscaping equipment today!