Technological advancements affect every area of the economy. One of the most heavily impacted areas is the heavy construction industry, where equipment technology continues to advance at an amazing rate. A fascinating area of this advancement is equipment maintenance technology.
Jump to Sections:
Today, using equipment maintenance software is a must if you want to remain competitive in construction. Your maintenance program must include technologically advanced applications that let you track machinery in real time. To help you keep up with your competition, Cat® equipment offers simple-to-use web and wireless solutions to monitor and maintain your entire fleet.
Maintenance Technology Gives You a Competitive Edge
Today's technology simplifies heavy equipment maintenance. Where you once tracked your machinery maintenance program with reams of paper and depended on checklists, you can now know at the touch of a button what state your fleet is in. Technology truly makes your maintenance program more efficient.
Equipment maintenance is no longer just standard practice. A high-tech maintenance program is quickly becoming a standard strategy for keeping your machines active and avoiding unnecessary downtime and preventable expenditures. Technology gives you an upper hand in making the most of your equipment. When you can operate it at its full capacity, you can complete jobs faster and smarter.
Interactive software allows you real-time interaction with your entire fleet. Smart technology built into new Cat equipment or retrofitted into older machines lets your equipment notify you of pending problems. With advanced technology running your maintenance program, you've turned a reactive approach to maintenance and repair into a proactive plan of attack.
Having your equipment ready for work is a key factor in winning and fulfilling contracts. A sound maintenance program can be a valuable part of your business strategy. It supports your projects and gives you an advantage over competitors who might rely on older systems.
Equipment maintenance approaches are always evolving. Currently, you can use technology to its full advantage by investing in software that drives your maintenance program, or you can choose old fashioned and unpredictable maintenance management systems. Here are the old and new management methods used for maintaining construction equipment:
Reactive maintenance programs: Simply reacting to equipment problems is the fail-and-fix approach. This maintenance approach is ineffective and costly. Instead of confidently knowing your equipment will be job-ready when you need it, you'll get stuck with downtime that you can't afford. Without regular maintenance that enables you to prevent potential problems before they start, you're leaving a lot on the table. A technology-based maintenance program avoids flare-ups by monitoring your machines and continually reporting their condition.
Preventive maintenance programs: The old saying "an ounce of prevention is worth a pound of cure" is true. For years, profitable construction companies have employed preventive maintenance (PM) programs, which involve replacing parts or overhauling pieces at regularly scheduled intervals. Traditional preventive maintenance programs can prevent many potentially expensive problems, but they can't foresee every scenario. Interactive and technologically advanced software allows your PM program to know exactly what's happening with your machinery at all times — not just at certain points on the calendar.
Predictive maintenance programs: As a right-on-time maintenance strategy, predictive maintenance is a step-up in competitiveness because it's a policy that predicts equipment failure at predetermined intervals. Most companies build historical data-based predictive maintenance programs that record previous failure events and use that information to predict future problems. Current technology allows you to improve your predictive interventions by increasing the volume of data collected and providing enhanced analysis capabilities. Caterpillar® offers exceptional programs that give you accurate failure predictions that you can't achieve with less robust maintenance systems.
Proactive maintenance programs: You can combine the best of all these systems into an emerging concept called a proactive maintenance program. It's a technological approach to machine maintenance that uses intelligent monitoring and integrated data processing delivered from your machine to your computerized control. By being proactive instead of reactive, you can keep on top of all your equipment performance measures at all times.
Informatics embedded in your equipment deliver operating data to your device where you'll get notified instantly of potential problems and upcoming regular maintenance requirements. Caterpillar is a world leader in equipment maintenance software and offers programs like Cat Connect, Cat Inspect, VisionLink and Cat Equipment Management (EM) Services. Genuine Cat Parts and the Cat ProductLink™ are also excellent partners for your tech-based equipment maintenance program.
Regardless of the equipment maintenance model you use, each solution is vital to ensuring there are no interruptions in revenue-generation. Your machines only make money when they're operating. To reach maximum profitability, you need to be able to rely on your equipment so you can take on more jobs and remain competitive. Cat technology gives you that lead by being a trusted maintenance partner.
While it's possible to maintain your equipment's reliability through conventional PM programs, using advanced technology has several advantages over this approach. One of the main advantages is the ability to gain real-time insights.
The advanced maintenance software available in Cat equipment shifts you from being purely reactive to proactive. With Cat technology, you always have an immediate picture of your fleet's performance.
Managing Heavy Equipment Maintenance With Cat Technology
Caterpillar has earned the reputation of being a world leader in heavy equipment innovation. That's come after decades of digging trenches, moving material and grading roads. Cat engineers have learned from experience what you need as a frontline contractor. Caterpillar employs highly skilled designers and engineers to look far ahead and build machinery that leads the industry instead of following trends. Caterpillar continuously develops and refines smart technology in response to what contractors need to stay profitable in a highly competitive field.
Technology gives you the means to outpace your competitors. When you have meticulously maintained machines, you can go after a job with the confidence you can perform on time and within budget. You can feel confident that your bid will be profitable and that unexpected downtime and costly repairs won't hinder your success.
Cat technology gives you real-time insight into your machinery's health and performance. You'll get details about fluid levels, contamination problems and wear without having to hire a technician to physically examine the machine. You'll also always know your running and idling hours, diagnostic codes and other information related to your equipment's condition. You've invested in your fleet, and it's critical to protect that investment with a smart maintenance program.
Modern maintenance technology automatically schedules required service and proactively identifies potential problems before they become expensive repairs. Your software will preset maintenance intervals and will call your attention to minor and major issues. Cat technology can also alert you individually or tie your information into a dealer network where you'll be slotted in for service.
Cat maintenance technology also offers you improved record-keeping in a web-based format—no more managing multiple log books or spreadsheets. You can access vital information anywhere you can access the Internet.
Service Support With Cat Maintenance Technology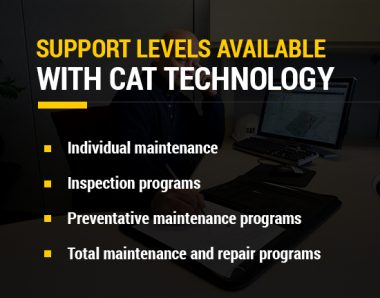 With Cat equipment technology, you can always depend on comprehensive service support. It's built into every new Cat machine, and you can have smart technology added into older models. This support gives you the peace of mind that your maintenance tasks will be clear and simple to manage.
One of the best advantages of Cat service support is the flexibility that equipment owners have to choose from different service levels that meet their needs. This capability means you'll always have service and support available but can fit it into your budget and your capabilities. Service support can range from periodic inspections to being fully integrated with the Cat satellite-based ProductLink System.
A Cat Customer Value Agreement (CVA) can be customized to your individual needs. You might also benefit from a comprehensive Total Maintenance and Repair (TM&R) Agreement. Here are the support levels you can choose from with Cat technology:
Individual maintenance with Cat support: This is the most basic support level you can get from your Cat dealer. It still involves using Cat maintenance technology that's built into your equipment. However, it allows you the budget-friendly option of performing on your own whatever upkeep and repairs the technology indicates you need. An individual maintenance program with Cat support is best suited for small owner-operator outfits or newer companies wanting to implement good maintenance habits from the start.
Inspection programs from Cat: This service gives you excellent options for maintaining equipment on your own but with inspection help from Cat experts. Inspection programs go beyond looking at engines, tires and transmissions — any technician can help with that. With these programs, you get a tech-assisted diagnosis of fluids, a custom hydraulic service and custom track inspections that identify deficiencies in your undercarriage. With this service, you can identify potentially costly risks ahead of time, all while ensuring your machine keeps running smoothly.
Cat preventive maintenance programs: With this intermediate-level maintenance service, you get regularly scheduled service according to the manufacturer's schedule. However, with Cat smart technology, your machine is monitored for unseen issues that could eventually develop into trouble spots. Cat technology can also custom design a preventive maintenance program specifically for you and your fleet.
Total maintenance and repair programs with Cat: As the premium Cat service, this comprehensive program manages all conceivable maintenance aspects. The TM&R program includes performance monitoring, preventive maintenance and necessary repairs to all equipment components. For a flat fee on a monthly or yearly agreement, you'll benefit from every technological advantage to ensure you have optimal performance.
Cat technology offers you other maintenance services too. A comprehensive S•O•S℠ Services fluid analysis, for example, dives deep into your machine's oil and coolant levels. Fluid analysis can give you an early warning of stress in your engine and hydraulic oils as well as pending radiator problems.
With a ProductLink Onboard Analysis, Cat technology connects your equipment directly to your dealer's support system and the Cat Equipment Manager software. Combined, the machine sensors and management software exchange vital information that detects emerging problems to take the worry out of equipment maintenance.
Technology Makes Heavy Machinery Maintenance Easier
Today's technology makes heavy machinery maintenance easier. The biggest advantage of Cat technology is the early warning alert you get when something begins going amiss in your machine. Through early detection, analysis and solving, interfaced technology can save you the cost of a major repair or replacement. In addition to protecting your budget, equipment maintenance technology also saves you time on tracking and recording information about your equipment's health and service history. This can be especially cumbersome if you're running a larger fleet and are continuing to expand. With predictive technology, you don't need to schedule work stoppages for routine preventive maintenance.

Reducing expensive downtime and increasing lucrative operation periods is your prime way to get full financial fulfillment from your equipment. Because your machinery is your income source, you want to keep it as burden-free as possible. Leveraging today's technology makes both heavy equipment maintenance and operation easier.
It's a wise choice to invest in Cat maintenance technology. Your biggest difficulty might be in choosing exactly what Cat technology is best for your application. It might be an all-encompassing equipment management service or a specific app like Cat Inspect.
Cat Equipment Management Services
Cat Equipment Management Services, or EM Services, is your one-stop technological solution for all your equipment maintenance and repairs. It's a comprehensive system to monitor and maintain all types of Cat heavy machinery and equipment. With EM Services, you get everything Caterpillar offers in the way of technological, mechanical and management help.
It doesn't matter if you have a large equipment fleet or only a few equipment pieces. Cat services help manage your machines through current technology and ensure they're always ready and in premium condition. It's all about these fundamental principles that deliver the maximum work time for the lowest cost:
Machine performance: Cat EM Services focuses on a simple equation — well-maintained equipment equals top-performing machinery. Using the best and latest technology, your machine's performance is maximized through monitoring and immediate intervention at the first problem flag.
Machine health: There's another formula in the EM Services file. Proper maintenance and prompt repairs equal healthy machines. A healthy machine is a reliable one, and it won't waste your time and money with unexpected breakdowns.
Planned maintenance and repairs: Cat EM Services adheres to your machine's recommended maintenance program. Technology allows Cat software to watch your machine's total operating time and precisely predict scheduled downtime. This way you know when your equipment will be out of operation and you can plan around any upcoming interruptions.
Safety and security: Safety and security are critical issues in every construction company. Cat EM Services helps you ensure your machinery is always safe to operate and that your workers are protected from potential accidents. Cat technology also ensures your machines aren't stolen or operating under unauthorized use.
When you partner with Cat for your equipment management, you benefit from the world's leading construction technology. It takes the tedious task of monitoring your machinery and turns it over to a highly advanced automated software system. The EM Service collects and analyzes information through Cat Connect Technologies, which:
Delivers critical data from your equipment to the Cat Connect hub
Analyzes information in real-time and informs you of performance issues
Gives you confidence that your machinery is dependable
Allows you to work safely with machinery you can trust
When you have Cat Equipment Management Services as your trusted partner, you can focus on growing your business. You know you can accept and complete contracts before deadlines and avoid expensive penalties for being late due to equipment malfunction. This also enhances your reputation of being a reliable business that depends on Cat service and technology.
Cat EM Services also saves you money by reducing your repair costs. With Cat equipment management technology, you catch problems while they're still just potential threats. Cat monitoring technology intervenes before it's too late and expensive repairs catch you by surprise.
You have three option levels when you partner with Cat and the Equipment Management Services program. You choose what your level of involvement will be and what you'll turn over to your services team. These are the three primary levels you can choose from with Cat EM Services:
Level 1: INFORM — At this basic level, Cat technology monitors your equipment and informs you of important information, such as regular maintenance requirements. You can access to all data and reports.
Level 2: ADVISE — For a more in-depth service, you can have Cat experts analyze your data and advise you on what action you should take next. Through ProductLink and VisionLink, your contacts at Caterpillar will monitor your equipment, conduct inspections and perform fluid analysis. You get trusted consultations and recommendations with the Level 2 service.
Level 3: PARTNER — A Level 3 partnership gives you every technological advantage and support service that Caterpillar offers. You'll enjoy high-tech apps like Cat Connect and Cat Inspect. You'll also benefit from a full-service maintenance and repair program as well as complete access to online resources like Cat Parts and Cat Link subscriptions.
A Cat Level 3 partnership guarantees you a fixed-cost maintenance plan. You'll have less downtime because you can rely on technology supported advice with comprehensive service and repairs. You'll enjoy the benefit of working with a trusted partner that uses top technical aids like Cat Connect, VisionLink and Cat Inspect.
Top Cat Technology
Cat heavy machinery incorporates top technical aids in its equipment management and machinery maintenance service processes. These cutting-edge tools make it easy to maintain your equipment.

Technical aids have changed the heavy equipment maintenance and repair scene. In a few short years, smart technology advanced to enable users to monitor your machine performance remotely through a phone or tablet. Wireless technology is a core component supporting the Cat Equipment Management Service. Here are three parts of the EM program that you should know about:
Cat Connect: This is the overall EM Service. You'll often hear parts of the program referred to as the Cat Connect system. This integrated technology group allows you full access to Cat mobile apps and the main database. You also get access to the Cat Store, where you can source authorized Cat parts and supplies.
Cat Inspect: This is an easy-to-use app from the Cat Connect system. It's mobile-friendly and lets you download Cat maintenance material for your inspections and repair work. The Cat Inspect app also lets you monitor the inspection process and provides interactive features like adding pictures, making comments and sharing your information with stakeholders.
VisionLink: This app is part of Cat ProductLink. VisionLink gives you a real-time picture of everything that's going on with your equipment fleet, regardless of where individual machines are or what they're doing. This valuable tool is an integrated part of the Cat Connect umbrella, and it matches technological solutions to everyday problems.
Choose MacAllister Machinery for All Your Technology Solutions
MacAllister Machinery is Indiana's leading supplier of heavy equipment and construction machinery. We've sold, rented, repaired and maintained top-quality Cat equipment since 1945 when E.W. MacAllister accepted an invitation to open a Caterpillar Tractor Company dealership. Since then, MacAllister Machinery has grown enormously.

MacAllister Machinery has also evolved with the times. That includes being on top of the latest technological advances across the heavy equipment world. MacAllister Machinery is proud to offer you the full range of technology available through Cat Connect, Cat Equipment Management Services, Cat Parts and Cat ProductLink.
For the latest technology and information on Cat heavy equipment maintenance, contact MacAllister Machinery today. Call us at 800-382-1896 or contact us online.