Forestry & Logging Equipment In Indiana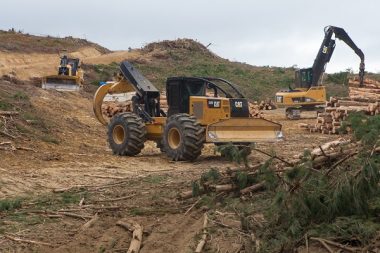 Cutting down trees, clearing lots and hauling lumber is hard work, and it takes solidly constructed equipment to rise to the challenge.
Businesses throughout Indiana trust MacAllister Machinery for the region's best forestry and logging equipment. Our large selection is here to help you find the best match for your job site tasks. We also provide expert service to make sure we can give you the best customer experience in the area.
For more information, call us at (317) 545-2151 or request a quote today!
Your Headquarters for New Cat® Forestry Equipment
Caterpillar has been engineering and manufacturing heavy equipment since 1925. The latest Cat® forestry and logging products keep up the long history of excellence by offering features that improve work quality, reliability and safety. Expect many years of long-term service and lower owning and operating costs.
We support our Cat logging equipment line with a range of products from other big-name manufacturers to provide the fullest inventory in the region.
Examples from our fleet include:
Forest machines
Feller bunchers
Forwarders
Harvesters
Knuckleboom loaders
Skidders
New Forestry Equipment Attachments
Attachments and work tools allow you to perform multiple tasks with one piece of equipment, saving time, reducing costs and giving you more options. You can transform your fleet by buying new attachments from MacAllister Machinery. Examples of work tools that can add more value to your business include thumbs, grapples for forest machines, mulchers and woodchip U-blades.
Our product experts can help you choose the best equipment types for your work and pair them with attachments that keep your projects moving forward.
Stretch Your Budget by Purchasing Used Forestry Equipment
If money is tight and you're looking to cut expenses, our used forestry equipment fleet can provide a budget-friendly solution. We offer late-model and older Cat and non-Cat forestry equipment for sale at affordable prices. Meet your performance and quality demands and boost your company's bottom line by saving thousands of dollars.
Short- and Long-Term Forestry/Logging Equipment Rentals
Do you only need equipment for a one-off project, to meet a short-term demand increase or to replace a model undergoing repairs? MacAllister Machinery offers affordable rental options at competitive daily, weekly and monthly rates. Get an expertly maintained forwarder, stump grinder, skidder, brush chipper or anything else you're looking for to knock out your projects.
Exceptional Support for All Purchases and Rentals
MacAllister Machinery has been in business since 1945. We've grown to become one of the largest Cat dealers in the U.S., enabling us to provide timely maintenance and repair service to keep your forestry equipment on the job and working its best. Enjoy the convenience of ordering parts online 24 hours a day by visiting Parts.Cat.Com. We can also help you add new technologies like tracking, GPS surveying, grade control and automation, letting you get the most out of your fleet.
Visit a Store or Contact Us to Learn More Today
MacAllister Machinery has multiple stores throughout Indiana to serve you. Stop by the location near you for a closer look at our forestry equipment lineup and meet our team. Feel free to call us at 317-545-2151 or fill out and submit our online contact form if you need to know more.