The Kubota Corporation traces its roots back to 1890 and has been manufacturing industrial engines since 1922. The company continues to innovate today. Kubota industrial engines are efficient, reliable and available in a range of sizes and configurations.
MacAllister Machinery is an authorized Kubota dealer. We offer sales, service and support throughout Indiana. Make us your first call for everything you need to keep your Kubota products running their best. Contact our Indianapolis location for engine sales and service.
The Kubota Engine Lineup
Kubota manufactures a wide range of OEM engines for industrial use. Available products include diesel engines and spark-ignited gas, natural gas and dual fuel engines.
Kubota engines have many applications. You'll find them in:
Agricultural equipment
Compact construction equipment
Power generation systems
And more
As a Kubota dealer, MacAllister Machinery can recommend and source the right engine model for your application. Just as importantly, we provide parts, service and other solutions for existing Kubota owners.
Variety of Kubota Industrial Engines
Kubota offers a variety of engine models to meet your needs. Every Kubota engine is powerful, clean and reliable. You can feel confident when you purchase a Kubota engine from MacAllister Machinery that it will last.
The different Kubota engine series include: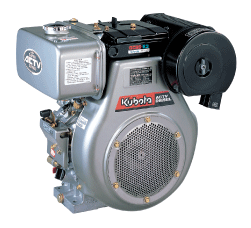 Industrial diesel engines
Spark ignited
Engines for emergency stationary standby gensets
Engines for ground support equipment
Engines for oil and gas market
At MacAllister Machinery, we supply these different Kubota industrial engines as well as the parts and supplies required to keep your engines running in peak condition. As a Kubota engines servicer, we can also service your engines, so you have limited downtime.
Engine Specs
Kubota's industrial diesel engines are built compact for a variety of purposes. The series includes multi-cylinder, liquid-cooled, mechanical diesel engines and the Super Mini Series for everything from welders to generators to mowers.
No matter what Kubota engine you choose, a high-quality engine will help you avoid unnecessary delays and deliver superior performance. For example, Kubota's engines for ground support are perfect for airport terminals that can't lose any time when an engine goes down. Whether you need a diesel or spark-ignited engine, you can rely on its proven power and construction to stand up under heavy loads or severe weather conditions.
Why Choose Kubota?
Kubota engines deliver fuel-efficient performance, reliable power and compliance with emissions regulations. Manufacturers around the world trust them in a variety of applications. They power Kubota tractors and other equipment, in addition to products and machinery by other brands.
Looking for Kubota tractors, mowers or UTVs? Visit our MacAllister Outdoors division for more information.
Your Partner for Kubota Industrial Engines
A Kubota industrial engine can help you become more efficient and give you the quality you need to keep your equipment running. As a Kubota engine supplier, MacAllister Machinery is here for you to find the best engine for your specific applications. Contact us today to learn more or visit one of our locations throughout Indiana.