To be productive on the job and know you can depend on your equipment to perform well, you must prioritize engine maintenance. Your engine is the driving force of your excavator, compact track loader or dozer. Without it working at peak condition, you risk sacrificing productivity and suffering downtime due to engine failure.
Jump to Sections:
By following a preventive maintenance plan and being aware of the signs that your engine needs service, you can minimize any costly downtime. In fact, 90 percent of engine failures are preventable. That's why knowing what type of preventive maintenance your diesel engine needs and following a diesel engine maintenance schedule are such critical components of your continued success.
What Is Preventive Engine Maintenance?
All engines are prone to failure if they aren't well-maintained. Prioritizing engine maintenance is the responsible thing to do as an equipment owner. It's also the wise thing to do as a business owner.
The better you maintain your equipment's engine, the longer it will serve you. The longer your engine stays in operating condition, the greater return on investment you'll get as it continues to work at peak performance and make you money.
To get high performance and a long service life out of your heavy equipment, you need to do proper preventive engine maintenance. Preventive maintenance is maintenance or service that's performed regularly to prevent equipment failure. Equipment owners conduct preventive maintenance to avoid sudden and unexpected work interruptions due to breakdowns. Preventive maintenance can also help you save on long-term maintenance and repair costs by minimizing the level of damage.
Preventive engine maintenance is especially important since engine failures are expensive to fix and can cause long work stoppages. Equipment owners conduct preventive engine maintenance based on usage or service hours. Equipment manufacturers recommend specific servicing intervals to maintain peak operating performance. As a Cat® equipment owner, it's important to know what the manufacturer's preventive maintenance recommendations are. Your Operation and Maintenance Manual will tell you what type of maintenance to conduct for your engine and how often. Working with an experienced technician can also help.

Here are some of the categories of preventative engine maintenance that equipment owners should perform routinely as prescribed by the manufacturer:
Routine servicing: Performing routine maintenance on your equipment's diesel engines will keep them working properly. Your owner's manual and your dealer will help you schedule routine service, including oil and filter changes, fluid analysis and other critical maintenance tasks your diesel engine requires. Consult your Operation and Maintenance Manual to determine how often to conduct routine maintenance on your equipment's engine.
Cleaning: Equipment and engines operate better when they're clean. Gunk and grime build up quickly in a heavy-duty environment, so it's important to stay on top of routine cleaning. Degreasing agents can help lift and dissolve caked-on oils, while pressure-washing blasts away mud and dirt. A clean engine operates more smoothly, so don't wait too long between cleanings.
Winterizing: Done annually before the weather changes, winterizing is absolutely critical to keeping your engine operating year-round. Winterizing your engine includes adding antifreeze graded for your climate, changing your oil over to winter-grade and making sure you're using an engine warmer. Be sure to consult your Operation and Maintenance Manual as well as your local Cat dealer for more information on winterizing your equipment's engine specifically.
Proactive parts replacement: To prevent engine failure, you must consistently monitor the condition of your diesel engine parts and replace them before they cause problems. Proactively replacing parts is crucial for diesel engines, which are susceptible to rust and corrosion as well as regular wear and tear. Always use certified diesel engine parts sourced from a reputable Cat dealer and work with a Cat Dealer Technician who can advise on regular parts replacement.

No matter what routine servicing you're performing as part of preventive engine maintenance, all preventive maintenance programs need to follow a recommended servicing schedule that will maintain high efficiency and reduce the risk of downtime.
Diesel Engine Maintenance Schedule
Following a diesel engine maintenance schedule is the most critical step in a preventive maintenance plan. At MacAllister Machinery, we supply all equipment owners with detailed manuals and maintenance schedules from the equipment manufacturer. Maintenance schedules describe what servicing needs to be done and at what intervals. These are minimum recommendations based on average operating conditions. You should adjust them based on your operating loads, climate and general work environment.
The prescribed maintenance intervals are designed to protect your investment and your equipment warranty. It can be tempting to stretch your maintenance schedule to extend usage time, but doing this too often can compound the risk of eventual engine failure. It's best to know which activities need to be performed when and stick to that schedule. Always follow the maintenance interval schedule in your Cat Operator and Maintenance Manual.
Performing Daily Inspections
It's easy to keep your focus on standard preventive maintenance issues like regular oil and fluid changes. However, it's important not to overlook the impact that daily inspections and maintenance can have on your engine's lifespan. Daily inspections help you become familiar with your equipment, making it more likely that you'll catch an issue early on. Frequent inspections also prevent unfixed problems from leading to other, more severe issues.
All equipment operators should have and adhere to a pre- and post-operation equipment inspection checklist, including one specifically for engines. With just a few minutes set aside each day, equipment operators can extend the equipment's longevity, reduce operating downtime and increase equipment productivity.
Inspect the following engine components each day to maintain your equipment's health and keep it in productive working condition for longer:
Battery: Examine batteries for evidence of corrosion and damage and replace as needed.
Cooling systems: All fluids, including coolants, are essential to smooth equipment operation. If your engine's coolant level drops, it could indicate a bigger issue with hoses or filters that needs immediate attention.
Belts and hoses: Inspect belts for increased wear and tear and debris and replace and clean as needed. Examine hoses for excessive wear, leaks and rot.
Exhaust: Check your diesel exhaust fluid (DEF) levels daily for low level warnings. If you have to fill the DEF tank, do so from a clean container to prevent contamination.
Filters: Whether it's for air, oil or fuel, daily filter inspections are essential to preventing engine failures. Using a Cat Air Filter Service Indicator can tell you if there's any airflow resistance so you can extend the life of your filter.
Turbos: The condition of your equipment's turbo has a significant impact on engine performance. Inspect the compressor, turbine wheel and wastegate daily so you know what condition your turbo is in.
Fuel: In addition to checking fuel levels before and after operating, you should inspect fuel tanks for leaks and damage. Always use the recommended diesel fuel for your equipment.
Using the Correct Engine Parts
Cat equipment is designed to run on specific parts and systems that optimize Cat diesel engine performance. That's why it's critical to source the correct engine parts from an authorized Cat dealer that has trained technicians who know what your engine needs. Using the right parts as you maintain and replace your engine components will help ensure your equipment continues to operate at peak performance.
Throughout your equipment's life cycle, and as part of routine preventive maintenance, your engine will need proactive parts replacement. Cat manufactures and supplies genuine parts for all its equipment, including engine parts like filters, belts, hoses and cooling system components. Only use Cat genuine parts as you upgrade and replace your engine components to extend your engine's longevity.

In addition to genuine Cat parts designed for your Cat equipment, Cat also develops Cat Fluids meant to protect your engine longer. Cat Fluids like oils, coolants and grease are safe and reliable and help your equipment perform better. Cat Dealer Technicians can help match the right fluids to your equipment. They can also recommend a fluid changing schedule for each type of fluid so you're always operating at high performance.
Increasing Engine Longevity
As an equipment owner, your focus should be on how to protect your investments so they continue to earn you money. Taking care of your engines will earn you more service hours and more profit.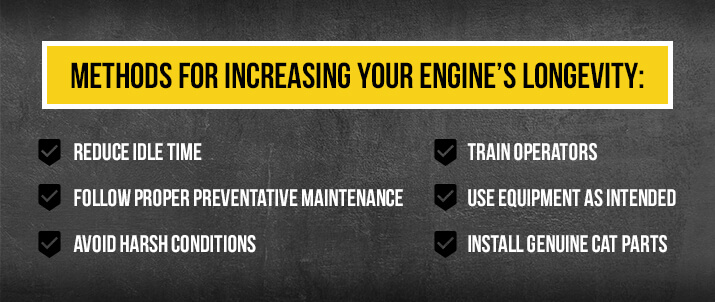 It's no secret that properly maintained engines last longer. Equipment that's well-cared for and routinely serviced outlasts those that are neglected. Here are some methods for increasing your engine's longevity:
Reduce idle time: All contractors understand the most common direct impact of idle time — unnecessary fuel costs. But a less obvious effect that idle time has on your bottom line is reduced equipment lifecycle. Idle time adds to operating hours, which means your equipment will wear out more quickly and need servicing more frequently. And since operating hours are a key factor in determining your equipment's value, reducing idle time can also help protect your resale price. The less idle time, the lower the total operating hours your equipment will rack up, and the more valuable it will be.
Follow proper preventive maintenance: The ultimate purpose of preventive and routine maintenance is to extend your equipment's service life. Preventive maintenance also makes your equipment more efficient, but it's important to remember that maintenance is a long-term strategy. The time and money you invest in proper preventive maintenance will pay off in extended engine longevity, continued productivity and optimized resale value.
Avoid harsh conditions: Cat equipment is designed for heavy-duty conditions, as long as you don't overuse your equipment and follow the recommended maintenance schedule. Still, avoiding or minimizing operation during extreme weather conditions can significantly lengthen your engine's life. Always use fluids and additives designed for harsh conditions and be sure to fully winterize your engine before harsh conditions strike.
Train operators: Equipment is built to be operated a certain way, and skilled operators can do a lot to prevent unnecessary wear and tear. Ensure that your operators are properly trained to operate your particular model and are leveraging Cat technology to operate the equipment efficiently.
Use equipment as intended: Using the right size equipment for the job is another way to preserve your engine's lifespan. If you use undersized equipment, then your equipment is working harder than it needs to, which puts added wear on the engine. Always know the job requirements before you begin to operate the equipment, and don't take any unnecessary risks.
Install genuine Cat parts: If you want to keep your equipment engines running smoothly for years to come, it's vital that you only use genuine Cat parts. Cat filters, batteries and coolants are designed specifically for your Cat equipment. All Cat components work together as a system and are the best way to extend your engine's life cycle. Whether you follow a do-it-yourself approach or you work with your local dealer, parts replacement should always be sourced from authorized Cat suppliers.
Inspecting your equipment daily doesn't have to be a huge undertaking. The more you get into the habit of examining your engine regularly, the easier it will become. Daily engine inspections keep your productivity levels steady and reduce your repair costs in the long run. It also creates a safer, more reliable working environment for your entire crew. The more often you conduct daily engine inspections, the faster you'll recognize the early warning signs that your engine needs service.
Signs Your Engine Needs Service
Being a good equipment owner means properly maintaining your equipment. It also means becoming familiar with it so you can spot problems right away. If you're able to quickly recognize the signs of engine problems, you can either troubleshoot them on the spot or have a technician address them before it's too late. Ignoring signs of engine trouble is a costly mistake to make since engine failure is highly preventable. Be sure to familiarize yourself with the following signs your engine needs service.
1. New Warning Lights
Your equipment is designed to let you know what's wrong. Diagnostic technology can alert you to any urgent issues that need addressing. If you see a new engine warning light, you'll need to act fast.
Countless variables can cause a warning light to go off. Warning lights may alert you to issues with your oil level and pressure, the battery or your fuel injection system. It's important not to ignore any engine warning lights, even if they might be the result of a system error. Get into the habit of regularly conducting on-site care each time a warning light appears, and be sure to take your equipment in for regular servicing. These maintenance practices will help control engine variables that may cause these warning lights to come on.
2. Engine Stalls
An engine stall or a hard start is a massive red flag and an indicator that your engine needs service. The longer this issue drags on, the higher the risk of a complete engine failure and an expensive repair or replacement.

If your equipment is overused and not serviced regularly, it can cause significant wear on engine parts that may give out during an engine start. Difficulty starting your engine could be due to malfunctioning components, like the battery. It could also be because of issues with transmission fluids, blocked filters or injection or compressor issues.
Running regular diagnostic tests, and then performing the right service, is the best way to catch an issue early on and prevent warning signs like stalls and hard starts.
3. New and Unusual Engine Noises
Your equipment is always talking to you and letting you know how it's working and what it needs. Don't ignore any changes in your engine sounds.
When you do hear changes in an engine's sounds, power off the equipment right away. Thoroughly examine all major equipment parts, including the engine. Your equipment might be experiencing overuse. There might also be a malfunctioning or blown part that needs replacement.
If you do hear strange noises, it's best not to guess what the cause may be. Instead, take your equipment in for a professional inspection. The risk of engine failure is just too high.
4. Changes in Exhaust
Your equipment's exhaust is a major indicator of the overall health of your engine. Your exhaust may change in color or smell when your engine has an issue. Diesel exhaust can be a serious health hazard when not properly controlled. If you notice any changes in exhaust fumes, stop operation right away for the health of your crew and your equipment.
If exhaust fumes change color and become thick, it could indicate a few different issues. Commonly, it's just an issue with a dirty, clogged air filter and overused engine exhaust filters. You can solve this problem quickly and easily. However, changes in exhaust could also indicate issues with the exhaust recirculation, ventilation and oxygen sensor readings. You can conduct vacuum gauge tests to diagnose or rule out problems, and always replace your air filters at the recommended service intervals to prevent exhaust issues.
MacAllister Machinery, Your Engine Maintenance Experts
Engine maintenance is an important aspect of equipment ownership. It's a worthwhile investment in time and money, as it helps you get more from your equipment. As an equipment owner, prioritizing preventive engine maintenance will reduce costly downtime and make your equipment more efficient.
Having a reliable dealer you can partner with for fast, accurate and convenient preventive maintenance work will ensure you're getting the best level of service possible. It will also minimize job disruptions and help you maximize your investments in your equipment.
At MacAllister Machinery, we have highly trained technicians available who are truly experts in their field. They can troubleshoot your engine issues and make recommendations for regular service intervals based on your usage levels and work environment. They'll work with you to protect your investment and get you back in operation as quickly as possible.
For fast and reliable Cat engine maintenance, choose MacAllister Machinery service solutions at locations throughout Michigan's lower peninsula and Indiana. Call us at (317) 545-2151 or contact us online for more information on diesel engine maintenance.
Schedule Engine Service