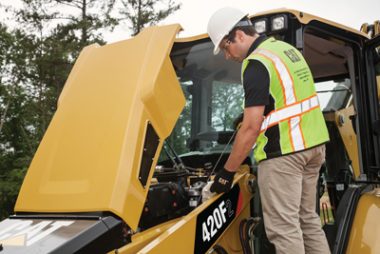 Cat® backhoe loaders offer remarkable versatility. Use them for everything from trenching and digging to material handling and backfilling. Their compact footprint also allows Cat backhoes to maneuver in tight spots.
Are you looking for reliable Cat backhoe service in Indiana or Michigan? Make your first call to MacAllister Machinery, the region's heavy equipment leader. As an authorized Cat dealer, you can trust us for efficient Cat backhoe repair and maintenance work. We can also provide service for other top allied brands.
Our Backhoe Service Offerings
Our selection of backhoe services includes:
Diagnostics: Our service shops feature state-of-the-art diagnostic equipment and tools our techs use to monitor backhoe systems. We can easily identify existing and potential mechanical issues.
General/preventive maintenance: The best way to keep your backhoe on the job is to prevent problems from occurring. We can deliver a series of Cat backhoe maintenance services that will ensure your equipment remains in peak operating condition. We can also perform a free visual inspection upon request.
Basic repairs: With our top-notch Cat backhoe repair service, we can keep a minor mechanical issue from becoming a serious — and expensive — problem.
Extensive repairs and rebuilds: If a significant backhoe problem does crop up, we can remedy it quickly and affordably, even if the job entails a substantial rebuild.
Hydraulic service: The complex hydraulic systems found in today's heavy equipment require specialized care. We have the tools and expertise to maintain, repair and replace cylinders, hoses, valves, pumps and other vital components.
Engine service: With our extensive failure analysis capabilities, we can get to the heart of any backhoe engine issue quickly and resolve them appropriately.
Component service: We can provide efficient backhoe service for all critical components. This includes the stick, bucket, boom, dipper, arm and loader.
Welding and custom fabrication: With fully equipped machine shops, we can perform welding for cost-effective equipment repairs. We also have complete in-house parts fabrication capabilities.
Technology updates: New technological solutions from Caterpillar® can help you optimize the performance of your backhoes. We'll keep you current on the latest trends and how you can benefit from them.
We Can Provide Shop and Field Cat Backhoe Service
We offer field service, which is ideal for minor Cat backhoe maintenance or emergency repairs. We also have fully-equipped shops throughout our service area. We recommend shop service for extensive equipment rebuilds and hydraulic work where contamination poses an issue. Either way, you can count on our well-trained technicians to do the job right the first time.
Why Choose MacAllister Machinery for Your Backhoe Service?
MacAllister Machinery has been providing expert heavy equipment service since 1945. As one of the largest Cat dealers in the U.S., we can source parts for any Cat backhoe model, as well as those for other leading manufacturers. We also offer flexible, affordable Customer Service Agreements we can tailor to your unique maintenance and repair needs.
Contact us to learn more about our backhoe service offerings today.