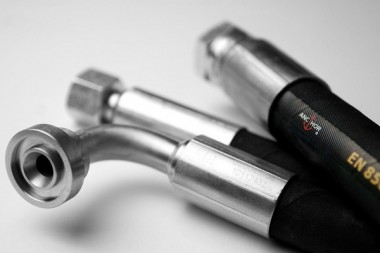 Most heavy construction equipment depends on advanced hydraulics for successful operation. Companies must use a variety of parts and components to keep these essential systems in their excavators, bulldozers, motor graders and loaders up and running.
If you own older small or medium-sized Cat® construction equipment in Indiana or Michigan, MacAllister Machinery offers Yellowmark hydraulic parts that can minimize your costs. These brand-new, high-quality replacement parts from Caterpillar® will deliver the right combination of affordability, reliability and convenience.
Shop Yellowmark Hydraulic Parts
What Are Yellowmark Parts?
Caterpillar has rebranded its Cat Classic product line as Yellowmark and expanded its offerings to provide an enhanced value-priced parts inventory. These components are perfect if you have aging equipment and want a more budget-friendly alternative to Genuine Cat OEM or Cat Reman products. These non-reusable aftermarket parts meet all industry-standard specifications, which ensures they'll deliver the quality and performance you expect.
Yellowmark parts are available only from authorized Cat dealers like MacAllister Machinery.
Why Should You Consider Yellowmark Aftermarket Cat Hydraulic Parts?
Yellowmark parts from MacAllister Machinery can make good business sense if you're looking to extend the life of your older equipment without breaking your budget. You'll save money while still meeting your performance and productivity requirements. These parts can also provide a practical solution if you're not concerned about reusing or remanufacturing your components when they wear out — Caterpillar specifically designed them for one-time-use applications.
What Makes Yellowmark Different From Other Aftermarket Parts Brands?
You can purchase aftermarket Cat hydraulic parts for your equipment from other suppliers. However, it will be hard to match Yellowmark when it comes to form, fit and function. Caterpillar has specifically developed the Yellowmark product line for Cat construction equipment. You'll also receive full support from a reputable Cat equipment dealer every step of the way.
What Types of Yellowmark Hydraulic Parts Can You Purchase From MacAllister Machinery?
MacAllister Machinery offers a wide range of Yellowmark hydraulic parts and components, including:
Cylinders and cylinder assemblies
Rods
Final drive parts
Gear pumps
Seal kits
Hoses
Vane pumps
Caterpillar also plans to expand its current inventory of more than 6,000 Yellowmark products to provide even more purchasing options for your company. Our knowledgeable parts specialists can help you find the ideal match for your construction equipment.
Why Choose MacAllister Machinery as Your Aftermarket Parts Supplier?
MacAllister Machinery has been a trusted heavy equipment solutions provider in the region since 1945. Besides our decades of experience and expertise, we also offer:
Reliable support from one of the largest and most respected Cat equipment dealers in the U.S.
A huge on-hand parts inventory and access to Cat distribution centers to fill orders promptly
Around-the-clock service and online parts ordering for your convenience
Plenty of locations to pick up your parts and a host of flexible delivery options
Order Your Aftermarket Cat Hydraulic Parts Today
Ordering parts online from MacAllister Machinery is fast, easy and secure. Don't hesitate to contact us if you have questions or need assistance.