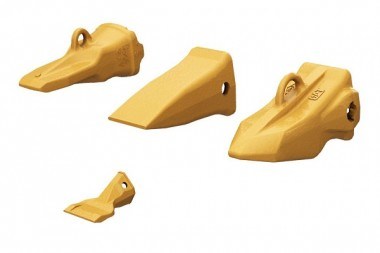 Ground engaging tools (GET) can enhance the performance and boost the productivity of your small to mid-sized Cat® construction and earthmoving equipment. As your equipment ages, you probably won't want to spend as much on replacement parts.
If you're in Indiana or Michigan, Indianapolis-based MacAllister Machinery can provide a cost-effective alternative to Cat Genuine OEM or Cat Reman parts and components. Our new line of Yellowmark ground engaging tools can deliver the ideal combination of reliability, affordability and convenience for your company. You'll keep your projects on track while lowering your operating costs.
Shop Yellowmark Ground Engaging Tools
What Are Yellowmark Parts?
The Yellowmark lineup consists of brand-new aftermarket parts designed and manufactured by Caterpillar®. These non-reusable products are available at a lower price than their genuine and remanufactured counterparts. Although they're less expensive, they still comply with industry-standard specifications. In short, Yellowmark cutting edges and other GET offerings can provide the performance you're looking for without breaking your budget.
Download our Yellowmark GET PDF to learn more.
Reasons to Consider Aftermarket Cat Ground Engaging Tools
Choosing Yellowmark products may make sense if you have aging equipment that's nearing the end of its lifecycle. You'll get a reliable, top-quality part that will keep your equipment on the job a little longer. These components can also provide the best option if you only want one-time-use parts and aren't worried about remanufacturing or rebuilding. And with support from an experienced, reputable Cat dealer like MacAllister Machinery, you'll get the maximum return on your investment.
How Are Yellowmark Parts Different From Those of Competing Brands?
Those "will-fit" aftermarket parts may work well with some brands of equipment, but not others. Because Caterpillar designs and engineers Yellowmark parts for Cat products, they'll deliver the perfect form, fit and function. You can trust them to perform at a high level and keep your equipment running smoothly. You'll also get one-year warranty coverage from Caterpillar that enables you to buy with complete confidence.
What Types of Ground Engaging Tools Will You Find at MacAllister Machinery?
Our inventory includes aftermarket Cat cutting edges and an assortment of other useful ground engaging tools. You'll find products that are compatible with Cat backhoes, skid steer loaders, motor graders, bulldozers, track loaders and excavators. If you're not sure which GET is right for your equipment, we can help. The staff at any of our dealer locations has the experience and expertise to assist you in making an informed buying decision.
What Sets Us Apart From the Other Heavy Equipment Providers?
MacAllister Machinery has been helping companies like yours meet their business objectives for more than 70 years. When you choose us, you can expect:
Reliable support from one of the nation's largest Cat dealers
An impressive parts inventory to ensure we'll have what you're looking for in stock
24/7/365 online ordering
A host of convenient pickup and delivery options
Multiple stores and parts drop boxes throughout the region to serve you
Order Your Yellowmark Ground Engaging Tools Now
Place your order for aftermarket Cat ground engaging tools online today, and contact us if you have questions or want more information.