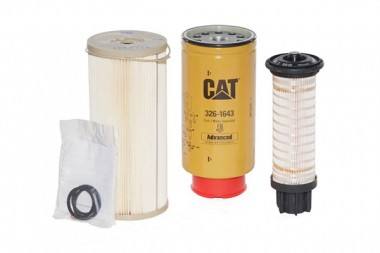 MacAllister Machinery has the solution for keeping water out of fuel to prevent corrosion and clogging in your Cat® equipment. As an authorized Cat dealer, we carry a wide selection of top-quality replacement parts for Cat products. Our new fuel water separators can prolong the lifespan of your engine's critical components.
Caterpillar® has designed and built these separators for Cat engine models such as the C7, C10, C12, C13 and C15. Use them to protect the fuel system in your trucks, generators, excavators, motor graders and more.
Shop Fuel Water Separators Online
Benefits of Cat Fuel Water Separators
Cat water separators remove nearly all free water and 90% of emulsified water from engine fuel. They also remove large debris particles before they reach the fuel pump and enter the fuel system.
MacAllister Machinery offers fuel water separators at three efficiency levels:
Standard: Reliable separation and filtration for cost-effective protection.
Advanced: Meets stricter emissions and contamination requirements for newer Cat engine models.
Ultra-high: Delivers the maximum contamination control while still maintaining holding capacity.
Experience the Difference With Genuine Cat Parts
Our genuine OEM Cat parts are manufactured by Caterpillar to meet the highest standards — and to fit your engine. They consist of only the best materials for long-lasting performance. Caterpillar builds these parts to the original specifications, and they undergo rigorous quality testing. With a 12-month warranty, you can buy Cat water separators with confidence.
Why Choose Cat Fuel Water Separators From MacAllister Machinery?
MacAllister Machinery opened for business in 1945. Over the past 70+ years, we've grown to become one of the largest Cat equipment dealers in the United States. We carry a vast inventory of replacements parts for virtually every Cat model. If we don't have what you're looking for in stock, we can source it quickly from a nearby distribution center.
We make client service a top priority. Our team of heavy equipment experts can help you make the best purchasing decision. You also have the flexibility to order parts online 24/7. With convenient drop box locations and a variety of delivery options, you can get your parts whenever, wherever.
Order Your Cat Water Separators Online Right Now
Ordering fuel water separators or anything else from MacAllister Machinery is fast, easy and secure. Don't hesitate to contact us or call (317) 545-2151 if you have questions or need more information.
VISIT PARTS.CAT.COM