Leadership and passion for the business earn Indiana custom applicator top honors and a new Harley-Davidson motorcycle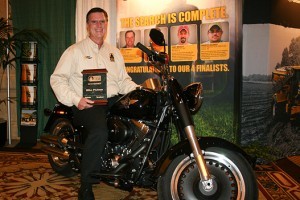 AGCO, Your Agriculture Company, (NYSE: AGCO), a worldwide manufacturer and distributor of agricultural equipment, announced its Application Equipment group has announced the 2010 Operator of the Year, A 20-year career and an average of covering 68,000-acres a year are impressive stats for a custom applicator, but it's the commitment to excellence that Mike Pluimer of Ceres Solutions in Templeton, IN, brings to the job each day that has earned him trust and respect among his colleagues and customers. Pluimer's hard work and accomplishments were celebrated at the Agricultural Retailers Association Conference and Exposition when he was presented a new Harley-Davidson motorcycle as the winner of the 2010 AGCO Application Equipment Operator of the Year award.
Operator of the Year was established five years ago to recognize the outstanding achievements and professionalism of the agriculture industry's premier custom applicators. Agri-retailers from across the country submitted some of their best custom applicators. This year, Tom Stein of Ceres Solutions, a diverse agriculture, grain and supply company, submitted Pluimer's winning nomination.
"The best way to describe Mike is that he's an all-star quarterback for our team," explains Stein. "He's a team player who comes to work every day prepared. He possesses leadership skills and a game plan to help our organization and our customers win. He's able to take the hits of 1,000-acre days, and he has the ability to call audibles in the field if conditions change. Mike is a true professional on and off the field, and I can't think of anyone more deserving of this award."
Pluimer grew up on a farm, but after high school graduation, his interested piqued to try something new. "I took a job working at a local factory," he says. "At the beginning of the work day, the factory doors closed, and they didn't open again until the day was done. It hit home to this naive farm boy how much I enjoyed working outdoors, and I haven't looked back."
Pluimer started to supplement his farming income by working as a custom applicator in the early 90's. By 1993, he had transitioned full time to the custom application business. "Mike's farm background gives him an innate understanding of the agronomic and business side of agriculture," says Stein. "Customers trust that he's going to do a good job for them."
Judging criteria for Operator of the Year include customer service, overall leadership and commitment to the organization, and community involvement. Mark Sharitz, AGCO Application Equipment director of marketing, was on the panel of judges and was onsite for the award.
"I had the pleasure of meeting Mike, and I admired his intense passion for his work," says Sharitz. "He's a consummate professional both on and off the field. Operator of the Year is one of the most rewarding programs we sponsor. We had a very strong group of nominees this year, and we are honored to recognize such a class-act group of people who take pride in the work they do for customers on behalf of their company. The business demands a lot of these guys, but all of them have found time to be highly involved with their families and in their communities."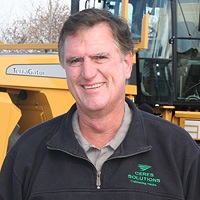 Pluimer said he had no idea that Stein put in his nomination. "It took a while before it set in that I was a finalist, and I'm still a bit shocked that I won," says Pluimer. "I'm grateful to AGCO for creating a program that recognizes the work guys like us do. It's nice to get a pat on the back once in a while, and this is definitely more than a pat on the back. I've got a great team supporting me, including my wife of 40 years, Mary Jean. I wouldn't be able to do what I do without the support at home."
In addition to Pluimer, the other finalists for 2010 Operator of the Year include:
Gary Brandt, Gate FS Inc., Red Bud, Illinois
Marcos Duarte, Crop Production Service, Galva, Kansas
Tony Kornder, Genesis, Le Center, Minnesota
For submitting the winning nomination, Stein was awarded a three-day/two-night Harley Road Trip for himself and a friend.
For more information about the 2010 Operator of the Year and AGCO TerraGator®, RoGator® and SpraCoupe® self-propelled sprayers, visit www.applylikeapro.com
ABOUT AGCO
AGCO, Your Agriculture Company (NYSE: AGCO), was founded in 1990 and offers a full product line of tractors, combines, hay tools, sprayers, forage, tillage equipment, implements and related replacement parts. AGCO agricultural products are sold under the core brands of Challenger®, Fendt®, Massey Ferguson® and Valtra®, and are distributed globally through more than 2,700 independent dealers and distributors, in more than 140 countries worldwide. Retail financing is available through AGCO Finance. AGCO is headquartered in Duluth, Georgia, USA. In 2009, AGCO had net sales of $6.6 billion. Visit www.AGCOcorp.com for more information.
Contact Us Today