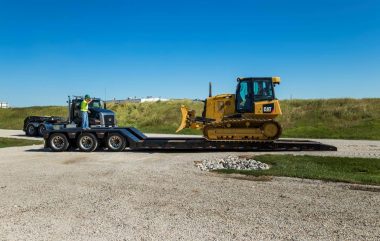 MacAllister Machinery is your go-to source for Trail King products in Indiana and Michigan to meet your hauling needs. We carry an inventory of open deck and material hauling trailers used in construction, agriculture, transportation and a variety of other industries. When you're in the market for the most productive equipment, our Trail King trailers lead the way in durability and performance.
Since 1974, Trail King products have led the way in quality and innovation. As your local Trail King dealer, we're proud to be the premier source for the complete selection of new hauling equipment for sale in addition to rental and used options.
Our Lineup of Trail King Trailers
We're home to an extensive assortment of trailers manufactured by Trail King, ranging in load capacities from 12,000 to 1,000,000 pounds. Brand-new Trail King products are built to last in rugged work environments and include the latest technological features. Choose from the following types of new equipment for sale:
Tagalong Trailers: Our Tagalong trailers offer a rugged and reliable way to haul construction machinery and a variety of other heavy loads. Primary features include safety chains, robust bent D-rings and a 12,000-lb. drop-down jack with drop leg.
Tilt Trailers: Trail King's Tilt trailer offers easy loading and unloading and safe transportation of medium to heavy-duty equipment. Models include dual platform cushioning cylinders and built-in deck counterweights for smooth operation.
Utility Trailers: For all-purpose small construction and compact equipment hauling, nothing beats Trail King Utility trailers. Benefits include an impressive 12,000 to 16,000-pound range capacity, six heavy-duty tie-down brackets and an adjustable hitch for increased flexibility.
Detachable Gooseneck Trailer: The commercial Detachable Gooseneck Trailer offers exceptional hauling versatility with four interchangeable setups. This Trail King trailer is loaded with industry-best standard features ranging from air ride suspension controls and a wheel area mini-boom trough to multi-position gooseneck adjustment doors and extended tapered front approach.
Rollback Trailers: The small size and big-time productivity of the rollback trailer is an asset in a variety of construction applications. Models feature durable oak decking, extra-strong continuous I-beam main frame and cross members, and an anti-lock brake system for added safety.
Learn more about Trail King trailers.
Rental Trail King Trailers
MacAllister Rentals is your local source for renting Trail King trailers. We offer many different trailer types and short- and long-term rates based on your project specifications. All of our equipment is frequently serviced and tested by our skilled technicians to keep your projects running at peak power and efficiency.
We Are Your Used Trail King Dealer
If you're in the market for a Trail King trailer at an exceptional value, shop our used inventory. We typically carry a significant selection of trailers in a range of sizes and conditions. Browse our current inventory, and get in touch with us for assistance finding the models on your list.
Get in Touch About Trail King Trailers
For more information about Trail King trailers, contact MacAllister Machinery online, on the phone or at one of our area locations. Our knowledgeable sales team is standing by to answer all your questions and provide a free quote.