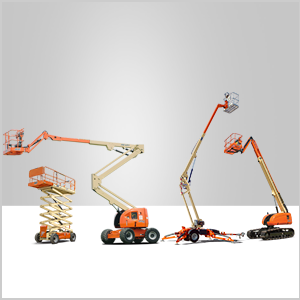 MacAllister Machinery is proud to be your go-to source in Indiana for reliable and versatile JLG equipment designed to go higher and work faster. We carry an extensive inventory of JLG aerial lifts ranging from scissor, telescopic and articulated boom models to personnel and towable lifts. Whether you work in construction, facility maintenance, warehousing or any other industry that requires lifting and positioning people and materials off the ground, you've come to the right place.
JLG Industries Inc. is a company known throughout the industry for providing innovative and efficient lift equipment solutions. As a JLG dealer, MacAllister offers a complete selection of new equipment for sale as well as cost-effective used options and flexible rental terms.
Our JLG Lift Lineup
The new line of JLG equipment is designed to take productivity to new heights. We carry options for different aerial work applications in a variety of sizes and configurations. These machines are built to stand up to the toughest jobs and work environments, delivering optimal safety, stability and efficiency to help improve your bottom line.
Our JLG equipment product categories include:
Scissor Lifts: An exceptional solution for indoor/outdoor construction and maintenance work, our JLG electric and engine-powered scissor lifts offer the capacity, power and extended runtime to positively impact productivity.
Telescopic Boom Lifts: JLG engine-powered and electric or hybrid telescopic boom lifts offer the mobility to maneuver around busy jobsites with the impressive reach to place workers and supplies in the optimal position.
Articulated Boom Lifts: When you need to reach over, under and around obstacles to high places and inside existing structures, we offer a JLG gas, electric or hybrid articulating boom lift for sale suited to your requirements.
Personnel Lifts: We carry JLG equipment for positioning personnel above the ground, such as low-level access, stock pickers and vertical lifts, that eliminate the need for climbing and ladders and provide the confidence for employees to work with greater precision.
Towable Lifts: Our towable cherry picker and bucket lifts from JLG come as electric or gas-engine powered and provide the right blend of reach and mobility for applications such as exterior painting, utility maintenance, tree trimming, construction and more.
JLG Lift Rentals
Whether you need a telescopic boom lift for a few days or a scissor lift for a month or longer, MacAllister has you covered. We offer competitive prices on low-hour, late-model JLG equipment for rent with quick and easy pickup at our location or delivery throughout our territory. Our experienced rental team will assist in helping you find the machines and accessories suited to your project specifications.
Used JLG Lifts For Sale
When buying new isn't the best option, we provide used aerial lifts for sale priced to fit virtually any budget. You'll find machines in like-new condition as well as well-maintained older solutions for an exceptional value. All our used JLG equipment is inspected by experienced service technicians to ensure quality and performance.
For more information on our lifts for sale and rent, contact MacAllister Machinery, your local JLG dealer, today.