When it comes to running your fleet, there's a surplus of important equipment data and asset information that you must organize and track. With a My.Cat.Com account, you'll have access to a network of innovative tools and resources that you can use to easily manage your equipment and access fleet records. You can use your My.Cat.Com login on any device, whether you're on or off the job site.
If you're looking to responsibly monitor and manage your fleet, increase efficiency and save time, you can do so through your Cat® account. When you create your free My.Cat.Com registration, you'll be able to make smart decisions and easily coordinate services with MacAllister Machinery.
Login Or Create A My.Cat.Com Account
Features of My.Cat.Com
My.Cat.Com is your fleet's digital supervisor, and it's working 24 hours a day. Through your account, you can access service records, part numbers and maintenance reports, so you can manage your fleet from anywhere at any time. Our website will also connect you to MacAllister Machinery as well as our Caterpillar partners, allowing you to communicate and schedule services with us.
When you create your account, you'll gain access to a wide array of convenient and innovative features to simplify your management tasks:
View service history and part numbers for Cat and non-Cat equipment
Schedule preventive maintenance
Order Cat parts
Monitor location, hours, events and fuel burn for equipment connected to Cat Product Link™
Request services and quotes
Check Cat S•O•S fluid analysis results
Receive equipment notifications
Manage work orders, contracts, warranty and invoices
Respond to Safety Service Letter notifications
Access Operation and Maintenance Manuals
Manage rental equipment
Plan and assign tasks
Download Our MCC PDF To Learn More
Benefits of Creating a My.Cat.Com Account
My.Cat.Com has many useful features ideal for those who own commercial equipment. When you register for our website, you'll also experience direct benefits when it comes to managing your fleet:
Eliminate guesswork: There's no way to oversee your equipment off the job site — until now. With My.Cat.Com, you can track and check your fleet's health and functionality no matter where you are, so you can have peace of mind knowing that your Cat products are operating safely and efficiently.
Stay organized: There are many documents, data and records you have to keep track of when it comes to your fleet. Through your Cat account, you can view and manage all of your most vital forms in one place without having to sift through dozens of papers.
Improve efficiency: When you take advantage of the many conveniences of My.Cat.Com, you'll spend less time organizing and seeking out information regarding your fleet and more time managing it. With your Cat account, you can optimize your job site by enhancing operational efficiency.
Visit Our MCC Training & Support Page To Learn More
Use the Cat App to Stay Informed
The Cat App is the mobile companion for My.Cat.Com. After creating your MCC account, you can review equipment locations and health, see fault codes, order parts and request service directly from MacAllister Machinery.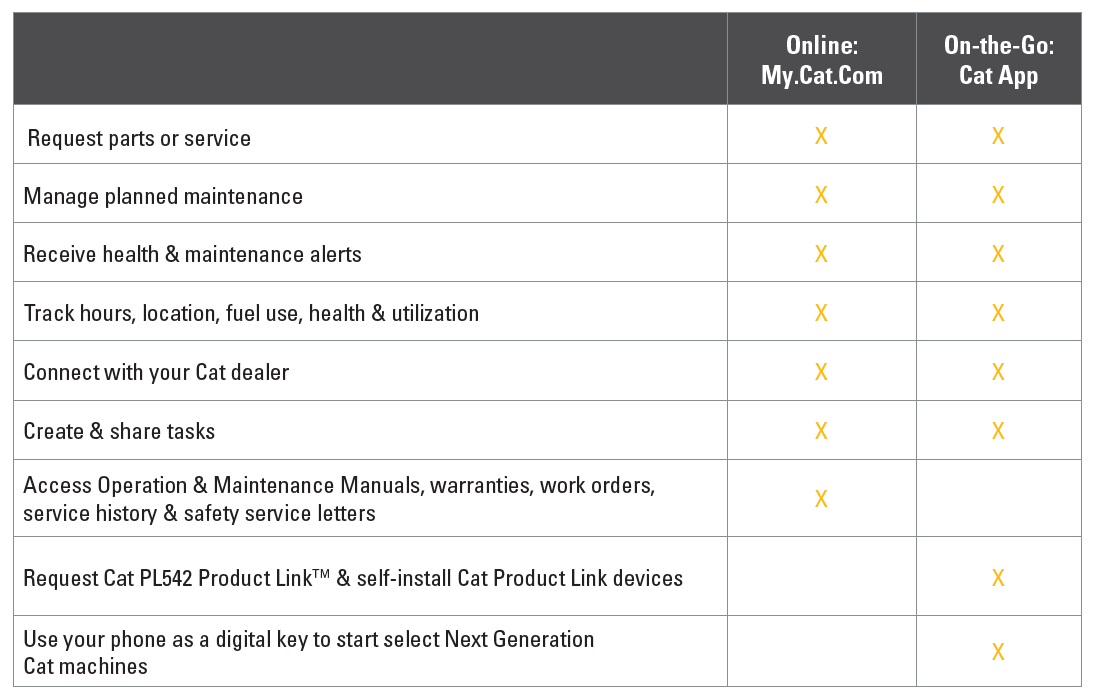 Learn more about the Cat App's functionality and how to download it.
Why Partner With MacAllister Machinery?
You can use your My.Cat.Com login to get connected with MacAllister Machinery. When you sign on with us for Cat products and services, you can take advantage of our many perks:
Extensive repair options
Wide parts availability
Field and in-shop services
Advanced diagnostic technologies
High customer satisfaction
Flexible support
Create Your My.Cat.Com Login Today
When you register for My.Cat.Com, you'll gain access to countless useful features and benefits that will optimize your fleet management.
Take a look at our My.Cat.Com training and support page for additional instruction, or check out the Cat App today!